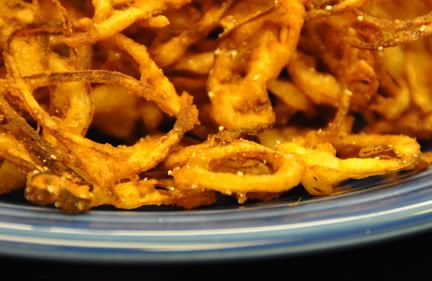 The other day I was reading on
Bouillie, eating in South Louisiana
and Celeste had made a post about
Thin Cut Onion Rings
. It reminded me about how much I love thin cut onion rings. Don't give me thick cut onion rings. Don't give me onion rings with several layers of flour, batter and breadcrumbs. And heaven forbid, DON'T give me minced onion (and who knows what else!) molded into a ring shape and covered with a thick breaded coating! The latter are crimes against gastronomy. Give me thin cut onion rings in a really light batter that are fried so that they crunch when you bite down on them.
I haven't seen these thin cut onion rings for sale in years. If a restaurant near where I live now makes them, I have yet to find that establishment. In the past they were on menus in a number of places, but they seem to be becoming a lost art. Luckily I know how to make my own savoury bits of deliciousness. And Labour Day Weekend seemed like the perfect time to splurge on these.
First let's start with some wonderful Vidalia onions. I used my Kyocera mandoline to slice them thinly. Seriously, thin enough to see through.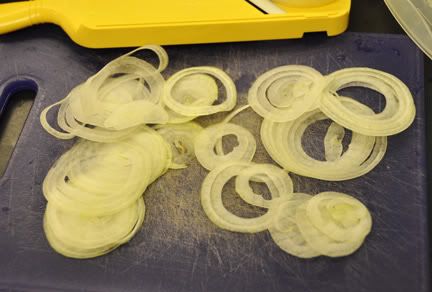 Next comes the rings being coated in the Creole seasoned cornstarch batter.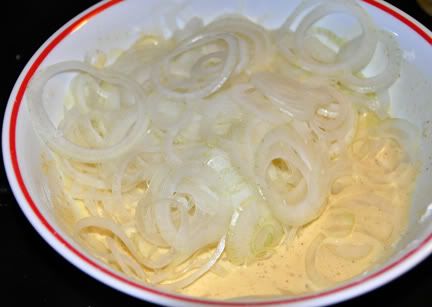 Frying in the cast iron chicken fryer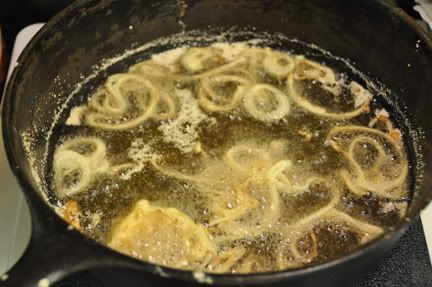 Draining on a paper towels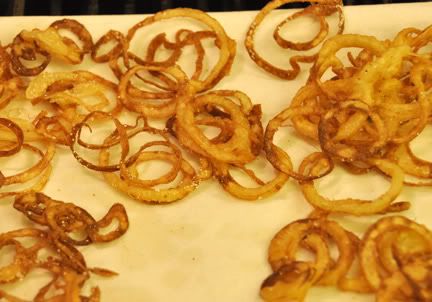 And served on a sapphire Fiesta plate.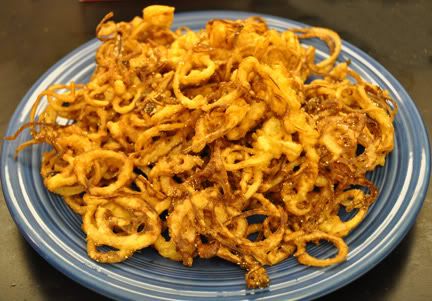 Crispy. Crunchy. Thin. Just what onion rings should be.

Creole Thin Cut Onion Rings

oil, for frying
Cornstarch Batter (recipe below)
4 cups very thinly sliced onions, approximately

Heat the oil in a cast iron skillet or deep fryer to 365°F. (I use my great-grandmother's chicken fryer. It's a 4" deep 10" diameter cast iron skillet.) Dip the onion rings in the batter and drop into the hot oil. Do not crowd the skillet. Remove onion rings from oil and drain on paper towels. If necessary, keep warm in low oven till all the onion rings are cooked.

Enjoy.



Cornstarch Batter


3/4 cup cornstarch
1/4 cup flour (I use unbleached)
1 tsp baking powder
1 tsp Creole seasoning
1 egg, lightly beaten
½ cup water

Sift dry ingredients together and stir in egg and water to mix.

Notes:
1. This is a great batter! It can be used for 4 cups of any vegetable you want to fry or about a pound of shrimp for frying.
2. I use the regular Tony Chachere's seasoning with salt. If you use a salt free version of Creole seasoning, be sure to add some salt to the batter.
3. Creole Thin Cut Onion Rings make a great topping for all sorts of casseroles.
namasté,