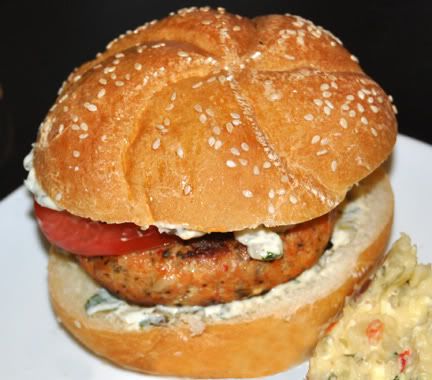 Tartar sauce is a thick mayonnaise based sauce that is now typically served with seafood. But tartar sauce has a convoluted history. The name refers back to the ancient Tartars of Mongolia. While similar sauces date back to ancient Rome, those were not called tartar sauce. The sauce as we know it today came about with the invention of mayonnaise. Recipes from the mid-1800s would be somewhat recognizable to us. It acquired the name "Tartar" because it was served with Beef Tartare and was known as Sauce Tartare.
The simplest tartar sauce is made of only mayonnaise with some chopped pickles mixed into it. Other recipes add hard cooked egg or herbs. Homemade tartar sauce tastes so much better than what comes in a jar at the store. My Mom's favourite tartar sauce is from her great-aunt and dates back to the late 19th or early 20th century. It is equal parts chopped dill pickle, chopped sweet pickle and chopped onion moistened with only enough mayonnaise to bind it together. My favourite recipe is one I got many years ago from my sister. Tonight I was grilling salmon burgers (made from fresh wild-caught coho salmon) and decided tartar sauce would be the perfect accompaniment. Salmon patties, sesame seed buns, sliced tomatoes and tartar sauce. It doesn't get much simpler than that.
Ingredients gathered (hmmm - I see I forgot to put a lime in the group. Not to worry. I did add the squeeze of lime to the sauce.)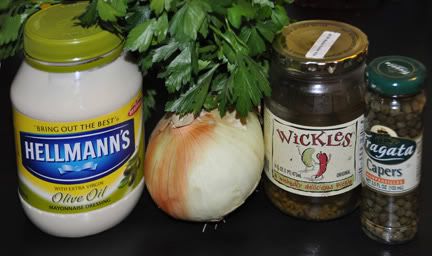 Ready to use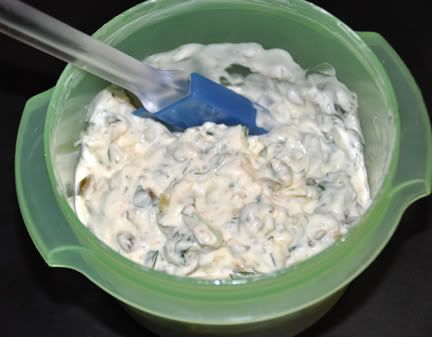 Tartar Sauce
2 cups good mayonnaise
¼ cup minced sweet pickle
¼ cup minced fresh parsley
¼ cup minced capers
¼ cup minced fresh onion
squeeze of fresh lime (to taste)

Combine all ingredients and mix well. Chill several hours before serving.



Notes:

Tonight I did not have any regular sweet pickles in the house so I used Wickles (a sweet pickle with jalapeño pepper in it). The heat of the pepper gave a nice flavour to the sauce. Also used Hellman's Olive Oil Mayonnaise and it worked very well.
This sauce is great with any kind of fish. Some of the ways we like it are with fried perch or bass, fish tacos, grilled salmon, boiled shrimp, etc. And I hear some upscale restaurants serve tartar sauce as a dip for French fries. I've not tried it that last way, but if the sauce is good, it couldn't hurt to try it.
namasté,