I love Halloween. It is one of my favourite holidays. And I love to decorate for Halloween. We probably have as many Halloween decorations as we do Christmas decorations. Outside we usually set up a graveyard along the front walkway.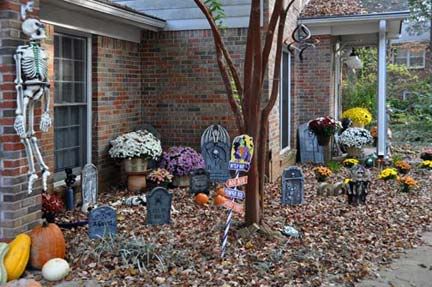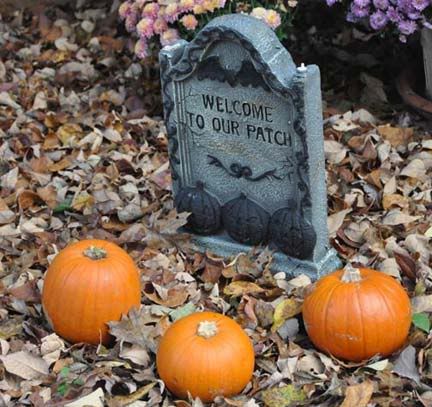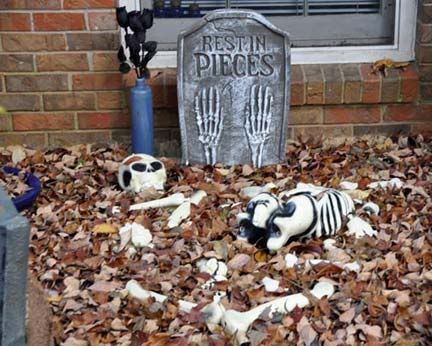 We also decorate inside. While you might not think it from walking up to the front door, I tend to like magical fun decorations more than ghoulish, frightening ones. Here's the dining room table with a spider web tablecloth that came from the now defunct Martha By Mail catalogue. It's set with Fiesta Happy Pumpkin and coordinating persimmon pieces for the not-so-spooky centrepiece.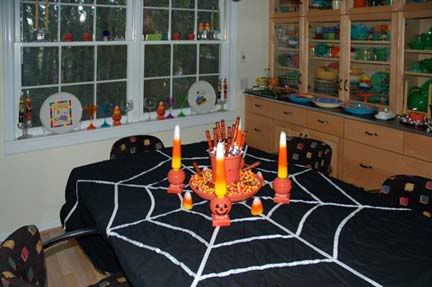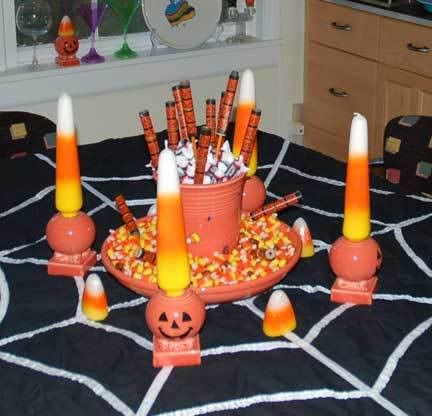 Various witch themed decorations are all about.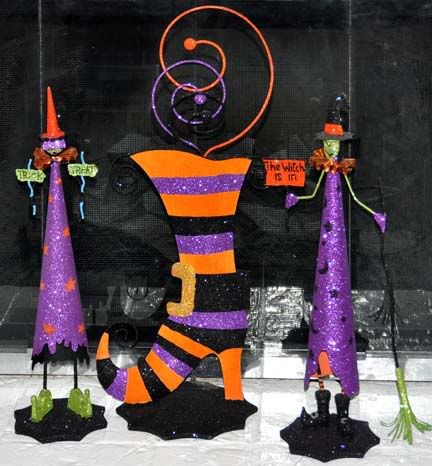 The tree and stand also came from the old Martha By Mail. I've had fun collecting some Halloween ornaments. This year there are some new ones to add. And there's a Happy Pumpkin salt shaker sitting in the tree.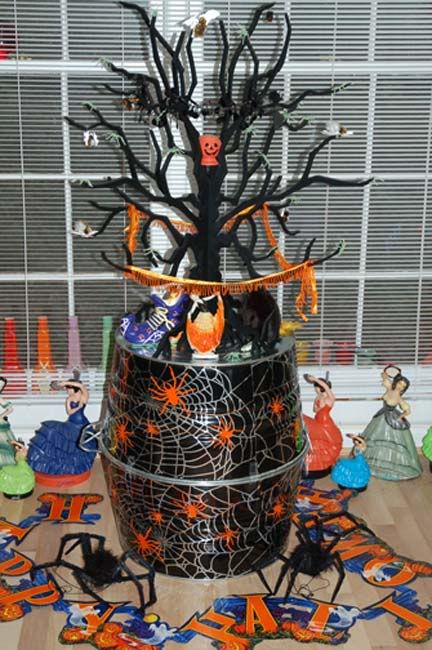 My new Fiesta ornaments with Halloween decals: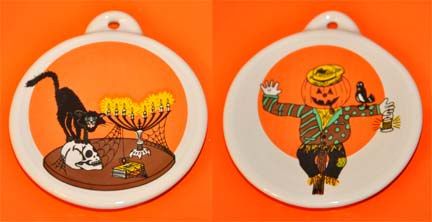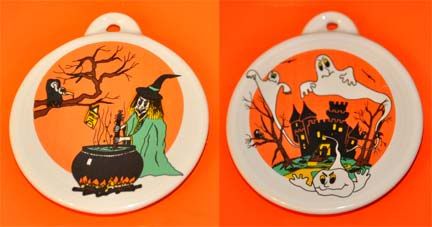 In the foyer by the front door is a bizarre Victorian hall tree that I just adore. This piece of furniture goes with nothing else in our art deco house, but the whimsy of it makes me smile every time I see it. It usually collects a few Halloween decorations, too. The pumpkin is vintage papier mâche from the 1930s.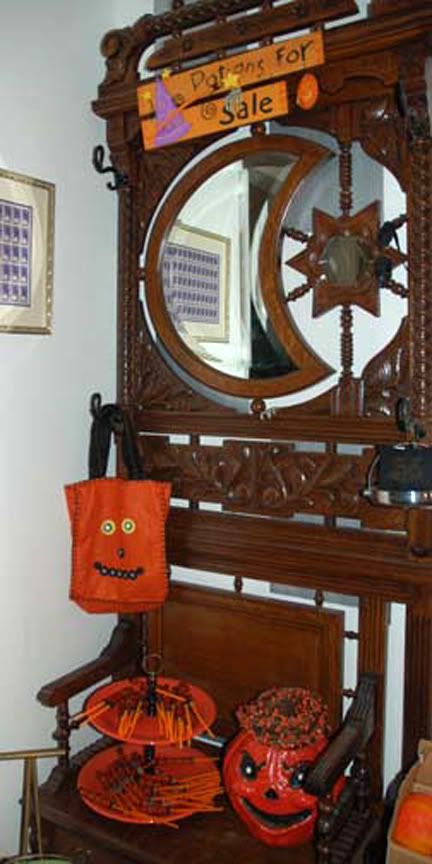 Decorations go up at the farm, also. On the front porch of the log house I put a set of old shelves by the front door. They hold the Witch Jars.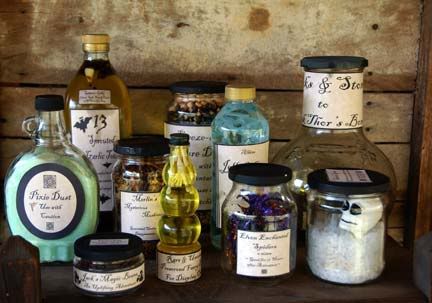 The Witch Jars are incredibly fun to make. Collect interesting jars, interesting things to go in them and let your imagination go wild.
On the table in the entry hall Happy Halloween Candy Jars welcome guests.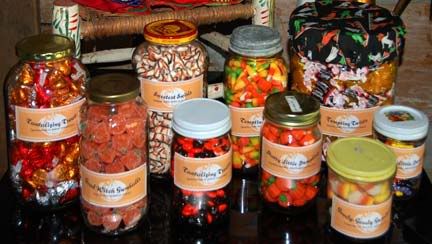 And candles are always a good idea.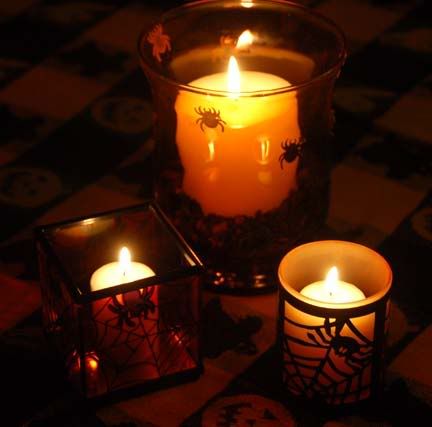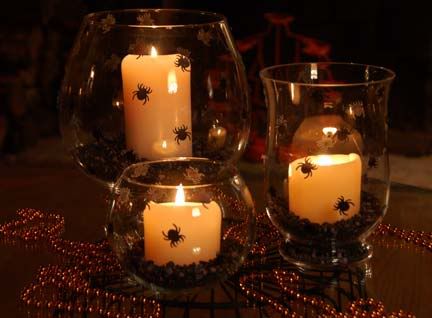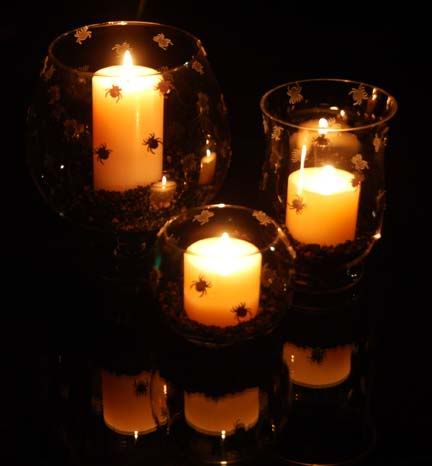 Sewing themed Jack-O-Lanterns for my Mom and me.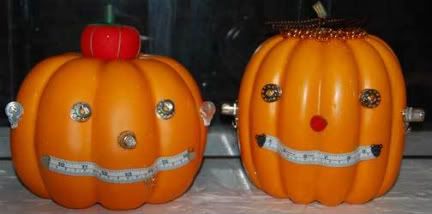 One of my favourite things to get out for Halloween is Esmerelda. Esmerelda is a motion-activated witch who's about 4' tall. Whenever anyone comes within a few feet of her, her eyes flash and she says, "Trick or Treat, smell my feet, give me something good to eat". The little kids love her and my postman has finally gotten used to her.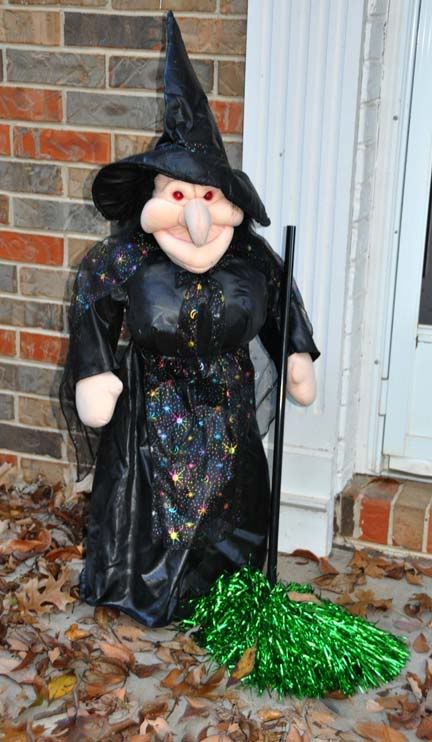 Another of my favourites is somewhat old - from the 1960s. My Mom was a member of the Fad-of-the-Month Club. Every month a box arrived with some craft item to make. Often the item was geared to whatever holiday was being celebrated that month. One year October's fad was this little witch broom. It's about a foot tall and hangs. Mom used it for years as a decoration, but as I had gotten to "help" put it together, when I moved into my first apartment, she gave it to me. That was 1976 and she's been happily living with me ever since.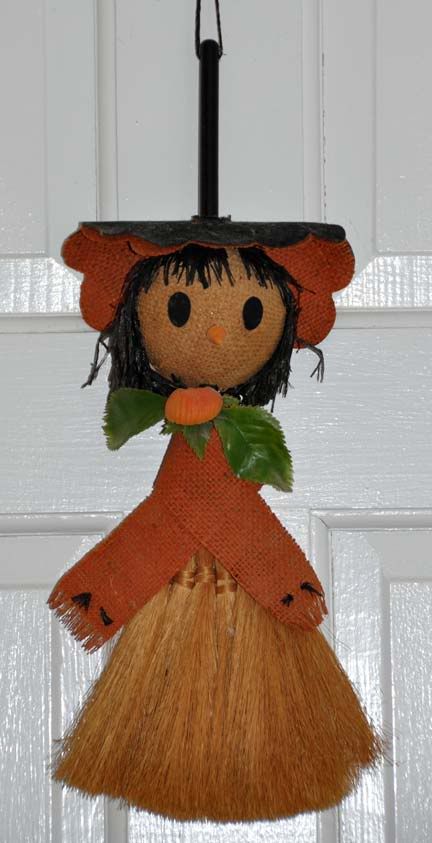 So my friends in blogland remember for Sunday:
namasté and happy haunting,