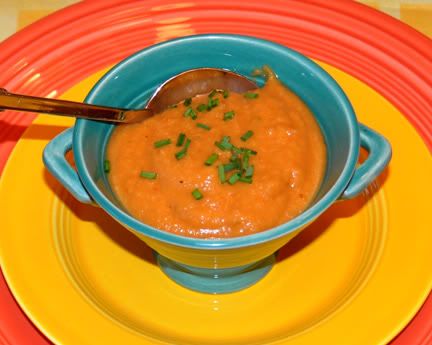 Although we are told to never judge a book by its cover, I find myself attracted to recipes with interesting names. The names at least draw me to read the recipe. Then I decide whether or not it is something I want to make. Most of the time it works out.
Lentil soup made with apricots is new to me and I wasn't quite sure about the apricots with the lentils. It sounded like it
could
be an interesting flavour profile, so I went looking for recipes. Of course none of them were the same. After reading through quite a few, I put together my own version. And I have to admit, I am happy with the results.

There is just enough apricot to make you taste and say, "Hmmm.... what is that flavour? It's good."
Gathering up ingredients: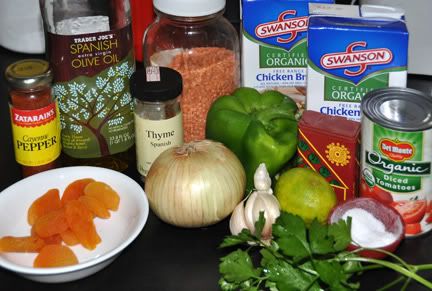 Aromatics and apricots all diced up: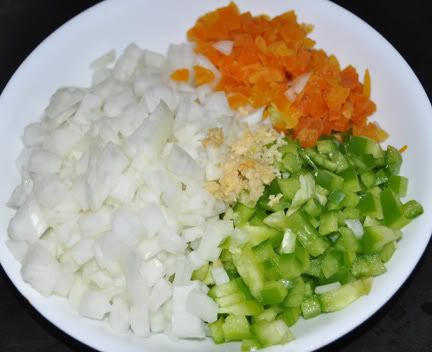 Sautéing in my favourite piece of Le Creuset (Lilac Mist):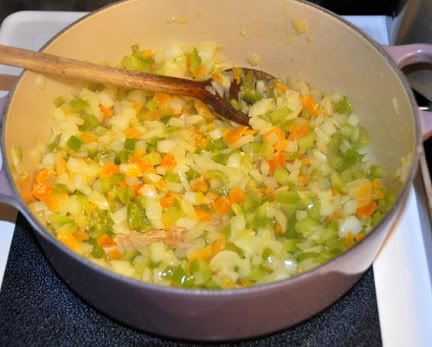 Broth and lentils added: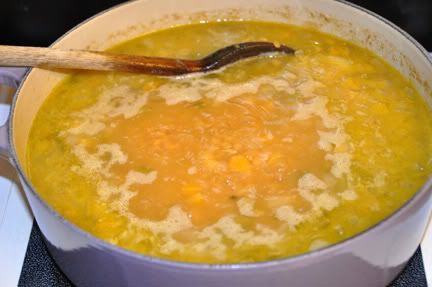 Tomatoes and seasonings going into the mixture: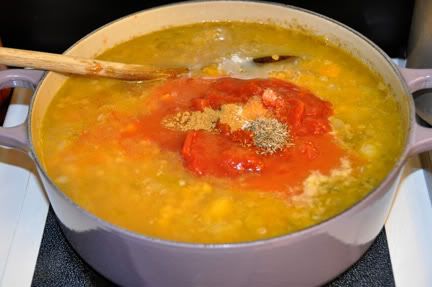 Cooked and ready to blend: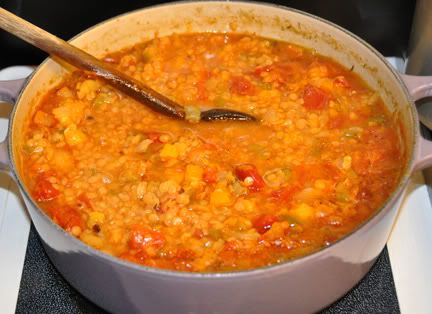 Soup all blended: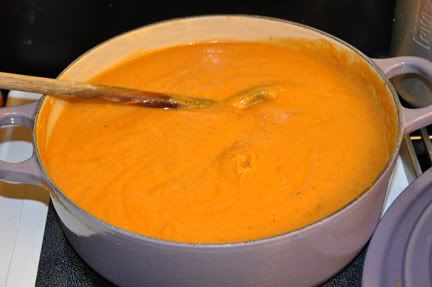 And served in a lidless Harlequin sugar that is doing double duty as a soup bowl: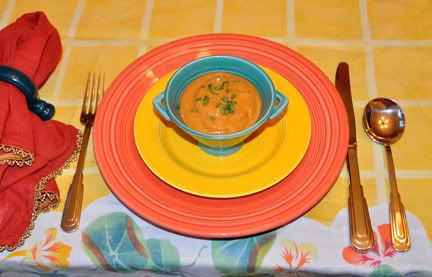 Red Lentil Apricot Soup

3 Tbsp olive oil
1 large onion, chopped
1 bell pepper, seeded and chopped
1/3 cup chopped dried apricots
2 cloves garlic, minced
2 cups dry red lentils
6-7 cups veggie or chicken broth
1 can of diced tomatoes with juice
½ tsp cumin
½ tsp dried thyme
Kosher salt
Freshly ground pepper or cayenne
2 Tbsp freshly squeezed lime or lemon juice
Chopped fresh chives, parsley or cilantro, for garnish

Heat olive oil over medium heat and sauté the onion, bell pepper, apricots, and garlic. Do not let brown. Add lentils (rinsed and picked over) and 6 cups of broth and bring to a boil. Reduce heat to low and simmer for 30 minutes, stirring occasionally. Add tomatoes, cumin, thyme, and salt and pepper, to taste. Simmer for 10 to 20 more minutes. Stir in the lime or lemon juice and remove from heat. Let stand a few minutes to let flavours meld.

Blend with a stick blender or in portions in your regular blender. If the soup is too thick, add enough of the remaining broth to get it to the desired consistency. Reheat, then taste and adjust seasonings. Ladle into bowls and sprinkle with chopped chives, parsley or cilantro to serve.



Notes:

For those who like ham, you could start with ham broth and add some chopped ham to the soup. I think that flavour would go well with the apricot undertone. I would probably omit the lime or lemon juice if going this route.
namasté,