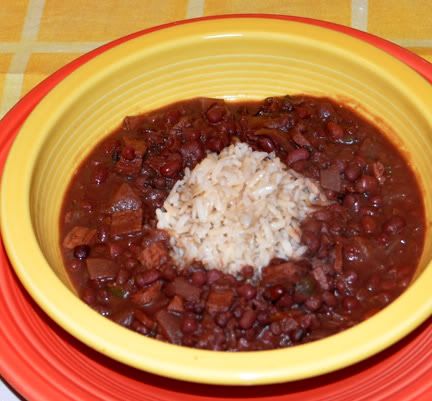 Red Beans and Rice is quintessential Louisiana food that's traditionally eaten on Monday. Why? Because cooks used their leftover Sunday hambone to make the red beans and rice the next day. Monday was wash day and there was no time to be slaving over a hot stove. Beans could simmer on low without being watched while the laundry was being done.

I find a lot of places these days use red kidney beans, but originally small red beans grown in Louisiana were the bean of choice. Try to find the small red beans, if you can. This dish is so much better made with them than with kidney beans. Small red beans are not the same as adzuki beans, though you can use those if they are all you can find. Many people also add smoked sausage or andouille to the dish.
While this recipe originated as a way to use the hambone from Sunday's dinner, I typically make it as a vegetarian meal. (Which makes it PERFECT for Meatless Mondays!) And I also developed my recipe to make it in a crockpot. That was back B.C. (before children), when Mike and I were both working for a start-up company and no one had time to cook anything elaborate. It was really nice to come home on Monday evening, fix some rice and dinner was ready. Hmmm. I was getting back to the roots of the dish without really noticing it at the time.
I should also mention, there is a proper way to serve red beans and rice. First and foremost, they are NEVER mixed together before serving. As soon as the rice is cooked it is spooned into soup plates (or some other bowl) with a bit of a mound in the centre of the pile of rice. Then the beans are ladled around the rice, leaving the rice showing in the centre of the dish.
So let's start with the two main ingredients: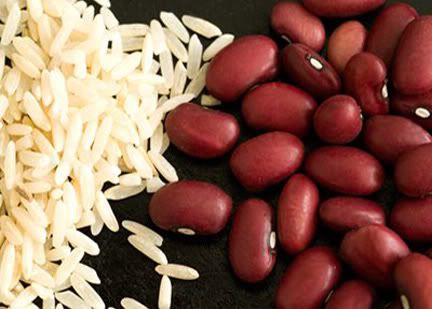 and gather our seasonings: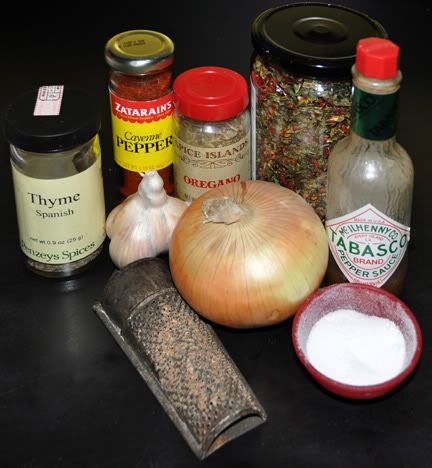 Today I didn't have a fresh bell pepper, but I did have some dried that I had chopped and dehydrated a while back. Those work great in a dish that cooks for an extended period in the crockpot.
Beans after cooking most of the day: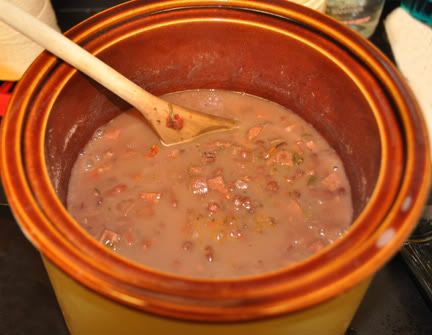 You want the final product to be creamy without having the beans cooked to the point of breaking into pieces. There were a few slices of ham in the fridge today, so I diced those up and added them to the beans early in the cooking.
Rice mounded in centre of bowl: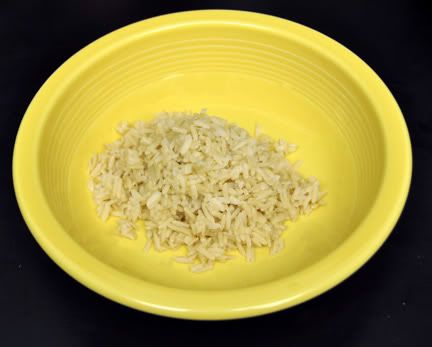 And here we have our lovely red beans and rice plated on sunflower and persimmon Fiesta.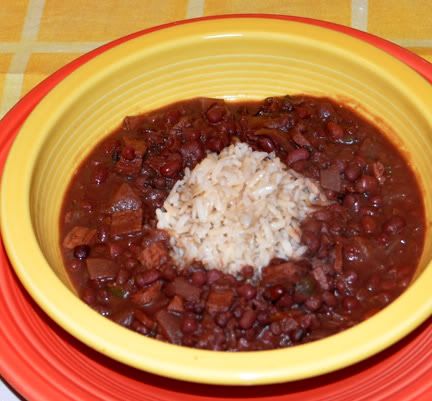 Red Beans and Rice

2 cups dry red beans
6 cups water
1 large onion, chopped
1 bell pepper, finely chopped - optional
1 large clove garlic, minced
½ tsp Tabasco sauce
2 Tbsp Worcestershire sauce
¼ tsp cayenne
¼ tsp oregano
¼ tsp thyme leaves
6 grates nutmeg
1½ tsp salt
1 lb smoked sausage or andouille - optional
2 cups uncooked rice
chopped fresh parsley or green onions - optional

About noon on Sunday wash the beans and put in crockpot with water, onion, bell pepper (if using) and garlic. Turn heat to LOW, cover and cook. Sunday night before you go to bed add the Tabasco, Worcestershire, cayenne, oregano, thyme, nutmeg and salt. Add more water, if needed. Cover and continue cooking.

On Monday morning slice and steam the sausage if you are going to use it; add to crockpot. Again, add water, if needed. Cover and cook till suppertime. Cook rice according to package directions. If the beans are not creamy enough, you can remove about a cupful or so, mash, and stir back into the pot. Place cooked rice in soup plates and ladle the beans around it. Sprinkle with parsley or green onion, if desired.



Notes:


1. If you have a leftover ham bone and want to use it, put it in the crock pot at the beginning of the cooking time.
2. I developed this recipe years ago for the older style crockpot. With the newer crockpots, it doesn't need to cook nearly as long. Or if you soak the beans they don't need to cook as long. For this batch, I put the beans to soak in cold water last night and started cooking them around 7:00 this morning on HI. They could easily have been eaten by 4:00 in the afternoon.
3. Add the seasonings to taste. These days I tend to use a little more of the herbs and Tabasco than when I originally wrote down in the recipe.

namasté,