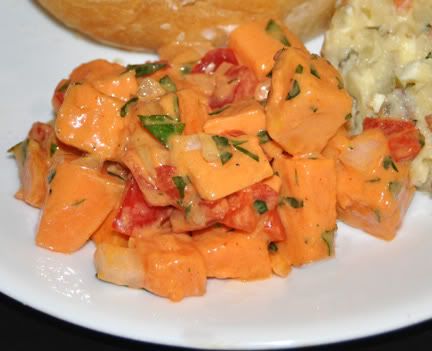 Sweet potato salad is not something I grew up eating. The first time I ever tried it was last year at the Tin Angel in Nashville. It was quite good, but I never got around to making it myself. A while back I was watching Food Network and saw the Neely's make
Sweet Potato Salad
. Gina used smoked paprika, which I love. So I checked out the recipe, thought it looked pretty good, then promptly forgot about it. Just last week some people on one of the internet food boards were talking about sweet potato salad and someone mentioned Gina Neely's recipe. She gave it rave reviews. The recipe moved back onto my radar screen.
This week we got some lovely sweet potatoes in the CSA veggie box, so Sweet Potato Salad got put on the list to make this weekend. I thought it would make a nice accompaniment to our salmon burgers and it did. And while I started with Gina's recipe, I did change it up a bit.
So let's gather up the ingredients: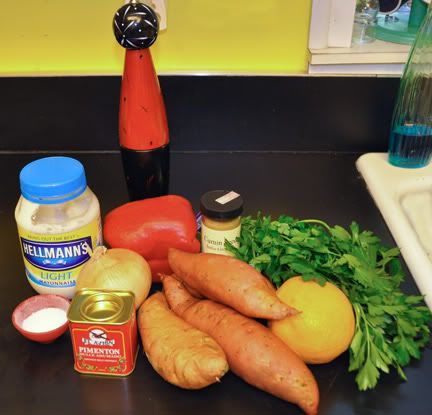 Chop up the potatoes and put them on to boil: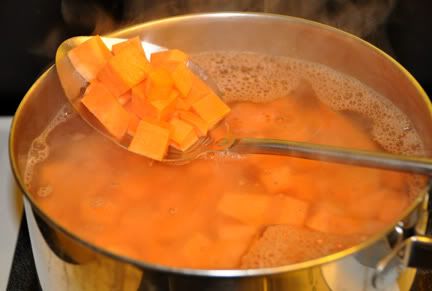 Salad all mixed up: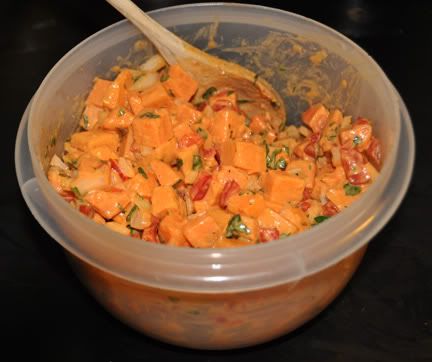 And ready to serve with grilled salmon burgers: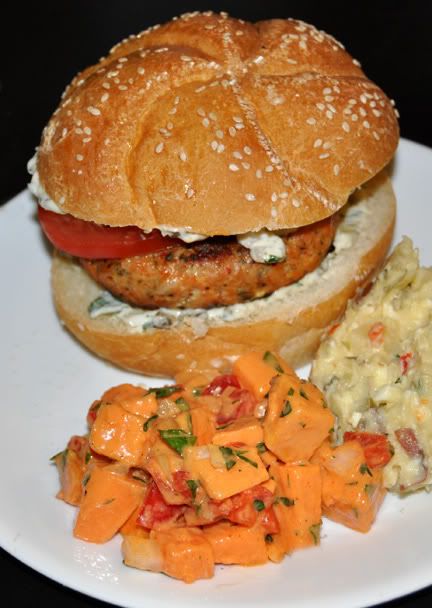 I also think this salad would be great to serve with turkey sandwiches or as part of a salad plate.
Sweet Potato Salad
2 pounds sweet potatoes, peeled and cut into 1/2" cubes
1/2 Vidalia or other sweet onion, chopped in 1/2" dice
1/2 large red bell pepper, seeded and chopped in 1/2" dice
1/4 cup chopped fresh parsley
3 Tbsp freshly squeezed orange juice
1 tsp mild smoked paprika
1/2 teaspoon ground cumin
Salt and freshly ground black pepper
1/3 cup mayonnaise
juice of 1 lime

Bring water to a boil and add sweet potato cubes. Cook until tender - 15 to 20 minutes. Pour in colander in sink to drain and cool.

Place cooled potatoes in a mixing bowl and add the onion, bell pepper and parsley. Turn to mix. Sprinkle with orange juice, paprika, cumin, salt and pepper. Turn to mix again. Fold in the mayonnaise to combine everything.

Refrigerate several hours to chill and allow flavours to meld. Taste and adjust seasonings. Just before serving, stir in the lime juice.
namasté,