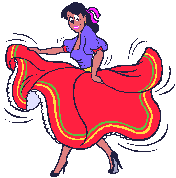 I've been wanting shrimp cocktail for a couple of weeks now (wouldn't you think I could have ordered one at the beach last week? LOL) and have finally gotten around to making one. I had intended to make my standard cocktail, but the Guy and I started talking about Sante Fe and I went for a south of the border version instead. I didn't have any recipe written down, so I just started looking about to see what all I had on hand.
Checking in my pantry and refrigerator, I started gathering ingredients. (Had a head start as I cooked the shrimp early this morning.)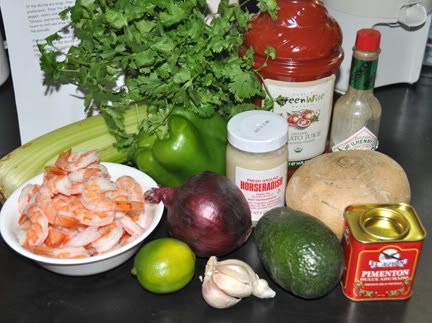 Chop, chop, chop, chop - onion, bell pepper, celery and cilantro: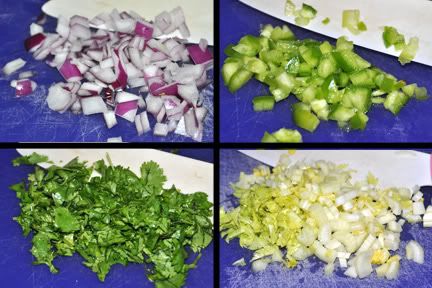 Folding in the avocado: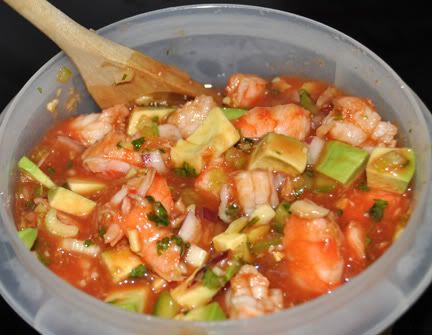 After I mixed this all up and tasted, I thought it needed some minced jalapeño, so I went out to my container garden and picked one. From now on that will go in at the beginning.
And ready to serve - garnished with lime and a jícama stick in a vintage banded ring stemmed sherbet:
Tonight I served this as a starter before our enchiladas, but I think tomorrow night the leftovers will be the main course as a salad. I may also add another half of an avocado as the ones I have are small. This really was a make it up as I went along, but I did measure and then write it all down. We really enjoyed it so this will become a regular in my repertoire. I hope you will enjoy it as well.
Shrimp Cocktail

1 lb cooked shrimp, peeled and deveined
1 clove garlic, minced
½ cup finely chopped red onion
½ cup finely chopped green bell pepper
½ cup finely minced inner stalks of celery and the leaves
minced fresh jalapeño, to taste
2+ Tbsp fresh cilantro, chopped
1 cup tomato juice or V8 juice
2 Tbsp ketchup
juice of 1 lime
½ tsp Tabasco sauce, or to taste
2 Tbsp prepared horseradish, or to taste
salt to taste
1 ripe avocado - peeled, pitted and chopped
jícama sticks, for garnish
smoked paprika, for garnish
lime wedges, for garnish

If the shrimp are large, they can be cut in half or diced (not too tiny) - your preference. I cut mine in thirds. Place the shrimp in a large bowl. Stir in the garlic, onion, bell pepper, celery and 2 Tbsp cilantro. Mix in tomato juice, ketchup, lime juice, Tabasco, and horseradish. Season with salt. Cover and refrigerate several hours to chill and allow flavours to meld. Just before serving gently fold in the avocado. Taste and adjust seasonings, if necessary.



For serving:

Dust one end of each jícama stick lightly with the smoked paprika. Ladle the shrimp mixture into stemmed glasses and garnish with lime wedges and jícama sticks. Can also sprinkle with a little more chopped cilantro.



Notes:

As an alternative to garnishing with jícama sticks, you could dice up some of the jícama and add it to the shrimp mixture. Or if you can't find jícama in your market, you can substitute a stick of cucumber or celery for garnish.
namasté,