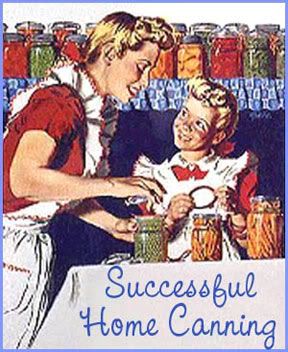 I grew up canning.

I did. When I was a child I was lucky enough to get to spend many summers with my grandparents. My grandfather always had a huge garden. What wasn't immediately eaten or given away, was "put up" by my grandmother. She canned, froze, preserved, pickled and otherwise prepared the food for long term storage, so they would be well-stocked for the off season. I thought that almost everybody did that, and was surprised to later find out how lucky we were. There were rarely any commercially canned goods in Mimi's pantry. Instead, it looked like this: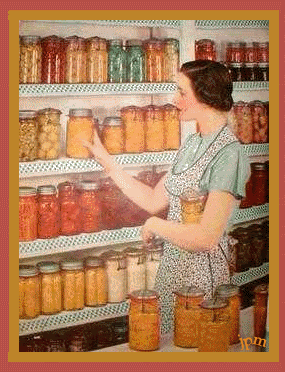 Mimi's utility room encompassed her canning
K
itchen. In addition to the laundry equipment the utility room had countertops, a moveable centre table, a double sink with one extra deep bowl, a gas triple burner, a chest freezer and a spare refrigerator. I was grown before I realized what a treasure that really was. As many of you know, we are working on a plan to build a new house out at our farm. I seriously thought about how to incorporate a canning
K
itchen. However, it came to me the other day that as the log house is going to become a "guest house", and how I already have that
K
itchen set up for easy canning and dehydrating, I can simply do all my canning there.
My grandparents were for the most part self-sufficient in the food department. They had cattle, chickens (for both eggs and eating), several ponds for fish, muscadines, peaches, plums, figs, bush cherries, apples, pears and strawberries in addition to the garden. They also foraged (asparagus and blackberries mostly) and both my grandfather and great-grandfather hunted. To my knowledge they never raised pigs, but instead would trade a steer for a couple of hogs in the autumn and sometimes goats also. And for many years my great-grandmother kept a milk cow, so all their dairy was homegrown. Probably their main food purchases were flour, cornmeal, salt, shrimp, crabs and rice. I look back to that with some nostalgia and sometimes think I'd like to have a similar setup (sans the mammals), but I am realistic enough to know that at this point in my life, I don't want to sign up for keeping animals. But the gardening and canning remain right up my alley.
For quite some time home canning seemed to be going out of style, but I have been encouraged the last few years to see people reviving this household art. You know what is in your food and there is just no substitute for some of the recipes. You can also put up exotic preserves and pickles that would cost an arm and a leg at gourmet food purveyors. I know many people are afraid of canning as they are worried about making people ill, but I'd like to encourage anyone to give it a try. As long as you follow guidelines set out by the
National Centre for Food Preservation
or the Ball Blue Book, your food will be safe, healthier and certainly tastier than anything you can purchase.
Typically during the summer I spend most of my time at the farm - gardening, canning, pickling, preserving and freezing. Due to the MDS and transplant, I haven't been able to do that the last couple of years.

At my
K
itchen here in town I have a Jennair cooktop. When we remodelled I chose glass surface burners, rather than the traditional coils. (Gas was not an option at the time.) After a number of years I learned you aren't supposed to use cast iron on a glass cooking surface!

After all this time I haven't had any problems with that. Not wanting to miss out on all the canning fun last year, I put up a number of different pickles and preserves here in town. And as I couldn't go move all my canning supplies and utensils, I "made do" with the things I had here.
This led to a second no-no with glass cooktops - the size of the pot on the burner. I was subbing my shrimp boil pot for the water bath canner. This pot is considerably larger than the recommended 2" larger than the burner. To my dismay, this resulted in a cracked glass top. Fortunately I had gotten two of the plug-in units when we remodelled, but had never used the second one. I keep the cooktop set up with the grill on the right and the burners on the left. It was an easy replacement. For the rest of last year's preserves, I used my 8 quart stockpot for the canner. This necessitated using smaller jars and more batches in the BWB.

As I'm still not able to be out at the farm on a regular basis, and as I am not interested in purchasing another glass plug-in unit, I've been looking around for a better idea for canning in the
K
itchen in town. I've known for years about a larger raised heating coil that Jennair makes called "big pot canning element". It plugs into a coil burner unit just like any other coil. But it is larger and taller with underside supports. This raises the bottom of the pot above the cooktop surface to allow for better airflow and the special air ring around the supports eliminates the problem of heat build-up under the oversized pots that can damage the component parts of the cooktop. The larger size makes the heating circle of the coil much more similar in size to a canner. It's my understanding that these big pot canning elements are available for most stoves that use electric coil elements. If you are canning on an electric stove, it's worth checking out.
Sometimes eBay really comes in handy! And this is where I get to the "thrifty" part of my post. I was able to purchase an older NIB big pot canning element and a gently used coil cooktop plug-in unit for less than a quarter of their current retail price.

Don't you just love deals like that? Now all I have to do is unplug either the grill or the glass surface plug-in and replace it with the coil plug-in and canning element. I'm excited and am ready to start making some preserves and jam!
I'm joining:
Jenny @
off on my tanget
for
Alphabe-Thursday
where this week's Letter is "K" -
K
is for "
K
itchen", where all my canning takes place.
Thrifty Treasures Sunday at
Southern Hospitality
Nifty Thrifty Tuesday at
Coastal Charm
Thanks so much for stopping by today! Happy canning.
namasté,