We Southerners have some pretty fixed ideas about cornbread and how it should be prepared. As you know, I grew up in Louisiana. Louisiana is on the Gulf coast in the Deep South and this is our family recipe for cornbread. So let's get something settled right off the bat.
It's not cornbread if it is not baked in a cast iron skillet!
This is the #1 rule. If you bake it in some other pan, you will get a facsimilie, but it is just not the same. I see recipes all the time now that call for baking it in a Pyrex dish or a non-stick baking pan and I just cringe!

Cornbread should have a nicely browned, crispy crust on the bottom and sides. To achieve that crust, you need to heat your iron skillet on the stove top with some oil in it while you are mixing up your batter. When you pour your batter into the hot skillet, it starts to form the beautiful crust. With other pans you do not get this crispy brown crust.
Then there is also the business about the ratio of cornmeal to flour, and whether or not you should add any sugar. Traditional cornbread should not be more than a 1:4 ratio of flour to cornmeal. If you see a recipe that calls for equal parts or 1:2, put it aside and go look for another recipe. That's not southern cornbread. As to the sugar, there are many southerners that eschew the use of it altogether. Sugar helps with browning, so we add just a small amount of sugar to our batter. You can leave it out, if you so desire.
Cornbread goes with so many different southern foods that it is something we serve fairly often. It is our favourite accompaniment for vegetable soup, as well as peas, greens and many other veggies..
While not absolutely necessary, I like to use stone ground cornmeal and I get it from
Falls Mill
, an old waterwheel mill in Belvidere, TN, which makes it a local product for me. Today I'm also using organically grown free-range duck eggs from my CSA box, but normally I use chicken eggs.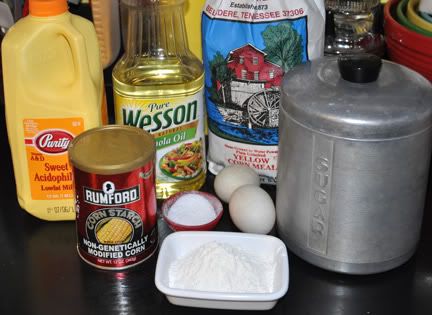 Heating the skillet - you can see how the oil is getting hot.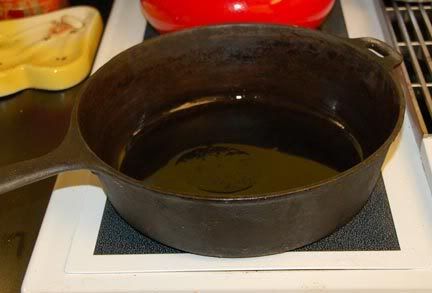 Wet and dry ingredients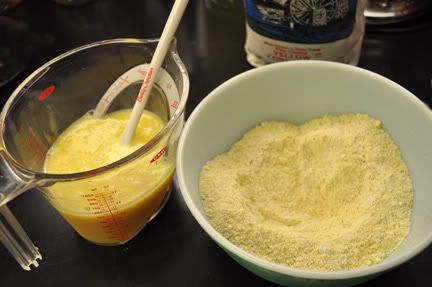 Note: If you use duck eggs, they will need to be beaten more than chicken eggs to incorporate some air.
Ready to bake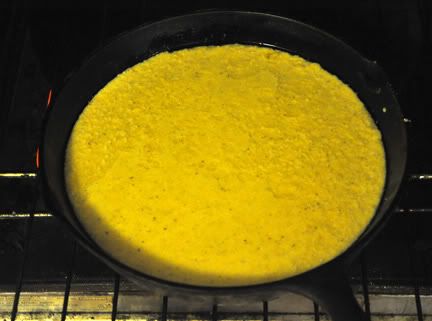 Lovely cornbread turned out of skillet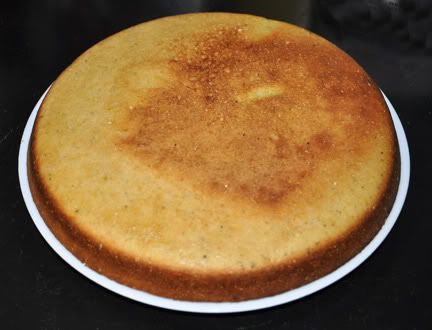 Sliced and ready to serve on one of my favourite Fiesta plates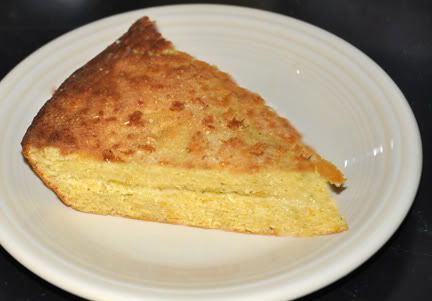 People at this house could inhale this cornbread. Tori and I have both been known to eat only cornbread for supper sometimes. LOL. This is one of those recipes where I don't really need to get the recipe out to look at. I just make it. It's really easy and if you try it I hope you will enjoy it as much as we do.
Country Cornbread
Serves 8

3 Tbsp oil, divided
2 cups yellow corn meal
6 Tbsp flour
2 tsp sugar
4 tsp baking powder
2 tsp salt
4 eggs, beaten
2 cups milk
8 pats of butter

Preheat oven to 425°F.

Heat cast iron skillet on stove top with 1 Tbsp oil.

In a large bowl mix the dry ingredients. In a batter bowl, whisk the eggs, 2 Tbsp oil, and milk. Pour the liquid ingredients into dry ingredients and stir to just combine. Pour cornbread batter into hot iron skillet and bake about 30 minutes or till done.

Cut in 8 wedges. Slice the wedges in half horizontally and place a pat of butter in each one. Serve immediately!
With this recipe I'm joining:
Michael Lee's
Foodie Friday
@
Designs By Gollum
Friday's Favourites
by Sandi & Bill @
Whistlestop Cafe Cooking
Kim's
Recipes to Run On
Thanks so much for stopping by today!
namasté,