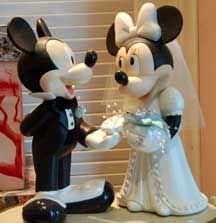 All the planning, all the shopping for attire, all the fittings, all the organizing, and all the details culminate tonight. And all of a sudden the last eighteen months seem to have flown by! At 5:00pm EDT there will be the most fabulous affair at Disney's Wedding Pavillion on the shores of the Seven Seas Lagoon. My firstborn daughter will marry the love of her life. The Guy and I couldn't be happier. We're happy for Abbey because she is so happy. And we are happy to be welcoming such a wonderful son-in-law into our family. Abbey and Donnie, we love you!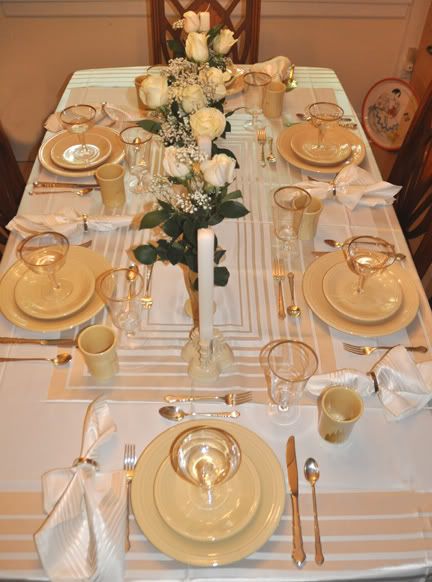 In honour of this most auspicious occasion, I set a wedding table using Abbey's colours of Ivory and Gold. All of my diva friends:
Elaine @
Dishing with Carafaye
,
Daphne @
Tabletop Time
,
Rebecca @
Mybecca's Vintage Tables
, and
Candy @
The Little Round Table
,
are also doing wedding tables to help us celebrate. I was so thrilled when they agreed to join me in this endeavour! Please check out their blogs for totally different, absolutely fabulous takes on a wedding table.
For favours, we chose to use Fiesta. Judi Noble, the art director at Homer Laughlin China, created this beautiful fairy tale castle design, which was put on both bud vases and tumblers.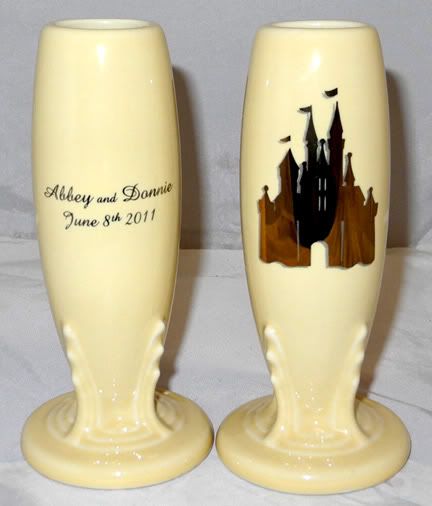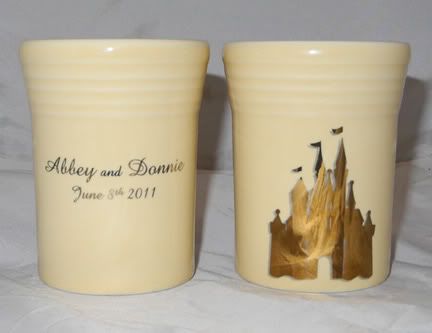 The Bride was thrilled. The Maid of Honour was thrilled. Their mother was thrilled. By default the Groom and the Father of the Bride were thrilled. All the other wedding planning has been equally as fun and satisfying. The Disney wedding team is fabulous. Please join in our happiness and celebration today.
For the ivory and gold table, I used post-86 ivory Fiesta dishes along with my wedding crystal and flatware. This is the first time I've ever done such a monochromatic ivory table. Normally when I use Fiesta, it is an explosion of colours! And I don't normally dress it up so much with silver and crystal. But I love how it looks!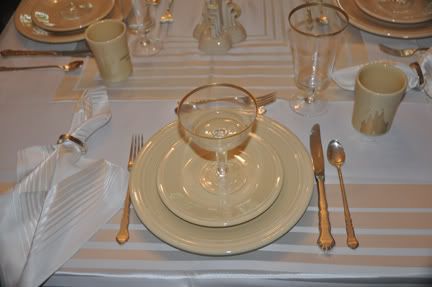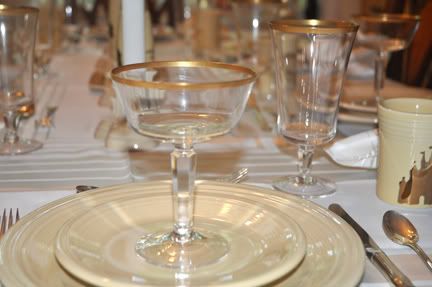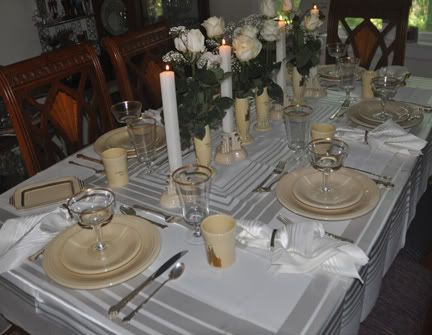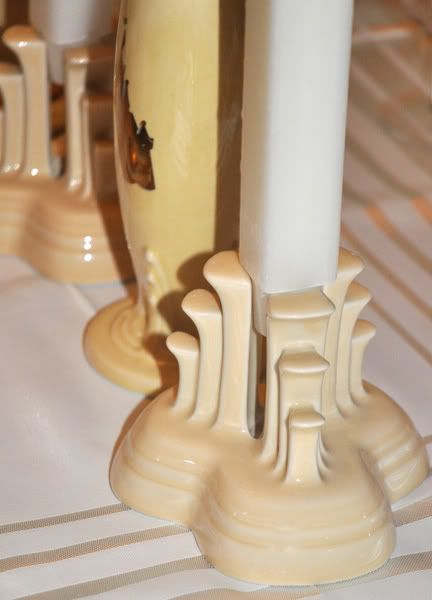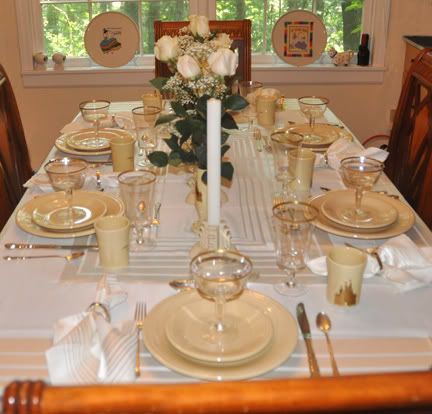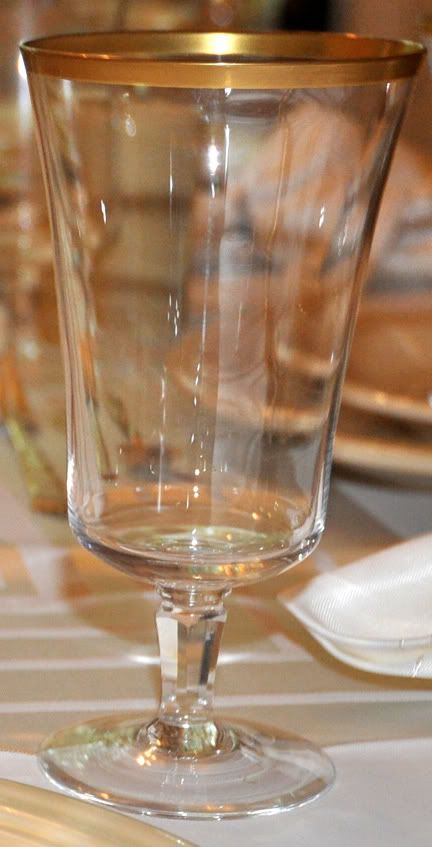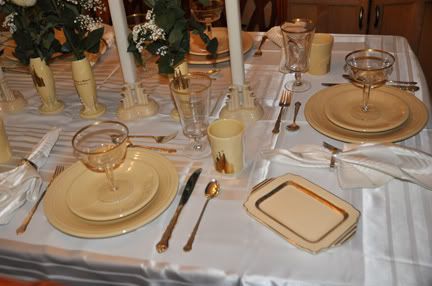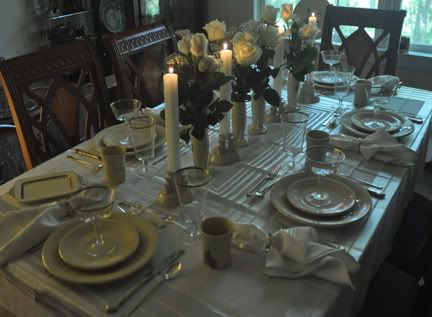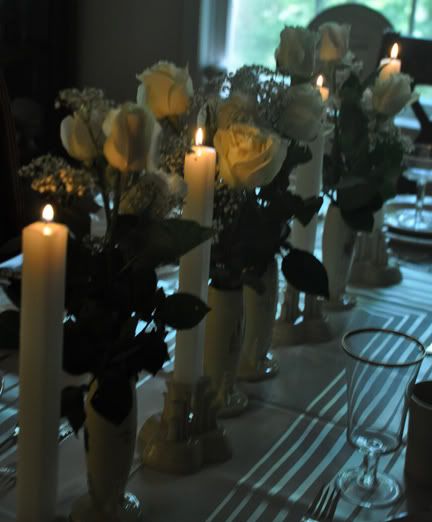 And look! Although there is not a lot of sky showing in the summer from this angle, it's my first ever on-purpose blue hour photo: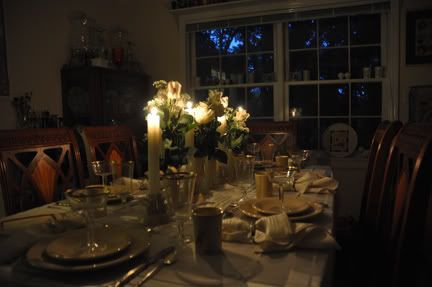 Click here
if you are interested in learning more about
Blue Hour Photography
, including the daily times when you can make these shots in your area.
On today's table:
Midcentury ivory rayon tablecloth and napkins
Specially made for us ivory post-86 fairy tale Fiesta tumblers and bud vases
Ivory post-86 Fiesta plates and pyramid candleholders
Ivory Century butter base decorated in gold
Silver napkin rings I've had forever
Lenox Eternal goblets and sherbets (my wedding crystal - the original Barclay shape, discontinued 1988)
Flatware - Golden Centennial silverplate by International (my wedding flatware - also discontinued 1988 - What was going on that year?)
Candles from TJMaxx
Roses from Fresh Market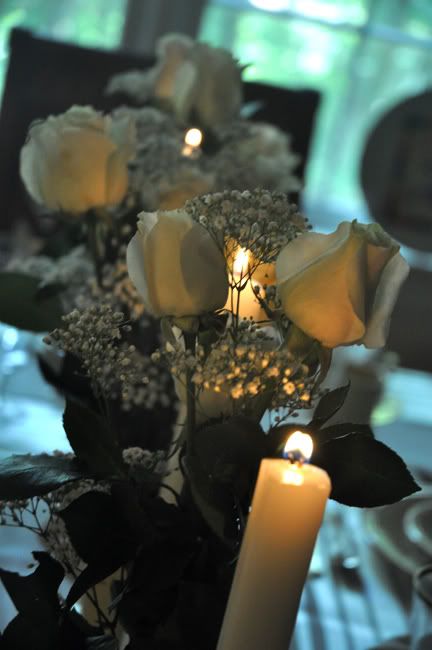 This post is linking up with:
Jenny @
off on my tanget
for
Alphabe-Thursday
where this week's Letter is "H" -
H
is for "
H
appily Ever After", which is the ending line of all fairy tale weddings. And no one does a fairy tale wedding as Disney does.
Susan at
Between Naps on the Porch
for
Tablescape Thursday
, where I'm excited to share the wedding table,
Suzanne @
The Coloradolady
for
Vintage Thingy Thursday
, because I'm afraid my crystal and flatware have become vintage

,
The Tablescaper for
Seasonal Sunday
, as June is the season for weddings, and
Marty @
A Stroll Through Life
for
TableTop Tuesday
, in honour of Abbey and Donnie beginning their Together Stroll Through Life.
Thanks so much for stopping by today! Love and magical best wishes to all!
namasté,