In keeping with this weekend's Biscuit Festival in Knoxville, let's talk about drop biscuits. Now I grew up with biscuits that were rolled and cut. One time when I was still in Junior High School, a friend and I made some drop biscuits and they did not turn out well enough to convince me I should switch from my grandmother's recipe. Well, about four years ago Art Smith was on Oprah's show and he made some of his famous Goat Cheese Drop Biscuits. "These biscuits give a warm welcome to diners at Art Smith's Chicago restaurant, Table Fifty-Two."
A friend on a food board posted the recipe and I thought they sounded so good. Art Smith is a Southern boy at heart, so I trusted he knew how to make biscuits!!! Then a week or so later, there was Art Smith on Iron Chef America where the secret ingredient was cheddar cheese. He made a version of these biscuits using cheddar. Those looked great, too! Do you ever feel as if the universe is speaking to you? LOL. Drop biscuits had dropped back into my life.
I promptly decided I
needed
to make these. At the time I first made them I had on hand a regular French chèvre and some Cypress Grove Purple Haze Goat Cheese. I elected to make two batches of the biscuits, one with each of the cheeses. They were both delicious! But I have to say that I really liked the ones with the Purple Haze the best. That is one of my most favourite cheeses (flavoured with lavender and fennel pollen), so I am sure that is the reason.
Nothing like doing two at once: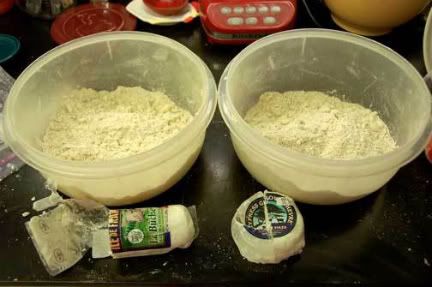 I used my cookie scoop to make the biscuits a uniform size: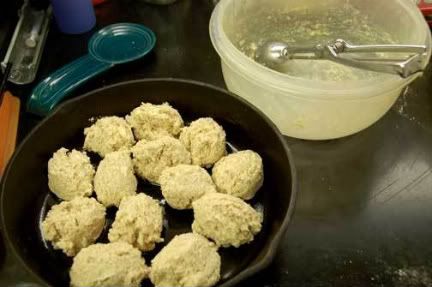 And here is how they looked plated: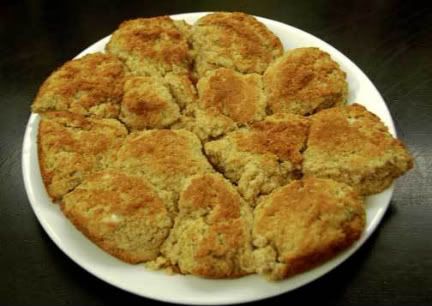 The friend who posted this recipe on the board also liked to make them with a smaller scoop and bake them in the individual cast iron skillets so that each person got their own. I love that idea, but haven't remembered to look for the mini skillets when I've stopped at the Lodge Store in South Pittsburgh, TN. Maybe next time!
Since that day I have made these biscuits quite a few times, but these days I use
Belle Chèvre
, our LOCAL award winning goat cheese. To simulate the Purple Haze from Cypress Grove, I add some fennel pollen and lavender flowers to the plain cheese from Belle Chèvre and I am happy.
Goat Cheese Drop Biscuits
adapted from Art Smith
Makes 12 biscuits

2 cups self-rising flour
2 tsp baking powder
1/2 tsp baking soda
1 tsp salt
4 Tbsp cold butter
4 Tbsp goat cheese
1 cup buttermilk
Extra butter to grease pan and top biscuits
1/4 cup grated Parmesan cheese

Preheat your oven to 425°F. Place a 10" cast iron pan into the oven while it is preheating.

Mix flour, salt, baking soda and baking powder into a medium-sized bowl. Cut in the butter and goat cheese. Make a well in the middle of the ingredients and pour in the milk. Stir until the mixture is moistened, adding an extra tablespoon of milk if needed.

Remove the hot skillet from the oven and add a tablespoon of butter. When the butter has melted, drop 1/4 cupfuls of batter into the pan. Brush the tops of the biscuits with melted butter. Bake from 14–16 minutes until browned on the top and bottom. Remove from the oven and sprinkle with the grated cheese. Enjoy warm!

Notes:


1.

I do not keep self-rising flour on hand. However when I took Food Prep 101 at college we learned several ways of making our own. This one is supposed to be optimum if the recipe called for buttermilk and is what I use to make these biscuits:
2 cups flour
2 tsp baking powder
1 tsp baking soda
1/4 tsp salt

Mix together and use as directed.



2.

For recipes that don't use buttermilk, the substitution I use is 3 tsp baking powder and 1/4 tsp salt for every 2 cups flour.

I'm linking this to Michael Lee's
Foodie Friday
@
Designs By Gollum
,
Friday's Favourites
by Sandi & Bill @
Whistlestop Cafe Cooking
, and Kim's
Recipes to Run On
.
Thanks for stopping by today!

namasté,