It was five years ago today that I made my first blog post. Nothing earth shattering and I didn't do much with this blog the first couple of years. But as time passed the blog has become a part of my daily life. I've used it to talk about food and share recipes with people all over the world. I've also been involved with a number of photo memes where we post photographs with particular themes. For a while now I've been participating in blog parties relating to setting a beautiful table, which gives me an opportunity to play with dishes and vintage tablecloths. And the blog has been therapy for me and a means of communication with my far-flung family and friends as I have dealt with my health journey through myelodysplastic syndrome and a bone marrow transplant.
It was only recently that I realized my blog was approaching its Five Year Anniversary.

Five Years of posting my random musings! Now while I am highly anticipating the Five Year Anniversary of my transplant when the docs will consider me cured (and the Guy intends to give me an emerald bracelet to replace the hundreds of hospital bracelets I have had to wear over these years), five years of blogging is a good reason to celebrate.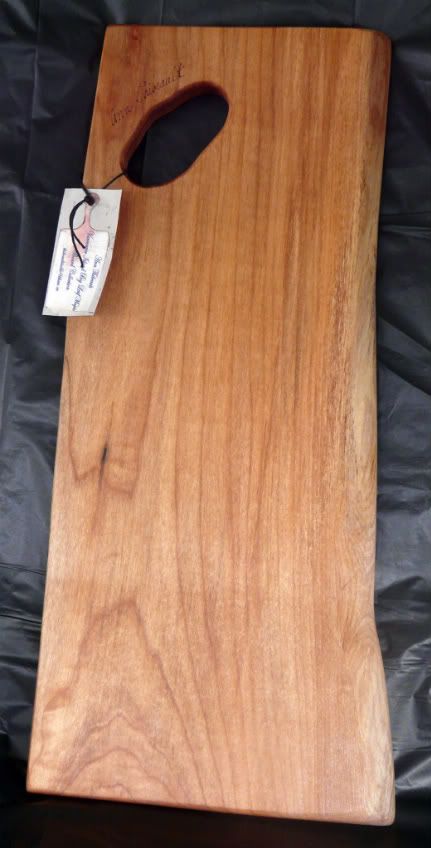 With many thanks to my friend Ann, I am giving away the cutting board you see pictured here. Ann lives in British Columbia and blogs @
Thibeault's Table
. I first met her on a food message board and let me tell you, this lady can cook! On her blog she features a beautiful cutting board gallery of handmade boards for sale. I am lucky enough to have two of these boards and I just love them! Each is unique. My favourites are the ones with the "live" edges. A live edge board features a natural edge and the giveaway board is one of those. The dimensions are 21"×9½"×¾".
The boards from
"Ann Thibeault's Signature Cutting and Serving Board Collection"
are made from Vancouver Island Big Leaf Maple, a Canadian hardwood, which is the chief source for quality wood cutting boards around the world. Because of the exotic figures found in a small number of big leaf maple trees, including tiger stripe, quilt, spalt, curl, and birdseye, big leaf maple is among the most sought after of hardwoods.
Life is hectic around here at the moment with a graduation, a wedding at DisneyWorld, and a separate wedding reception here at the farm ten days later happening in the next four weeks. The drawing for this beautiful cutting board will take place on the afternoon of 31 May. I'm sorry, but the drawing is limited to readers and friends in Canada and the USA only. After the drawing, Ann will directly ship the board to the lucky winner. To register for the giveaway, simply leave a comment on this post. Be sure I have a way to contact you if your name is drawn.
DEADLINE for Registering
12:00 noon Central Daylight Time, 31 May 2011
Thank you to each of you who read my blog, comment or not, follow or not, encourage, empathize, sympathize, share recipes, tablesettings, photographs and otherwise interact with me. I am looking forward to many more great years online together!
namasté,