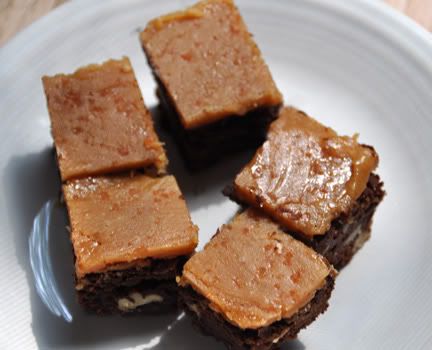 Abbey and Tori have always loved Nutella, so whenever I see a recipe that uses it, I file it away to have on hand if I want to make them a special treat. Just before she left for Italy, my friend Annie over @
From the Bookshelf
posted a recipe for Salted Caramel Nutella Brownies. If the Nutella weren't reason enough to make these, the caramel, which is someone's absolute favourite around here, sealed the deal. It is that same someone's birthday today, so she deserves a special treat!

Soapbox notice:
One of my pet peeves is the way so many people mispronounce caramel these days. Caramel is a three syllable word, not two syllables. Care-a-mel, not Car-mel. Carmel is a town in California. Caramel is the delicious culinary confection.
Back to my regularly scheduled post:
Annie adapted the recipe from someone who adapted it from someone else, etc., etc., etc. Credits listed at the end. I did some adapting, too. Ever since I first watched Ina Garten put espresso powder in nearly all things chocolate to intensify the flavour, I have done the same. And I saw that Annie used this same technique. The other thing I did differently involves nuts. To me, brownies absolutely, positively MUST HAVE NUTS. I intended to use hazlenuts, but as there were none in the freezer, I used pecans, which are always on hand at this house. (We do live in the south, you know.)
Gathering the ingredients (eggs from the CSA):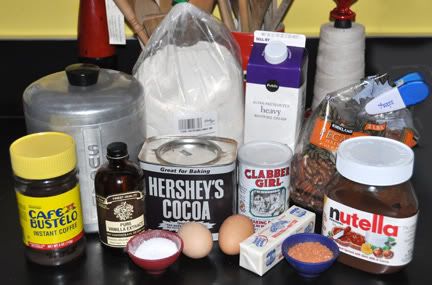 Dry ingredients: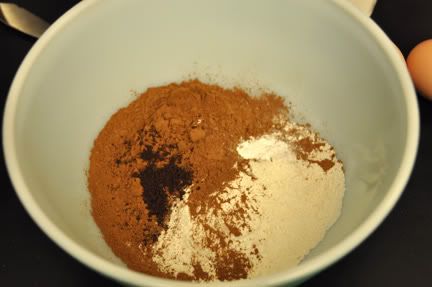 Chopped nuts, mixed dry ingredients and mixed liquid ingredients waiting on the Nutella to melt: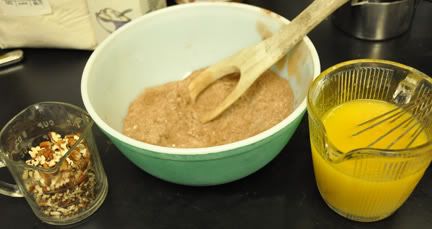 Going into the oven: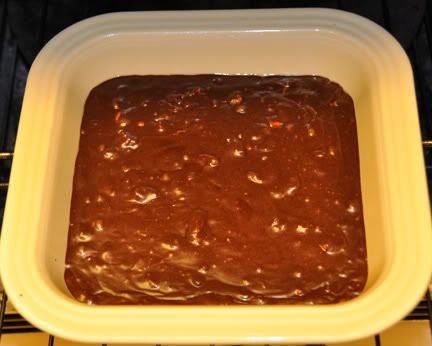 And baked:
Now, on to the caramel. Many people are afraid of making caramel, and I am not sure how it got the reputation for being difficult to prepare. I guess it is just because people got away from doing it on a regular basis, so now it can seem intimidating. You do need to be careful with the boiling sugar, but that is just part of kitchen safety. Luckily I learned how to do this from my grandmother while I was in junior high, so it's never been a problem for me. I have a special heavy bottomed copper pot that I only use for melting sugar and making caramel. It is a wonderful tool! Unlike Alton Brown, I have utensils and gadgets that are for only one use. However, you can use any kind of heavy bottom pot. They will all work.
Sugar and water beginning to heat: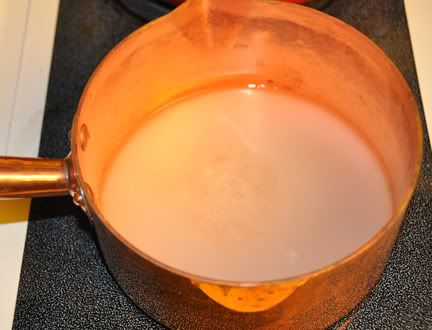 Sugar boiling: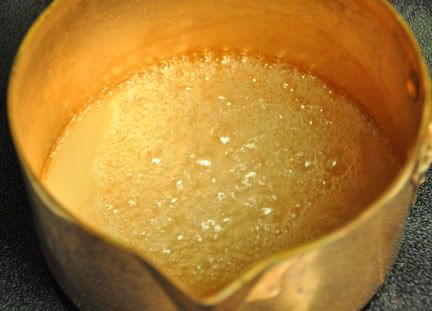 Syrup cooked to an amber colour: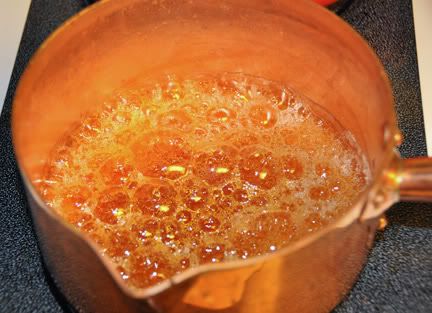 Stirring in the warmed cream (Do this SLOWLY! You don't want boiling sugar splattering out on you as it can cause severe burns.):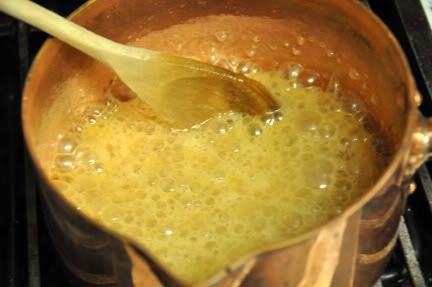 Adding the butter: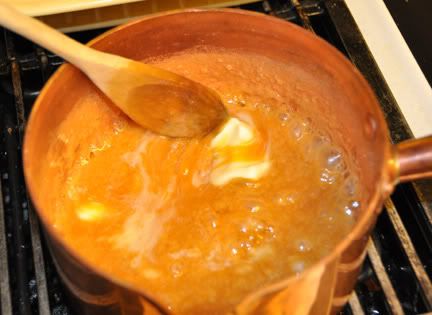 And poured over the brownies: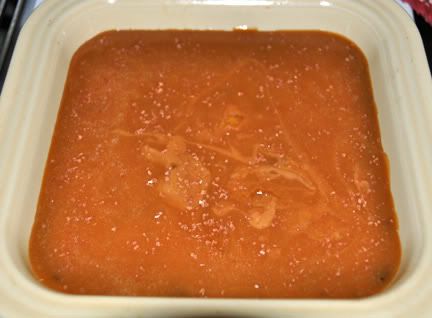 Close-up of the salted caramel:
I used Hawaiian red salt for the finishing salt and I love how it looks.

This morning I turned the brownies out of the baking dish. Some people line their dishes with foil leaving extra hanging over the edges to help with removal. I used to do that, but since I've begun using Fiesta baking dishes have not found it necessary. I just spray the dish with PAM or Bakers' Joy and things just turn right out.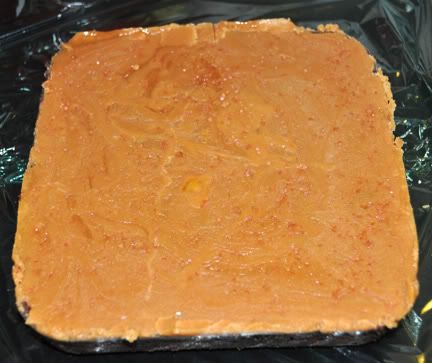 And plated on white Fiesta: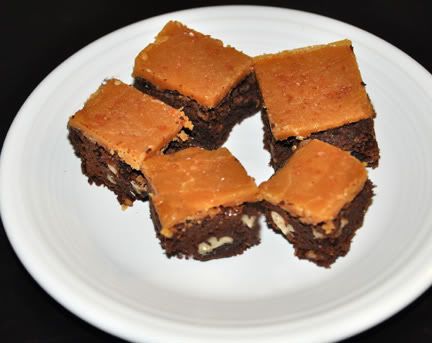 Salted Caramel Nutella Brownies
½ cup flour
½ cup unsweetened cocoa powder
½ tsp instant espresso powder
Pinch salt
¼ tsp baking powder
1 stick (8 Tbsp) unsalted butter, melted
¾ cup + 2 Tbsp sugar
1 tsp good vanilla
2 eggs
½ cup Nutella
¾ cup chopped nuts



Caramel Glaze


¼ cup heavy cream
1 cup sugar
¼ cup water
2 Tbsp unsalted butter, cut in pieces
½ tsp kosher salt
½ tsp finishing salt (I used Hawaiian red salt)

Preheat oven 350°F. Grease an 8"×8" square pan and set aside.

In small bowl, combine flour, cocoa, baking powder, and salt. Set aside.

In large microwavable bowl (I use a glass measuring cup as it makes for easier pouring.), melt butter in 20 second intervals, stirring after each until smooth. Add sugar and vanilla, and whisk until well-mixed. Add eggs one at a time, whisking well after each addition. Add to dry ingredients and whisk until fully combined.

In glass measuring cup or other microwave-safe bowl, melt Nutella in 20-second intervals, stirring after each, until smooth and pourable consistency. Stir into batter along with the nuts. Pour into prepared pan and bake 25-30 minutes or until cake tester inserted in centre comes out clean. Remove from oven and let cool completely.

Once brownies are cool, make the caramel glaze. In a small saucepan over low heat, warm heavy cream, but do not let boil. Keep gently warm while melting the sugar.

In a medium saucepan, combine sugar and water but DO NOT STIR. Place over medium-high heat & bring to a boil. Cook until mixture turns an amber colour, but not too dark that it looks like the sugar is burning. (This took me about 10 minutes, but it varies depending on your stove.) Remove from heat and

slowly

stir in the warm cream, butter, and ½ tsp kosher salt. Stir gently until smooth & well combined.

Pour over cooked brownies, tilting the pan to coat. Sprinkle with finishing salt and let glaze to set before cutting.



Credits:

I adapted this from my friend Annie at From the Bookshelf, who adapted from Vittles & Bits, who adapted it from Noble Pig, with the Caramel Glaze slightly adapted from The Pioneer Woman.
This week I'm linking to
Sweet Tooth Friday
with Allison @
Alli'n Son
and Kim's
Saturday Swap
over at
Quit Eating Out
. Do check them out to see what other goodies people are sharing.
Thanks so much for stopping by today!
namasté,