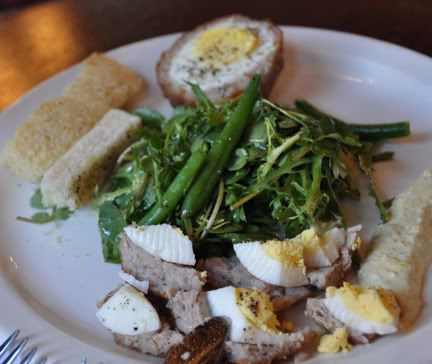 First of all:
Scotch Eggs are not from Scotland.
This tasty dish was invented in 1738 or 1851 (depending on which source you believe) by Fortnum and Mason, a British food merchant/department store, supposedly as food for travellers. The name came about because the eggs were originally wrapped in Scottish beef. Often considered picnic food, the eggs are normally eaten cold with pickles and a salad. In the US, English-style pubs often serve them hot with mustard for dipping.
This past December when we were at DisneyWorld, we ate at the Rose & Crown Pub in Epcot one day.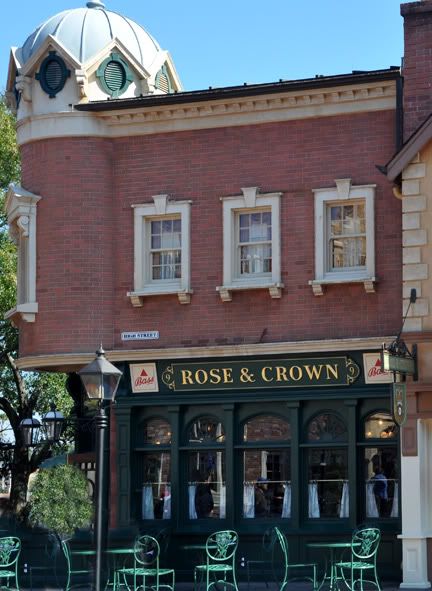 It's a nice place to sit down and have a snack or a brew. We were in no hurry, so we went inside where we had a nice table by a window.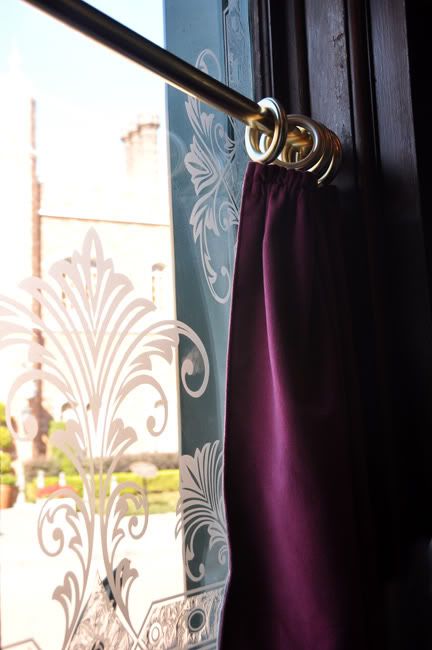 Their bar is all dark wood and what most people would expect an Americanized British pub to look like: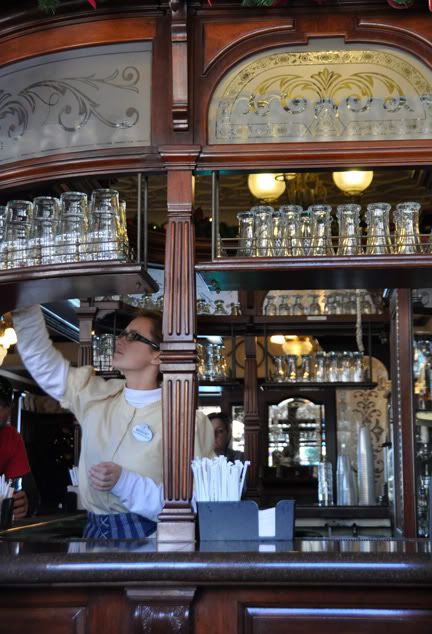 While we perused the menu, the Guy had a Black and Tan.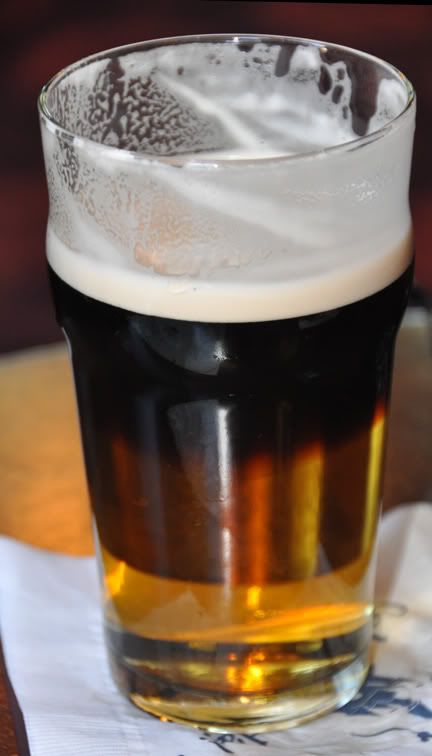 We decided to sit a spell and order some plates to share. One of those is Scotch Eggs pictured at the top of the post. The eggs were served warm along with some dressed greens, mustard and toast points. It was quite good and the kids went back another day specifically to eat Scotch Eggs.
This is a really simple dish to make at home. You hardly need a recipe and you don't have to go to a pub to eat one!
My CSA is wonderful. I get the best free-range eggs from pastured chickens and sausage from a farmer who raises the pigs organically and hormone-free. With those kinds of ingredients, the taste is divine. I love all the different colours of our CSA eggs: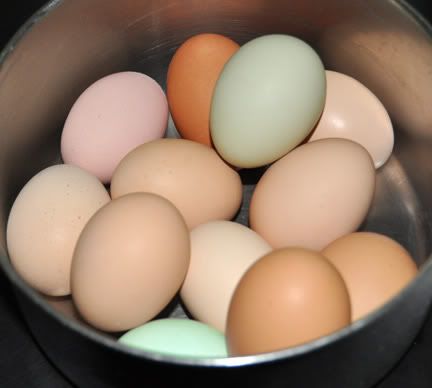 Here they are cooked and peeled: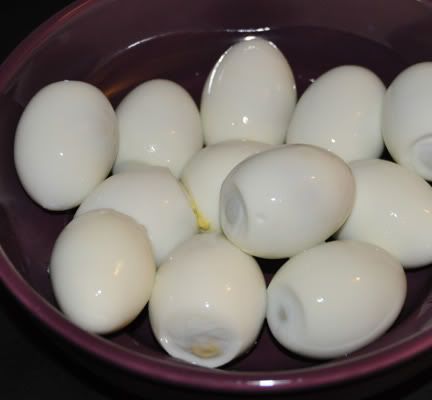 Getting the rest of the ingredients, including the sausage from our CSA: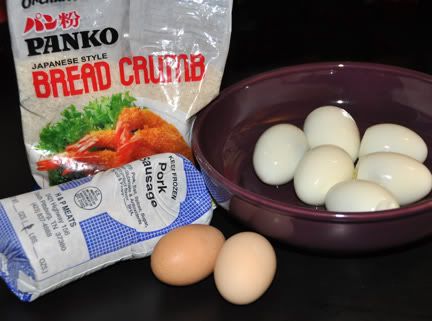 Sausage was divided into six portions to wrap the eggs. I flatten each portion into a thin patty, then wrap it around the egg to totally encase it.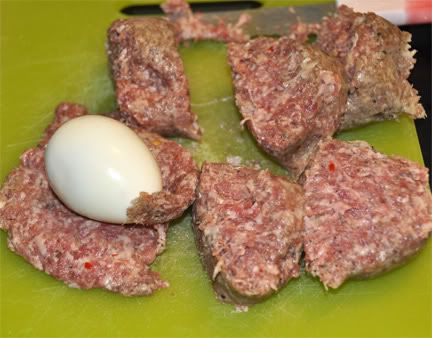 Six eggs ready to chill before cooking: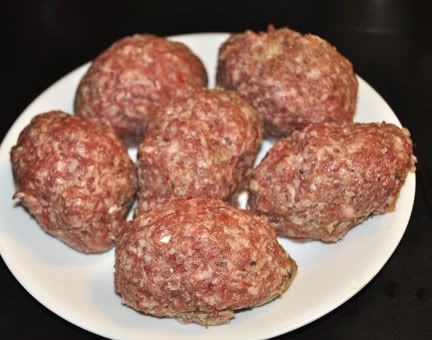 (Yes, I know I hard cooked a dozen eggs. The other six are going to turn into
Louisiana Stuffed Eggs
.)
Set up a breading station: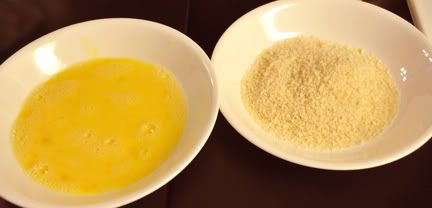 Now I personally do not like a lot of breading on foods, so I only put the sausage-wrapped eggs in the egg wash and panko once. If you like a thicker coating, repeat rolling in the egg wash and bread crumbs.
Cooking in my great-grandmother's cast iron chicken fryer: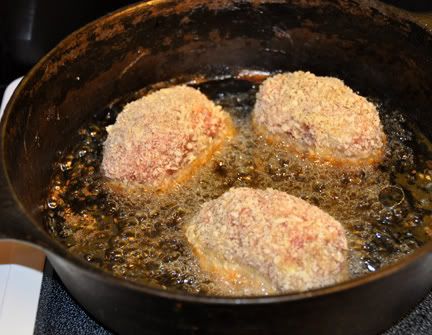 Draining and cooling on paper towels: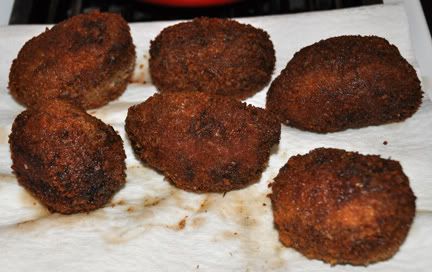 And plated on tangerine P-86 Fiesta plates: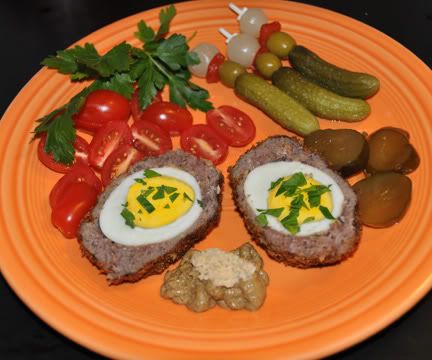 Look at the beautiful colour of the yolks of true free-range eggs.
For garnishes I used salted, halved grape tomatoes, mustard, horseradish, Wickles, and pickled cocktail sticks: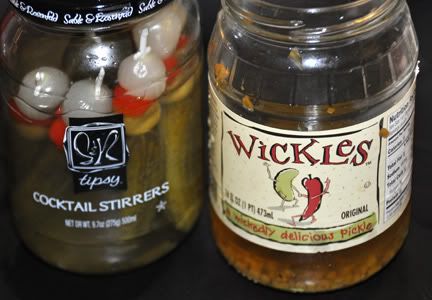 It is always good to serve a nice acid with any sort of fatty food, whether it is naturally fatty or fried, as the acid helps with digestion. In the South it is traditional to ALWAYS have a pickle tray on the table with a variety of pickled fruits and vegetables. This is the first time I have used those pickled cocktail stirrers and they were quite good with the eggs. The sweet-hot of the Wickles also went well with them.
Even though I said you don't really need a recipe for these, I did look about some online before writing this post. Someone did an unusual version of Scotch Eggs using Italian sausage and seasonings. I'm thinking those might be an interesting addition on an antipasti tray. But if you've never made them before, start with the standard version and see how you like them. They are quite popular with several of the people in this family.

Scotch Eggs
6 hard cooked eggs, peeled and chilled
1 lb bulk sausage
2 eggs
1 Tbsp water
Salt
1 cup panko
oil, for frying
mustard, for serving

Divide the sausage into six equal pieces. Shape each piece of sausage around one of the hard cooked eggs. Place sausage covered eggs in the refrigerator to keep chilled as you use up the remaining sausage and eggs. At this stage they can be refrigerated for several hours. I would chill them at least half an hour before cooking.

Crack the two uncooked eggs into a bowl and whisk in the water. Season with salt and set aside. Place breadcrumbs in another bowl.

Remove sausage covered eggs from fridge. Dip each one in egg wash, then in bread crumbs and set aside on a plate. Place the eggs back into the refrigerator until you are ready to cook. They can rest in the fridge for another hour or so, if you like. Just cover well with plastic wrap. I normally fry them as soon as they are coated with the bread crumbs.

Heat oil in a deep fryer to 375°F. I prefer to use a cast iron chicken fryer. Just because. It's the best thing for frying. Carefully place eggs, one at a time, into the hot oil. Let cook 3 to 4 minutes, then turn to cook the other side. Do not crowd the skillet. Remove from oil and drain.

Let cool for 5 to 10 minutes, then slice in half lengthwise. Serve with mustard and other chosen garnishes.
I'm linking this to Michael Lee's
Foodie Friday
@
Designs By Gollum
,
Friday's Favourites
by Sandi & Bill @
Whistlestop Cafe Cooking
, and Kim's
Saturday Swap
over at
Quit Eating Out
.
Thanks for stopping by today!

Please also remember to register for my
5 Year Blog Anniversary Give-Away
.
namasté,