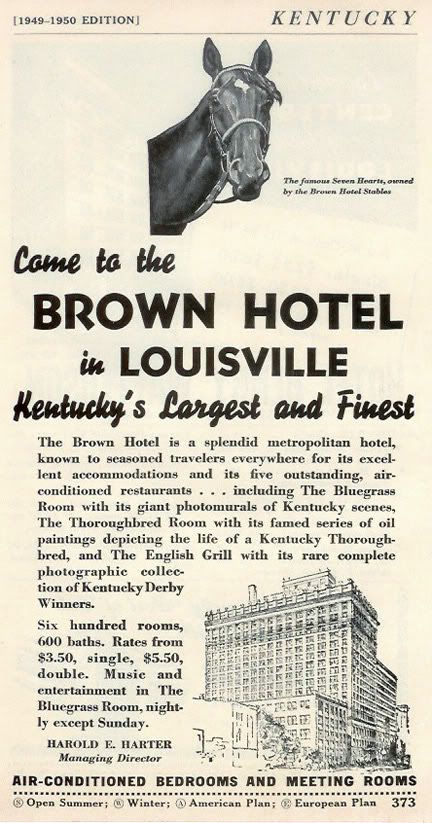 The Hot Brown sandwich was created by Chef Fred K. Schmidt at the Brown Hotel in Louisville, Kentucky back in 1926 and is indeed legendary. In the Roaring Twenties the Brown Hotel was the place to be and served over 1,200 guests each evening at its wildly popular dinner dance. The band would play until around midnight, when they would take a break. At that time guests would repair to the restaurant for sustenance.
The story goes that the dancers grew bored with the ham and eggs that were traditionally served at that time of night, so Chef Schmidt came up with the Hot Brown. It was an instant sensation. Back then turkey was not really served except at holidays, so having turkey on a sandwich just any time was very innovative. While a Hot Brown is a great way to use up Turkey Day leftovers, I certainly enjoy it at other times of the year. And what better time than in early May with the running of the Kentucky Derby?
Today the hotel is still a desired destination, though the rates are somewhat changed from the advertised prices in the 1950 ad.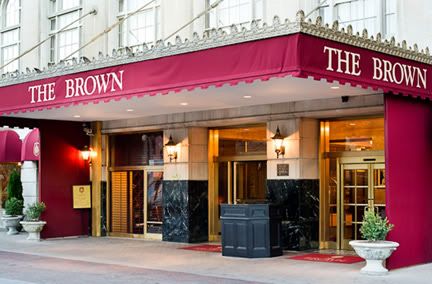 The Hot Brown has been featured in
Southern Living
, NBC's
Today Show
, the
Los Angeles Times
, and the
Wall Street Journal
, as well as being included in many cookbooks and all over the internet. It was also featured in an episode of
Throwdown
, where the chefs at the Brown Hotel beat Bobby Flay.
This sandwich is a local specialty and favourite of the Louisville area, indeed throughout Kentucky. In the Louisville surrounds it is known as a Louisville Hot Brown, while in the greater Kentucky area it's called a Kentucky Hot Brown. In many other places it is simply a Hot Brown.
I've known about this sandwich all my life, and when I was a kid I never could understand why it was called a brown sandwich. Nothing on it looked very brown to me!

I believe I was off at college before I found out that "brown" referred to the name of the restaurant where it was created, rather than the colour of the food itself. Sadly the Brown Hotel was shut down from 1971 to 1985 and Hot Browns were unavailable at their point of origin. Luckily they now publish their recipe, so if you aren't able to travel to Louisville, you can still enjoy this wonderful sandwich.
The Hot Brown is a take-off on Welsh Rarebit and is reminiscent of Croque Monsieur in its presentation: open-faced sandwich of bread, meat and topped with sauce, but they are quite different in their components. The recipe from the Brown Hotel calls for toast, turkey, tomatoes, bacon and Mornay sauce. This video shows Chef Laurent Géroli, Executive Chef at The Brown Hotel, preparing to make the sandwich:
I've seen other variations that use asparagus, or mushrooms or peach in place of the tomatoes and sometimes there is a garnish of pimientos. While all of those sound good and interesting, today I'm pretty much going by the Brown Hotel's published recipe (which I understand differs a bit from what is currently served at the hotel - something about brioche for the bread and maybe adding some cheddar to the sauce as it is a more orange colour).
I would also like to mention that in honour of this year's 85th anniversary of the Hot Brown, Chef Géroli is creating 85 different versions of the Hot Brown. Yes, 85!!! Two new Hot Brown Specials every week. I think it would be great fun to try them all, and I challenge any of my friends who live in Louisville to do the best they can in this regard for the remainder of the year and let me know which ones they try and how they like them.

Several of these recipes have been published and I intend to try both the Hot Brown Quiche and Hot Brown Croquettes.
Let's get together our ingredients (Eggs are from my CSA):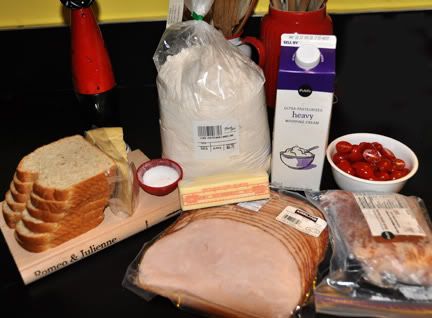 Mixing flour and butter to make the roux: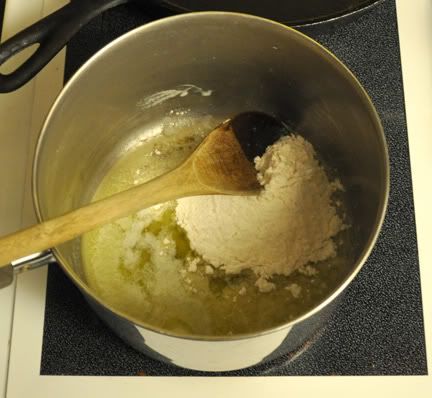 Roux cooked: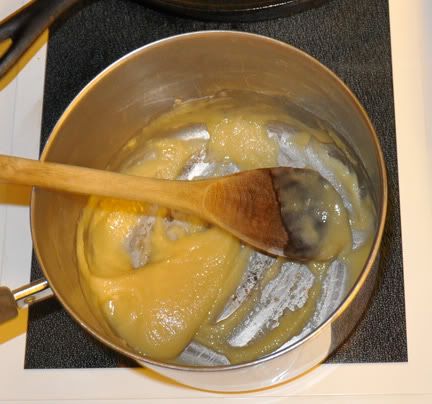 Whisking in the cream: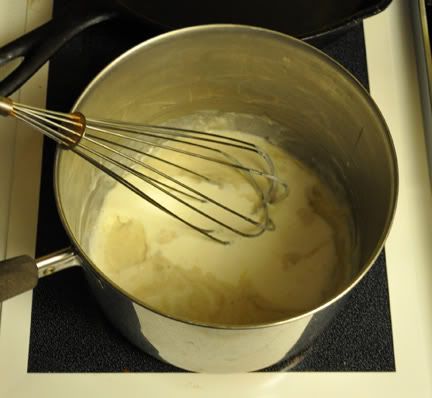 Layering the sandwiches in Fiesta individual bakers: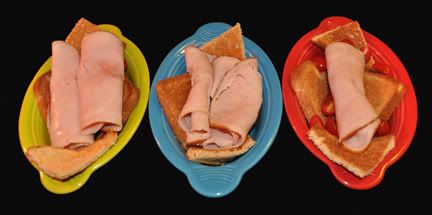 Popping in the oven: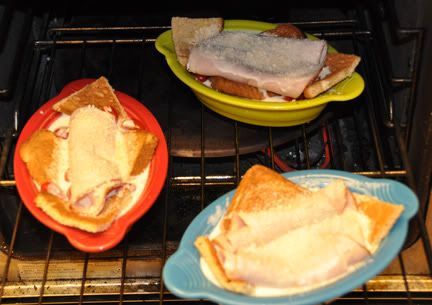 And ready to serve: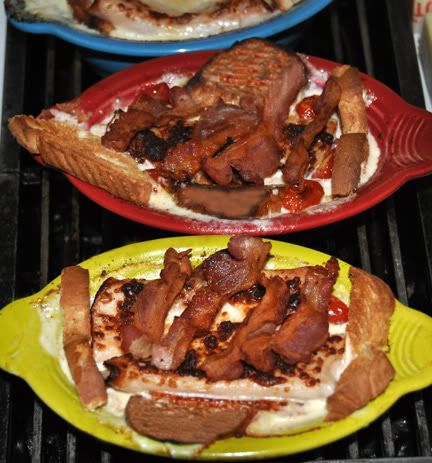 The Mornay Sauce turned out a little bit thin, but that is an easy fix. I made a couple of substitutions to accomodate the ingredients I had on hand. First of all, Texas toast isn't something I just keep around so I used a multigrain bread. Also, plum tomatoes weren't looking too good at the market, so we had gotten grape tomatoes. I think I really like those better as the little bites of tomato are more spread throughout the dish. And I used more than what would be the equivalent of the designated amount of plum tomato. Last, I used considerably less turkey than what was called for in the recipe. Two reasons: Tori and I don't like that much meat, and the individual bakers would have been too full. This can really be up to individual preference without compromising the dish.
The Legendary Hot Brown
From the Brown Hotel, Louisville, KY
serves 2



Mornay Sauce:


2 oz butter
2 oz flour
1 qt heavy cream
½ cup Pecorino Romano, plus 1 Tbsp for garnish
Kosher salt
Freshly ground pepper



Sandwich:


14 oz sliced roast turkey breast
2 slices of Texas toast, crust trimmed
4 slices crispy bacon
2 Roma tomatoes, sliced in half
Paprika and parsley



For the Mornay Sauce:

In a two-quart saucepan, melt the butter and slowly whisk in the flour to combine and form a roux. Cook the roux for two minutes over medium-low heat, stirring frequently. Whisk whipping cream into the roux and cook over medium heat until the cream begins to simmer, about 2-3 minutes. Remove sauce from heat and slowly whisk in Pecorino Romano cheese until the sauce is smooth. Add salt and pepper to taste.



For each Hot Brown Sandwich:

Place one slice of toast in an oven safe dish and cover with 7 oz turkey. Take the two halves of Roma tomato and set them alongside the base of turkey and toast. Next, pour on half of the Mornay Sauce to completely cover the dish. Sprinkle with additional Pecorino Romano cheese. Place entire dish under a broiler until cheese begins to brown and bubble. Remove from broiler, cross two pieces of bacon on top, sprinkle with paprika and parsley, and serve immediately.
I'm linking this to Michael Lee's
Foodie Friday
@
Designs By Gollum
and Kim's
Saturday Swap
over at
Quit Eating Out
.
Thanks so much for stopping by today! If you haven't made a Hot Brown before, give it a try. Everyone here gives this sandwich a two-thumbs-up.
namasté,