Cinco de Mayo marks a victory of the Mexican army over French forces way back in 1862. On 5 May, natch. While Cinco de Mayo is not actually a huge festival in all of Mexico, it is celebrated there in the state of Puebla and here in the USA. At our house it's a good reason to set the table with some fun Mexican/southwestern accessories and eat some great food from south of the border.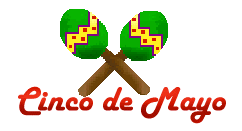 In the 1940s brightly coloured dishes and Mexican print tablecloths were all the rage. Fiesta dinnerware was popular all over the country. Many of us today inherited some of these dishes from our mothers and grandmothers. And the tablecloths were handed down also. They come in dozens of difference designs and I particularly like the one I used today because it goes with so many colours of the dishes. Mexican accessories also abound.
Mostly I used post-86 Fiesta.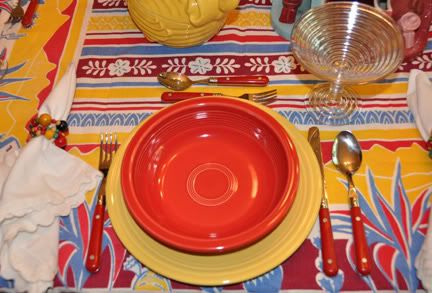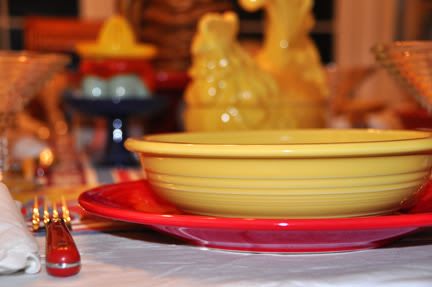 But this vintage pitcher (found at an antique store with the decal applied) was just perfect for the table.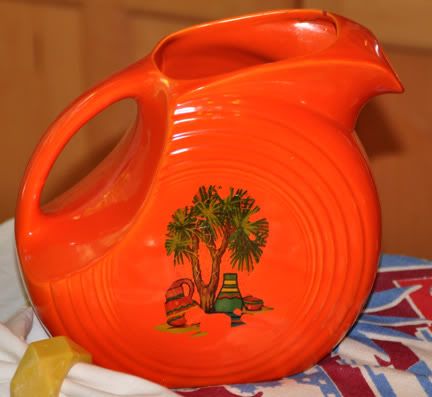 My favourite Depression glass pattern is called Manhattan. It is a fabulous art deco design AND the stemmed sherbets now double as margarita glasses.

Some of the accessories:
juicer (sitting in a vintage Fiesta sweets comport)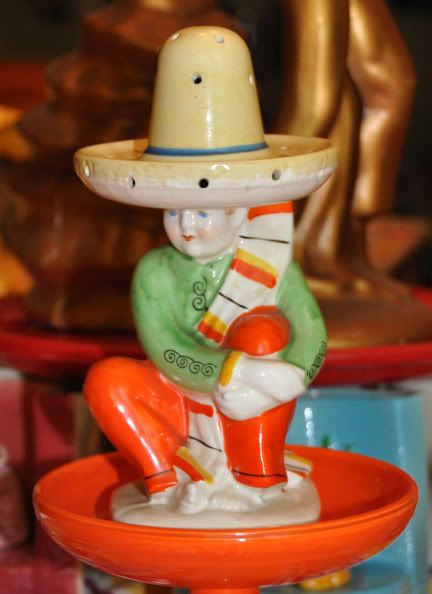 hors d'oeurves holder (also sitting in a vintage Fiesta sweets comport)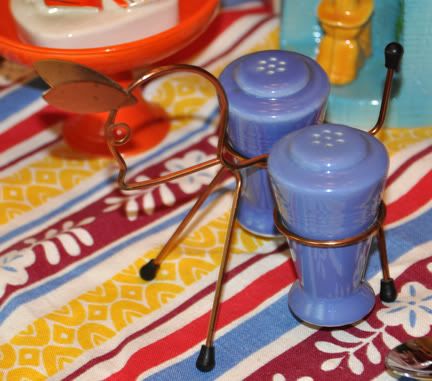 wire donkey holder with vintage Harlequin shakers (Donkey was originally made for Tupperware shakers in the 1960s, but a favourite of Harlequin collectors because the Harlequin shakers are a perfect fit.)
Flamenco dancers on a red Bauer pedestal cake plate are the centrepiece.
Around the base of the pedestal are several siesta wall pockets. These came in a number of different colour combinations.
Multi-coloured beaded napkin rings:
While this vintage covered chicken dish by Red Wing is not strictly Mexican, I like the way the curls and swirls of the feathers go with the design on the tablecloth.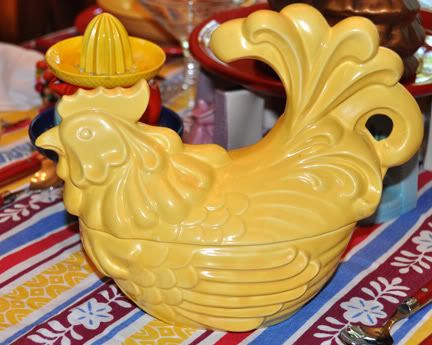 On the table today:
Post-86 Fiesta plates and individual pasta bowls in scarlet and sunflower
Vintage Fiesta sweets comports and decalled disc water pitcher in cobalt and Fiesta red
Vintage Harlequin blue Harlequin shakers in the Tupperware donkey shaker holder
Vintage Red Wing covered chicken dish
Vintage Mexican juicer and hors d'oeurves holder - both made in Japan
Vintage Mexican wall pockets - maker unknown
Vintage Manhattan Depression glass by the Anchor Hocking glass company
Vintage ceramic flamenco dancers
Red handled flatware I brought home from Italy a few years ago
Napkins and napkin rings from Pier One
I am linking this up to The Tablescaper for
Seasonal Sunday
, as it is always the season for Mexican food at our house and with Marty @
A Stroll Through Life
for
TableTop Tuesday
.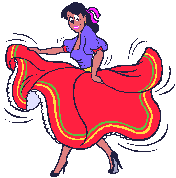 Thanks so much for stopping by today. Party on!
namasté,