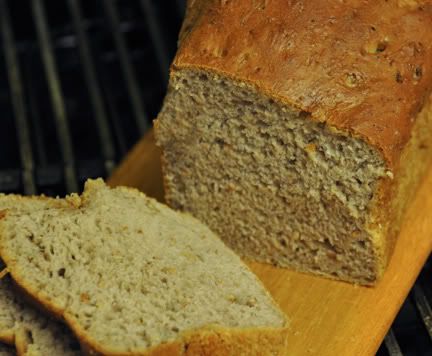 Low blood counts have me spending a lot of time either in bed or just sitting around. When I have to rest like that one of my favourite things to do is look through recipes. The other day I was looking through an old file on my computer and ran across a breadmaker recipe for Pear, Fennel Pollen and Hazelnut Bread. Now doesn't that sound interesting? I know I've had this recipe for a long time because a: I didn't remember it, and b: I didn't save any attribution. Google hasn't turned up anything either.
So, I didn't have any fresh pears in the house. Nor any hazelnuts, wheat germ or bread flour. Ever resourceful I adapted the recipe to use what I did have: diced pears in light syrup, pecans, whole wheat flour, unbleached flour, and cracked wheat berries.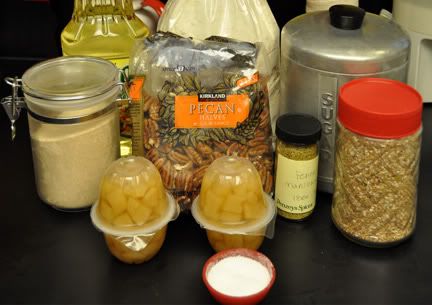 It's so easy when you use a breadmaker to prepare the dough. Just add all the ingredients and then when the dough cycle has finished, just put it in a loaf pan in the oven.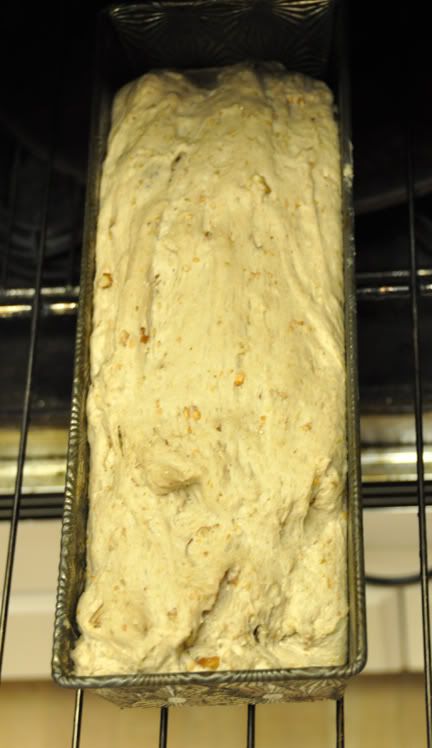 Look at how nicely it rose.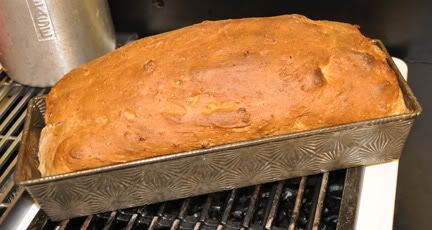 It slices very nicely, too.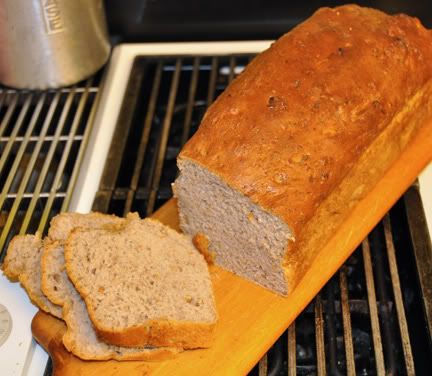 I had a hard time waiting until it cooled to do the slicing.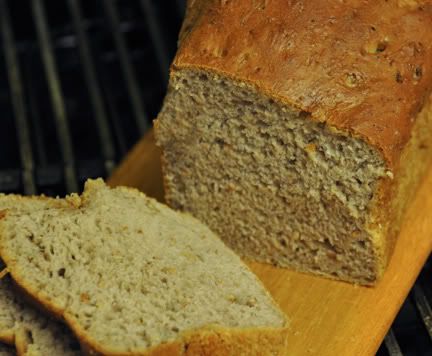 This bread is great just being sliced and eaten, toasted, made into pain perdu, and for croutons in a salad that incorporates pears. I also really enjoyed the background floral flavour of the fennel pollen. Try it as a sandwich with prosciutto and some shaved Parmesan. Or bake in smaller pans and make crostini. It's a very versatile recipe! The next time I bake this, I think I will make individual loaves for each person to have their own.
Pear Bread with Fennel Pollen and Nuts
4 (4 oz) containers diced pears in light syrup (do not drain)
2 Tbsp warm water
3 Tbsp oil
2 tsp kosher salt
1 1/4 cups whole wheat flour
2 1/4 cups unbleached flour
1/4 cup cracked wheat berries
1/3 cup chopped pecans
1/2 Tbsp fennel pollen
2 1/4 tsp instant yeast
1 Tbsp soft butter

Place all ingredients except the soft butter in breadmaker in order given. Set machine to dough cycle and start.

When dough cycle has finished, place the dough in greased loaf pan. The dough will be very soft. Cover and let rise. While dough is rising, preheat oven to 375°F.

Bake for 375°F for 35-40 minutes or until golden brown. Brush top lightly with the soft butter. Turn loaf out of pan and wrap in a tea towel. Set aside to cool.



Notes:


1. You could use whatever kind of nuts you prefer. I think either pine nuts or walnuts would be good. But pecans are the nuts of choice at our house, so that is what I used.
2. If you wish to try the original, here is the list of ingredients. Follow the same directions for making the bread.
½ cup water warm
3 Tbsp vegetable oil
3 Tbsp sugar
½ Tbsp salt
1½ large pears, peeled, cored and diced
3 1/8 cups bread flour
3 Tbsp wheat germ
½ Tbsp fennel pollen
3 Tbsp hazelnuts, chopped
2¼ tsp instant yeast

I'm linking this to Michael Lee's
Foodie Friday
@
Designs By Gollum
and Kim's
Saturday Swap
over at
Quit Eating Out
.
Thanks so much for stopping by today!
namasté,