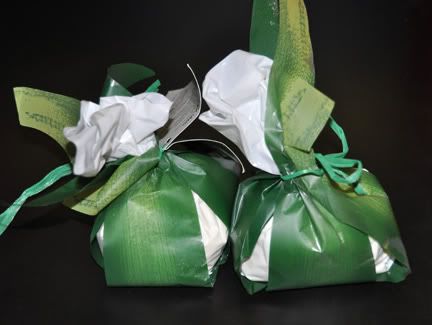 Creamy delicious cheesy goodness. I first had burrata a number of years ago at an Italian restaurant in Chicago (whose name escapes me at the moment). It wasn't a fancy large "name" restaurant, just a small place with less than two dozen tables and a bar. There wasn't really a good description on the menu, but I am pretty adventurous when it comes to cheeses, so of course I chose to order it. And I am so glad I did.

I fell in love with this cheese. The next day I took Tori there for lunch and we both ordered it. We went back for it a third time before we left town. The cheese was that good!
Burrata is a fresh cheese that should be eaten right away. Maximum shelf life is only about two weeks from when it is made and many times it is eaten immediately after it is put together. Burrata originated in the Puglia/Apulia area of Italy around 1920. The outer skin is a very thin layer of mozzarella which is filled with strands of mozzarella and cream - very delicate. Originally the balls of cheese were wrapped with asfodelo leaves (look similar to leek leaves), but now most are wrapped in paper facsimiles and plastic bags.
When we were in Italy I was lucky enough to eat burrata a number of times, but I haven't had any in almost three years. None of our local markets import it that I have been able to find, though it does tend to be available in gourmet cheese shops and is often made in-house in some restaurants. Abbey and Tori also love burrata, so I was thinking we might need to try to find some. Looking online I found a family dairy in California that makes nothing but burrata. Need I say more?????

It arrived yesterday. Abbey took home one so that she and Donnie could share. And actually Tori wound up eating theirs with them. Tonight the Guy and I had burrata for our dinner. To go with it, some nice Italian bread that I grilled briefly, and some prosciutto di Parma, olives, with a little salad of heirloom tomatoes, basil and olive oil on the side. A nice bottle of pinot grigio and we were set.
Is this cooking? Well, maybe not. But it was getting dinner together in a very easy manner! And a delicious one, to boot. Burrata is normally served at room temperature so that the cream is not solidified.
So I got out the things I thought I would need to make a nice dinner: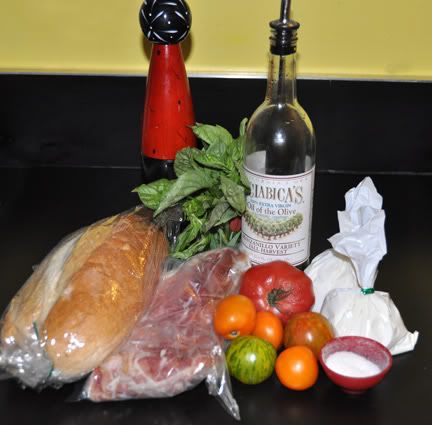 Started by getting the ciabatta slices ready to grill: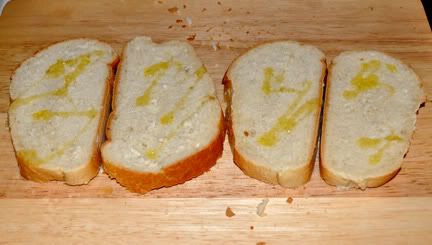 Love the grill marks! The bread is just the right crispiness with just enough char: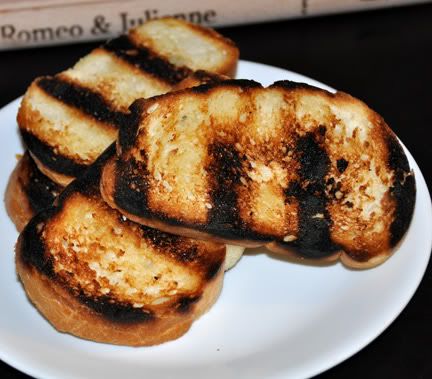 OK. I couldn't help it. I had to julienne the basil on my Romeo and Julienne cutting board (some things are just too cute):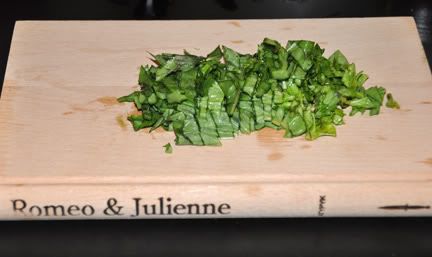 Well, more like a chiffonade, but for the sake of the story, we will call in julienne.

Slices of prosciutto di Parma: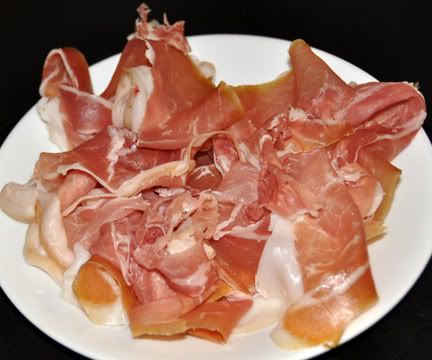 When I took the green paper leaves off the burrata it was wrapped in plastic: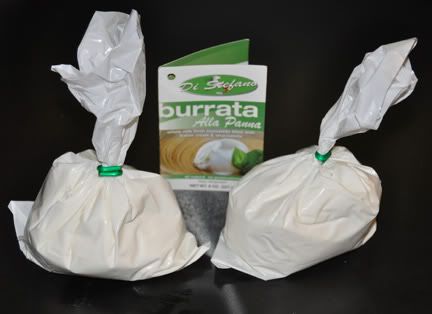 Out of the bag and on the cutting board: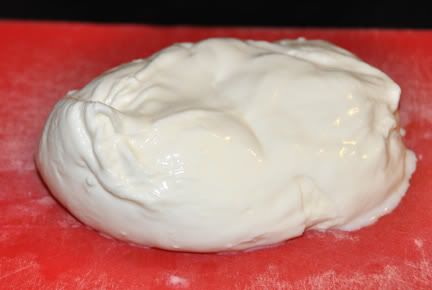 Cut in half: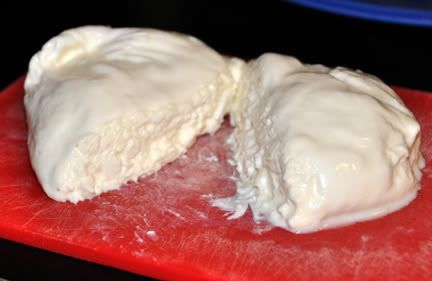 The centre creaminess is calling to me!
Individual plated burrata topped with freshly ground pepper and a drizzle of my favourite olive oil on a sapphire Fiesta plate: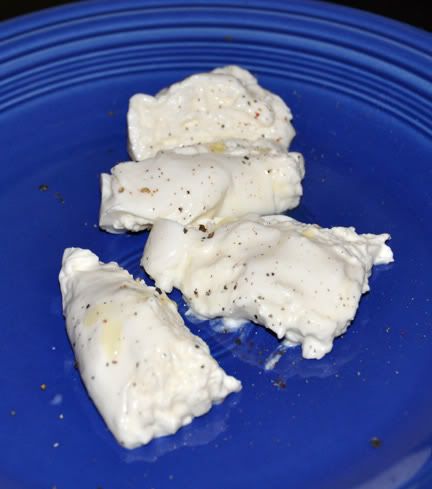 And here's our dinner, including all of the above ingredients with some kalamata olives and a salted heirloom tomato salad with basil (from my kitchen container garden) drizzled with olive oil: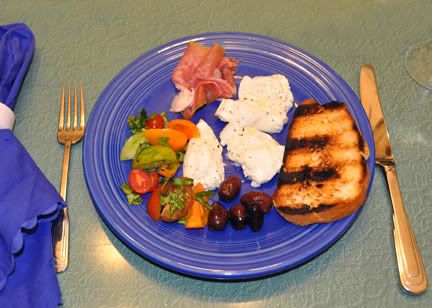 It was so good and I wish I could have had you all over for dinner. If you get the opportunity to try this cheese, don't turn it down! It is summer on a plate with the cheese, fresh heirloom tomatoes and fresh basil.
Burrata Dinner
Ciabatta loaf
good fruity olive oil
heirloom tomatoes
fresh basil
kosher salt
kalamata olives
thinly sliced prosciutto di Parma

Slice the ciabatta and drizzle with olive oil. Grill on each side.

Cut tomatoes up in wedges if they are small. You may want to cut the wedges in half crosswise if the tomatoes are larger. Sprinkle with kosher salt and the basil. Drizzle with olive oil and toss gently to coat.

Cut the burrata in wedges and place on individual plates. Let everyone choose their own accompaniments. Or not. Many people eat the burrata plain.
The table was simple. It's our circa 1946 green ice Formica table that the Guy's parents bought when they were first married, sapphire post-86 Fiesta, winter frost white Corelle serving dishes that I got back in 1978 when I moved into my first apartment, napkin rings I've had forever, Cityscape flatware by Oneida, and napkins from Pier One. Food from iGourmet, Fresh Market, Sciabaca's and my garden. Pinot Grigio from California - Frances Ford Coppola, IIRC.
I'm linking this to Michael Lee's
Foodie Friday
@
Designs By Gollum
,
Friday's Favourites
by Sandi & Bill @
Whistlestop Cafe Cooking
, and Kim's
Saturday Swap
over at
Quit Eating Out
.
Almost like being back in Italy. Thanks so much for stopping by today!
namasté,