As I mentioned in the post about
Pink Peppercorn Mayonnaise
, I first made this dish for Easter dinner in 1986. It's been a tradition around here ever since.
Start with some nice leeks: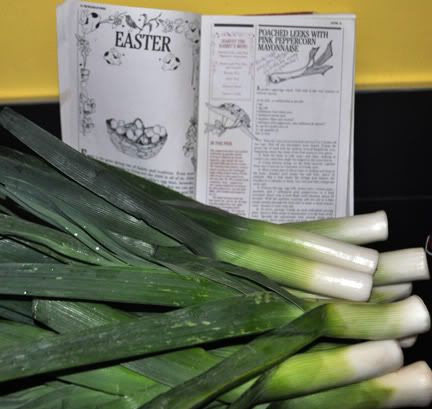 Trimmed and ready to cook: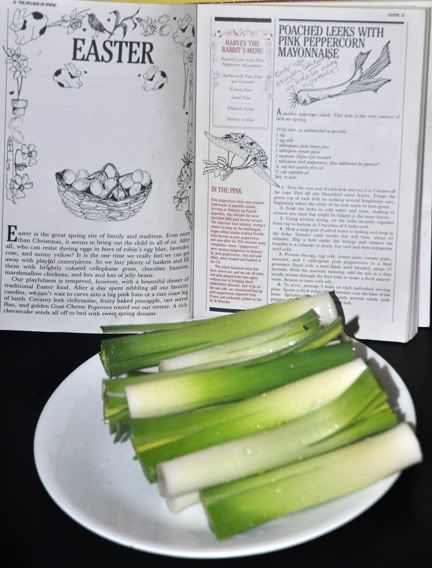 Steamed and cooling: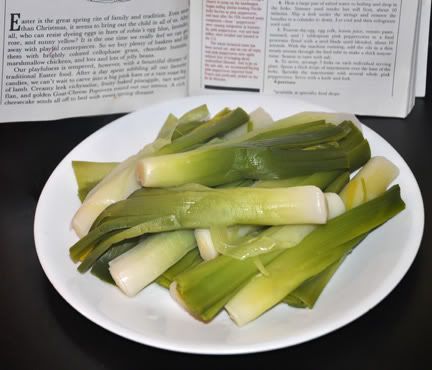 Chilled overnight, plated, and ready to serve: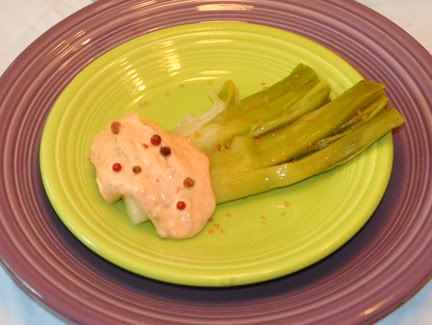 For our Easter table this year we chose lilac and chartreuse P-86 Fiesta. I thought this salad looked quite nice on this colour combo.
Poached Leeks with Pink Peppercorn Mayonnaise
adapted from The Silver Palate Good Times Cookbook
Serves 6

12 nice sized leeks
Finishing salt (I like to use Hawaiian red salt)
Pink Peppercorn Mayonnaise
Pink Peppercorns

Trim the root ends off the leeks and cut off most of the green top. Carefully wash and clean the leeks as sand gets down inside the leaves. Fringe the top end by cutting in half lengthwise for about 3 inches. Turn the leeks 90° and make another cut the same length. Rinse under running water again to be sure all the grit is washed away.

Using a steamer basket or bamboo steamer, steam the leeks until tender all the way through. Remove from steamer with tongs and set aside to cool.

Once leeks have reached room temperature, place in covered container and refrigerate for several hours or overnight.

To serve, place two leeks on each individual serving plate. Sprinkle leeks with some of the finishing salt. Spoon dressing across the white ends of the leeks and sprinkle with a few pink peppercorns.



Notes:


1. In the cookbook they called for 3 leeks per person, but I find that 2 is usually enough.
2. Originally the directions called for poaching the leeks in salted water, but we like them better steamed.

I'm linking this post to Kim's
Saturday Swap
over at
Quit Eating Out
and Beverly's
Pink Saturday
@
How Sweet the Sound
.
Thanks so much for stopping by today!

namasté,