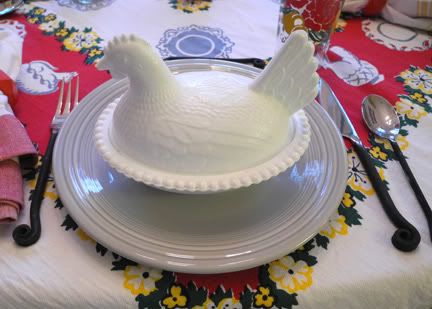 Don't these just remind you of your grandmother's house?
When I was growing up my Mom had a little milk glass chicken candy dish. It was about four inches long and had some cold painting of the details. The chickens also were made in a larger size and in different coloured glass. My great-grandmother had one of the larger ones in gold. And though they were very popular back in the first half of the 20th century, some of the hens are considerably older.
Fast forward to when I was in college, sometime in the 1970s. One day I was looking in a magazine and saw the larger chicken dishes in different colours being used as bowls with place settings on a Thanksgiving table. That idea stuck with me and as time passed I collected some of the chickens and used them that way. They were great for serving chicken soup - just the right size! But as more time passed, my kitchen got kind of crowded and as I wasn't using the chickens, I got rid of them.
More time passes and I took up tablescaping. You know what's coming next!

This time I decided to go with milk glass chickens as they reminded me of the one my Mom had (not sure whatever happened to that one). And I would like to say, the hens on nests are wonderful to use for their intended purpose: candy dishes. I really like the milk glass ones during Easter season for candy.
As is my wont, I am always looking for vintage tablecloths. One day this one showed up on eBay.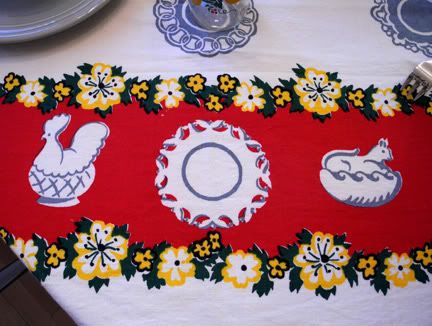 Milk glass and chicken dishes! What could be better for my actual dishes??? And as Easter is just around the corner and the chickens are busy having chicks, it is a perfect time for this table.
I really like the colours in this tablecloth. Obviously it could go bright or more subdued. I chose a more calm colour scheme today. The grey dishes pick up the colours in the fabric and go nicely with the milk glass chickens.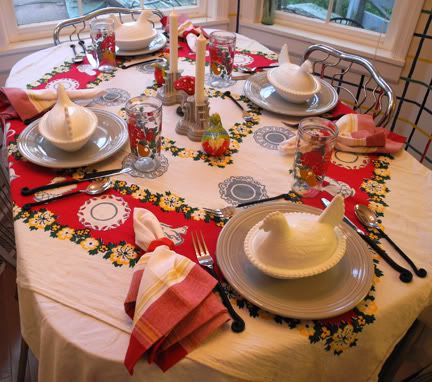 And look how well the glassware coordinates: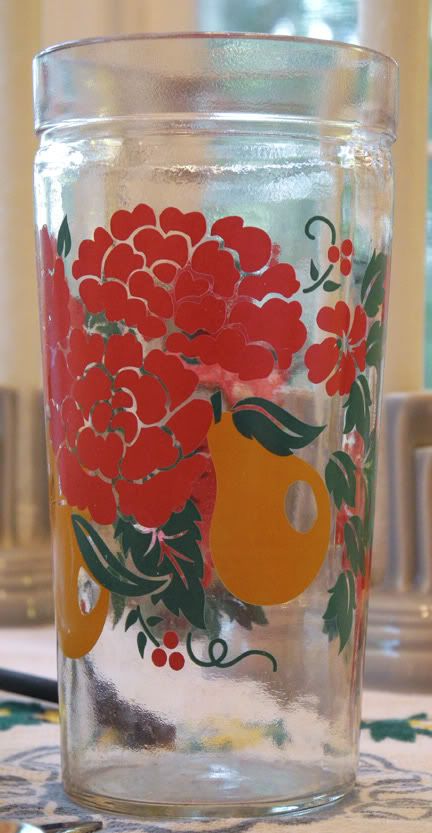 For the centrepiece I used some odds and ends that seemed to go together: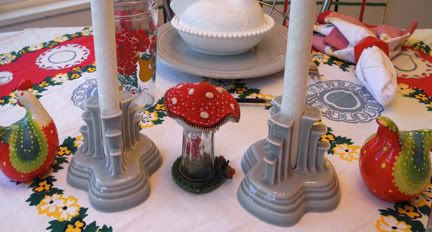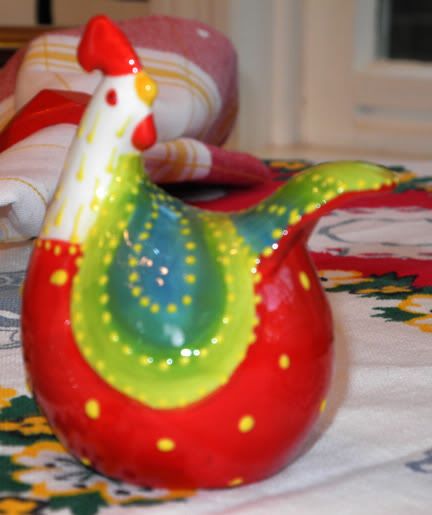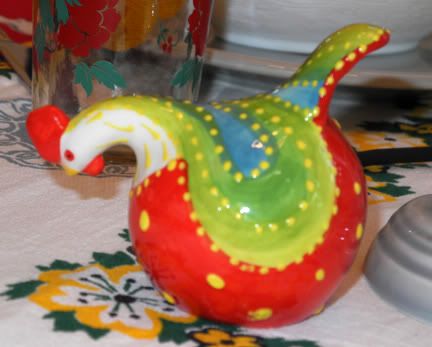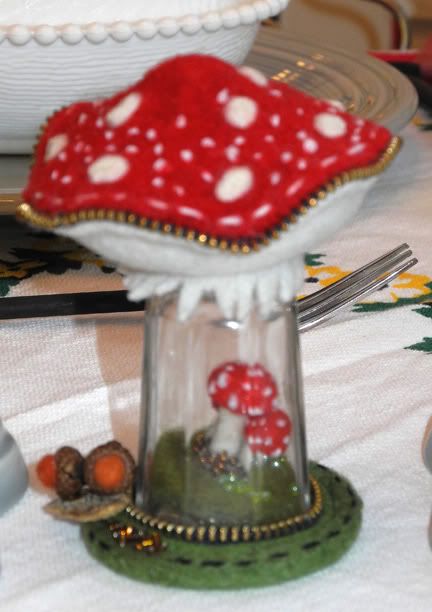 Pyramid candleholders - my favourite Fiesta shape: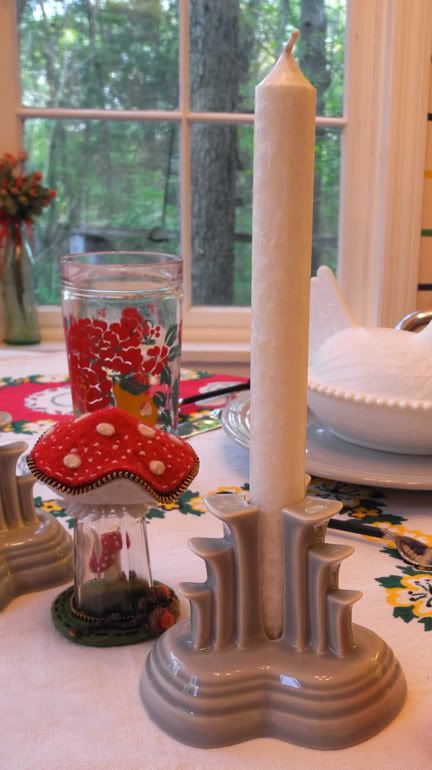 Napkins, rings and flatware are some I have used before.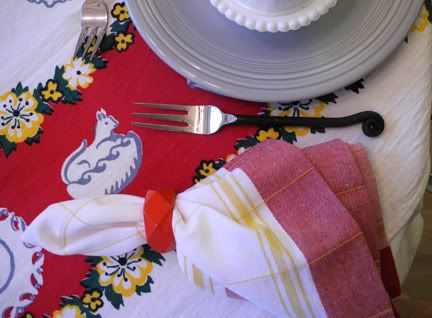 On the table
:
Post-86 Fiesta in pearl grey
Vintage milk glass nesting hen dishes
Treble Clef flatware by Gourmet Settings
Vintage peanut butter glasses
Napkins from Williams Sonoma
Wooden napkin rings I've had a long time
Mushroom made from vintage shaker - Etsy artist
Pair of ceramic chickens - I bought those at Chambord in France last month. (And I have to say, the Guy was
not
excited to see me buying cows and chickens to bring home!

At least they were on the smallish side. Cows to make an appearance on a future tablescape. The chickens are going to go great with scarlet, chartreuse and lemongrass dishes, too.)
Join me this week with:
The Tablescaper for
Seasonal Sunday
Drowsy Monkey @
Mellow Yellow Monday
MaryT/TheTeach over @
Work of the Poet
for
Ruby Tuesday
Marty @
A Stroll Through Life
for
TableTop Tuesday
Jenny @
off on my tanget
for
Alphabe-Thursday
where today we are having Alphabet Soup and my Letter is "C" - C is for
Chicken
Susan @
Between Naps on the Porch
for
Tablescape Thursday
Suzanne @
The Coloradolady
for
Vintage Thingy Thursday
Sandi & Bill @
Whistlestop Cafe Cooking
for
Friday's Favourites
Thanks so much for stopping by today!
namasté,