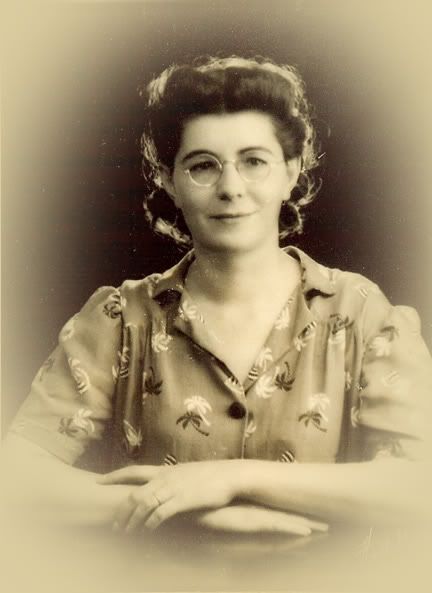 Mimi


photo from the 1940s
Today is my grandmother's birthday. Were she still with us, she would have turned 100 today. Sadly, she crossed back in 1988, before Abbey even turned a year old. I learned so much from my grandmother. Many summers were spent at her house, helping my grandfather garden and then canning with my grandmother. She also taught me most of what I know about cooking in general. In her kitchen was a little square stool that my great aunt had made by covering an ammunition box with leather. That little stool was pulled up to the counter for the kids to stand on and help Mimi cook.
One of the first things I remember making (or I should say, something I
always
remember making) was biscuits. Not a morning went by that Mimi did not bake biscuits. Hers were the best in the world. Biscuits are always made in a wooden biscuit bowl. Purists use their bowls ONLY for biscuits, but I admit to mixing dumplings and scones in mine, as well. I was lucky enough to inherit my great-grandmother's (Mimi's mother's) biscuit bowl, and I know the biscuits are better for it. Mimi had little miniature cutters for us to use, so we always knew which biscuits were "ours".
While Mimi had cookbooks and enjoyed collecting recipes, most of the time she just cooked. Recipes were in her head. And some things, like soup, might be a little different every time she made it. It just depended on what was on hand at the moment. Recipes that call for bell pepper might have those. Or the dishes may have used banana peppers or whatever other kind my grandfather had growing. When she wrote down our family gumbo recipe for me, after all the different seafoods, she wrote, "if you have them", indicating that while certainly crabs or such were a good addition, they weren't required to make a good gumbo.
I learned to fish, to cook those and to cook frog legs from Mimi. And some things that I must admit I would never eat these days (e.g. squirrel stew). One of my greatest hopes is that I will someday be as wonderful a grandmother as she was. (And I intend to be known as "Mimi", also.)
My grandparents lived in northwest Louisiana. Whenever I would visit in the summer Mimi and I would go shopping in Shreveport. There Mimi introduced me to Strawn's Eat Shop and their fabulous Fresh Strawberry Pies. As my grandfather grew strawberries, Mimi figured out how to make those pies and we often had them at home. Another treat we would sometimes stop and eat was Butter Roll at the Big Chain Cafeteria. Her grandmother had made Butter Roll often, but Mimi had not cooked them very much. After one such excursion, she and I came home and made a Butter Roll, using her grandmother's recipe (such as it was) and wrote down how we did it. I am so happy to have done that. And we also used to go eat at the Kon Tiki. The Kon Tiki was midcentury Polynesian food in all it's glory. Mimi always liked to try new foods, and I was the only one who showed much interest in going with her. Back then we loved the Kon Tiki.
When I was a poor graduate student Mimi used to send me care packages. These often included things that were on sale at the grocery or something she had bought with coupons. One of Mimi's care packages introduced me to instant pistachio pudding. That must've been a coupon thing, because I never saw that in her pantry!
Mimi would also save out some of her grocery money to get things for her grandchildren. Particularly if she wanted to give us something that my grandfather thought was too expensive to be a grandchild gift. One time she really went all out for me. She told my grandfather she wanted a KitchenAid mixer. And she did. So they bought the mixer. Lo and behold, it was too tall to fit on her kitchen counter under the upper cabinets. She moved it to the utility room. A few months later they came to Texas to visit us (summer 1980). Know what she brought to me?

Yes, it was the KitchenAid mixer. Her plan all along was to get it for me. What unselfish love! And I am here to tell you that mixer is still going strong. I have it out at the farm with all it's attachments, including the copper bowl liner, sausage stuffer, pasta maker, and grinder. And it is a lot better than the newer one I have here in town.
Because I grew up cooking with Mimi, I tend to cook the way she did. At least with all our family recipes. And lots of times if I've tasted something and want to recreate it. But shhhhh! Don't tell the Guy. LOL. I'll never be able to explain the cookbook collection.

Mimi, I miss you every day and so wish you could be here for all the graduation and wedding festivities that are going on here now. I know you would be so very proud of your great-granddaughters. I love you!
namasté,