In 1977 Julee Russo and Shelia Lukins opened a gourmet food store in New York City called The Silver Palate. The store was quite popular and cookbooks followed. In the 1980s those books were all the rage. I received both the original
Silver Palate Cookbook
and the
Silver Palate Good Times Cookbook
as gifts back then. And actually, I've used
Good Times
more than I have the original.
Back in 1986 the Guy and I were childless and were having a formal Easter dinner party. For the starter I chose to serve a recipe from
Good Times
: Poached Leeks with Pink Peppercorn Mayonnaise. It was a huge hit with us and all the guests, and has been a regular on our Easter table ever since. However, the Pink Peppercorn Mayonnaise gets made a lot more often than at Easter. Besides being served as a dressing for the leeks, it's delicious on tomatoes, chilled asparagus and as a dip, salad dressing or sandwich spread. The Guy really likes it on smoked turkey sandwiches. It is in a regular rotation at our house with other flavoured mayonnaises.
As we will be having Poached Leeks with Pink Peppercorn Mayonnaise with Easter dinner tomorrow, I went ahead and made the mayonnaise this afternoon.
Mayonnaise ingredients (eggs from my CSA):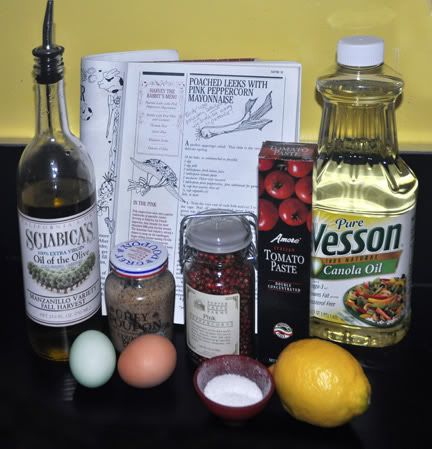 After processing and in a jar for the fridge: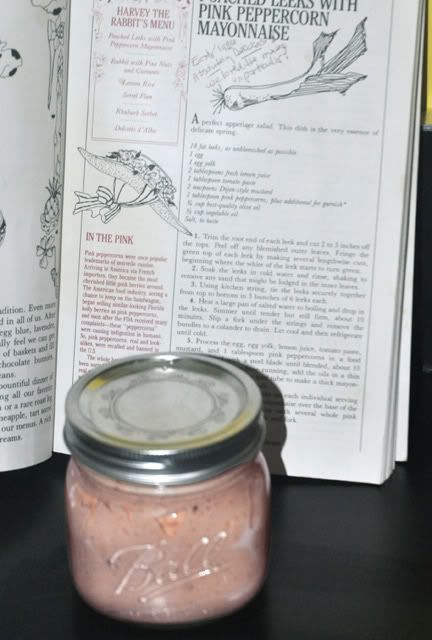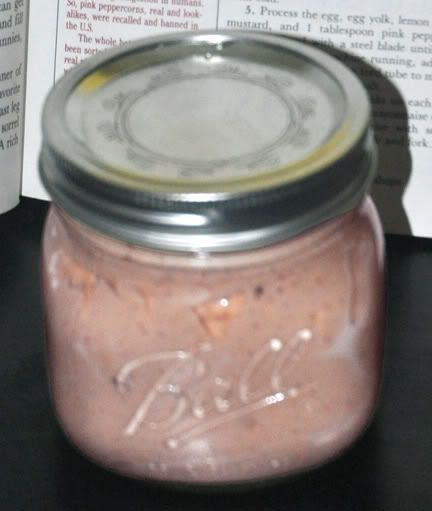 Pink Peppercorn Mayonnaise
originally from The Silver Palate Good Times Cookbook

1 egg*
1 egg yolk*
2 1/2 Tbsp fresh lemon juice
1 Tbsp tomato paste
2 tsp Dijon style mustard
1 Tbsp pink peppercorns
3/4 cup nice fruity olive oil
1/2 cup vegetable oil
kosher salt, to taste

Put egg, egg yolk, lemon juice, tomato paste, mustard and peppercorns in food processor and pulse until blended. Pour both oils into one measuring cup. With machine running, add oil mixture in a thin stream and process until it makes a thick mayonnaise. Season with salt and refrigerate until ready to use.



*Note

: The young, the old, and the immuno-compromised should use caution with consuming raw eggs. Either get the pasturized kind or simply process olive oil mayonnaise with the tomato paste, pink peppercorns and mustard for a similar product.

I'm linking this post to Kim's
Saturday Swap
over at
Quit Eating Out
and Beverly's
Pink Saturday
@
How Sweet the Sound
.
Thanks for stopping by today!

namasté,