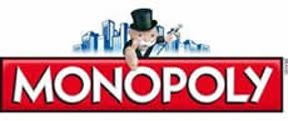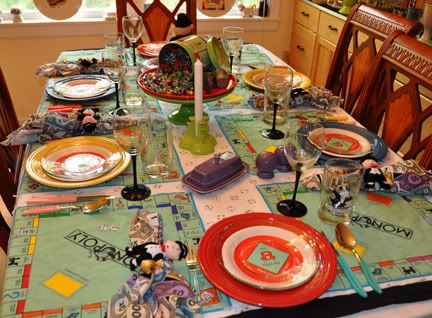 Board Games, that is. Our family loves board games. Both the Guy and I grew up playing them and passed that along to our children. One day fairly early in our marriage, I asked the Guy to play a game of Monopoly with me. It was a little late and he wasn't too interested because, "it will take too long". I insisted we could play a game in half an hour or so.

And as it happened, we did.

And I won!

Now I do not normally set out to "win" games. I just enjoy playing them. If the Guy or one of the girls wins, I am happy. They tell me I take the fun out of it, but hey, I AM happy if they win. That's not to say I'm not happy if I win. That long ago Monopoly game was one of my finest hours!
Seventy-fifth Anniversary
. For all of my dish friends, that means FIESTA. This year is the 75th anniversary of the introduction of Fiesta. Homer Laughlin is having an extravaganza with new shapes and a special anniversary colour. Well, this year is also the seventy-fifth anniversary of MONOPOLY. What a great year!!! With this table I am combining the two for a fun evening with friends.
Monopoly has always been my favourite board game. For years now I have collected the metal tokens. Not sure why. I would always pick them up at yard sales or antique malls if the price were right.
All this time I've just been collecting the tokens in a box. The original patent from 12/31/35 had six metal tokens: iron, cannon, thimble, ship, shoe, and top hat. In 1936 the car and the purse got added, but the purse was dropped after only one year. For many years those were the only pieces. The design of some of them changed slightly over the years (e.g. car with driver went to car without driver), but this was the basic set. During the 1960s there were 8 tokens, but the 70s saw two more added to make 10. Back in 1985 a deluxe 50th Anniversary Edition of the game came out with a new token: a train. And then in 1998 a moneybag was added. The standard edition of the game now has 11 tokens and the deluxe addition has twelve. And then there is the Heirloom edition which also has a piggybank token. Gets confusing, n'est pas? I wish they would bring back the purse.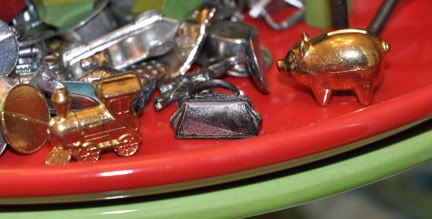 train, purse, and piggy bank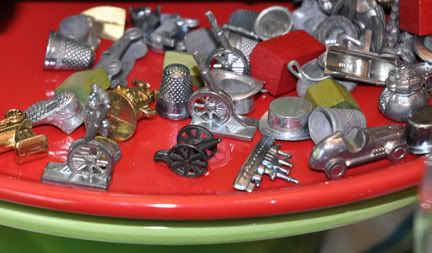 original canon, current cannon and other tokens
Then different versions of Monopoly began being issued. All of them have their own tokens, so these days, there are a LOT of tokens - over 1100 at last count. Here's
a link
to a chart that will help keep the standard ones in order.
And if changing the tokens weren't enough, remember this guy?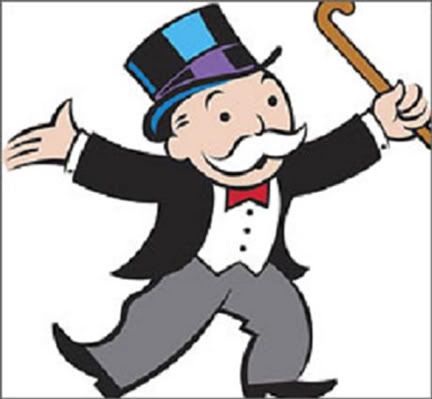 As of the year 2000, our dear Rich Uncle Pennybags was renamed to Mr. Monopoly. What's the world coming to???
And there have been some other changes since I first started playing the game: Income tax is now a flat $200 (instead the player's choice of 10% of their total holdings or $200), and Luxury Tax increased from $75 to $100. I think I will just keep my old board, cards and tokens.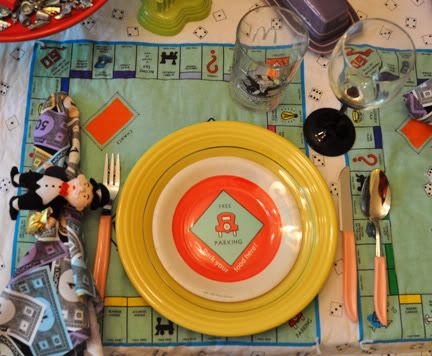 Even if Parker Bros. wants me to no longer have my rich uncle, I still love the game. And I decided to do a game night dinner. To begin with I started with a tied quilt to use for the tablecloth.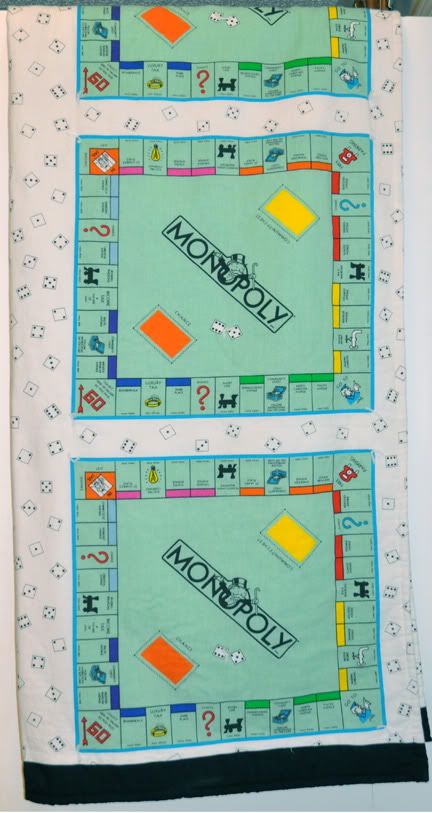 I figured I would use Post-86 Fiesta for the dishes, but I had to think about the flatware. Then I remembered this box.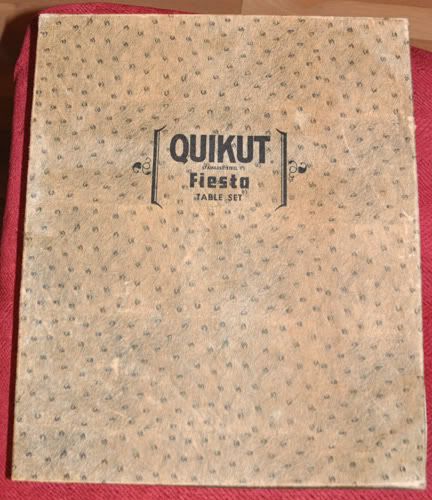 Look what's inside: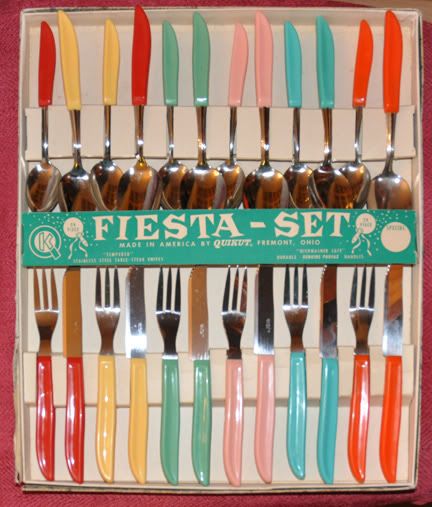 The vintage Quikcut Flatware is in the perfect colours to go with the Monopoly game tablecloth.
Did you know there are Monopoly glasses?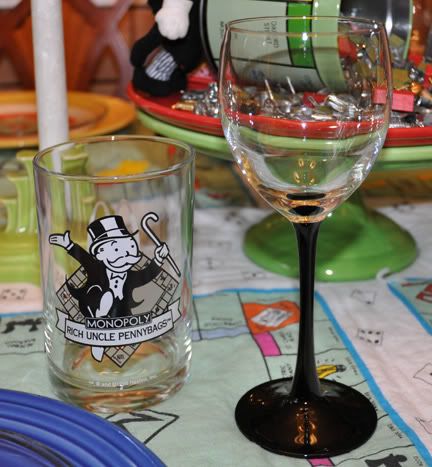 And tin banks, too: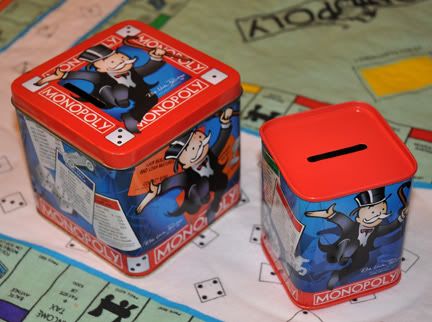 I kept looking for napkin rings, but never did find any I liked. Then I ran across these bookmarks: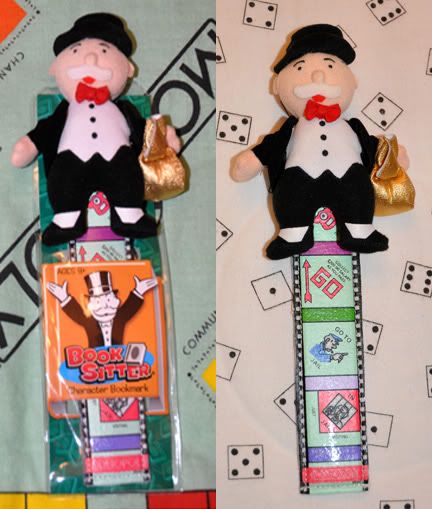 A little craftiness with a hot glue gun and voilà, just what I needed to hold the napkins (which I made of Monopoly money fabric):
Back in the 1980s Hallmark put out these Free Parking paper plates. I topped them with clear glass plates to protect them.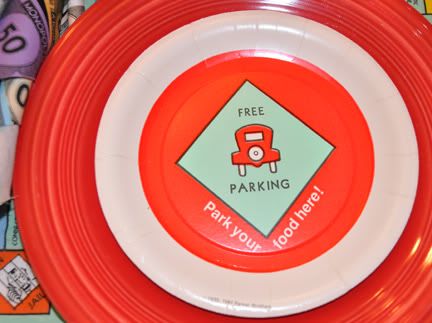 I had a lot of fun building the centrepiece. I started with a Bauer pedestal cake stand and sat a Fiesta cake plate on top. A vintage British Monopoly tin spills out tokens and vintage wooden houses and hotels. A stuffed Uncle Penneybags and a tin bank are on one side. The other side has a couple of vintage thimble jiggers and a salesman sample flatiron, which all mimic tokens.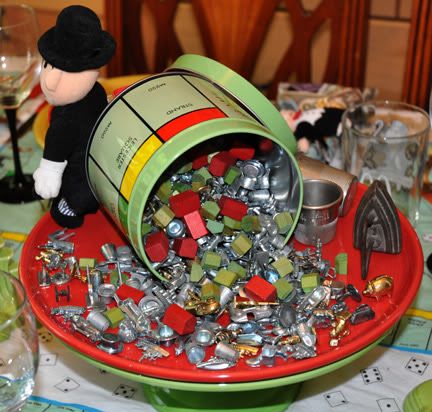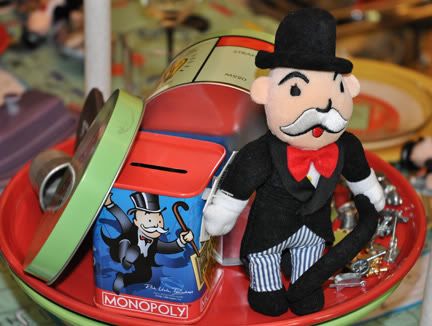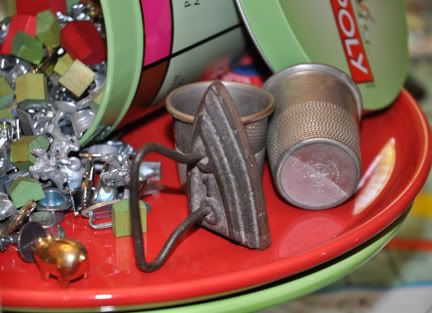 Gotta use my favourite candleholders. This time in chartreuse: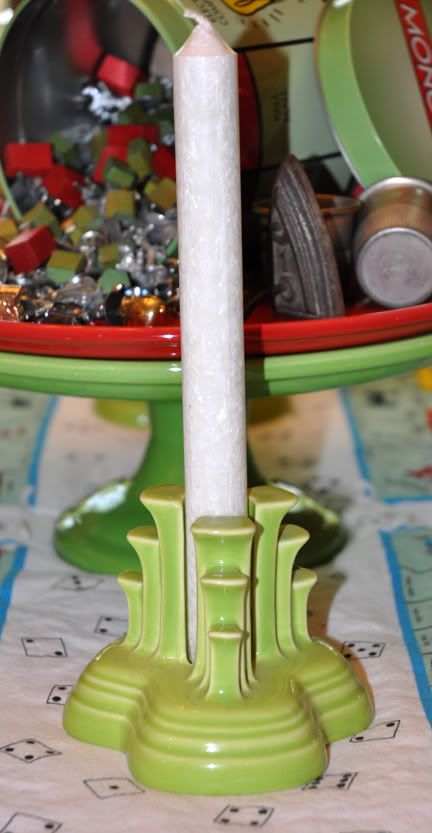 Lilac Fiesta also goes great with this tablecloth:
So, c'mon over and we can play a quick game. It won't take but half an hour or so!
On the table:
Handmade Monopoly quilt, aka tablecloth - eBay
Rich Uncle Pennybags glasses - McDonald's Happy Meal toy in the 1990s
Black stemmed goblets - Luminarc
Vintage and new Monopoly tokens, houses and hotels - various yard sales, antique malls, etc.
Pottery: Post-86 Fiesta in scarlet, sapphire, sunflower, lilac and chartreuse; Bauer 2000 pedestal cake stand in parrot green
Clear glass plates (unknown maker)
Vintage Monopoly No Parking paper plates by Hallmark
Vintage British Monopoly round tin
Vintage tin Monopoly bank
Contemporary Monopoly bookmarks made into napkin rings
Napkins - made from Monopoly money print fabric
Antique miniature flatiron - salesman sample
Vintage thimble jiggers
Flatware: vintage Quikcut Fiesta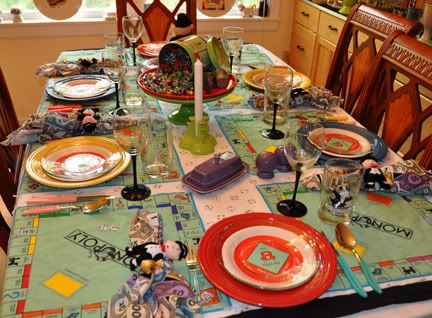 Join me this week with:
Drowsy Monkey @
Mellow Yellow Monday
Smiling Sally for
Blue Monday
MaryT/TheTeach over @
Work of the Poet
for
Ruby Tuesday
Marty @
A Stroll Through Life
for
TableTop Tuesday
Jenny @
off on my tanget
for
Alphabe-Thursday
where this week's Letter is "B" - B is for
Board Games
Susan @
Between Naps on the Porch
for
Tablescape Thursday
Suzanne @
The Coloradolady
for
Vintage Thingy Thursday
Sandi & Bill @
Whistlestop Cafe Cooking
for
Friday's Favourites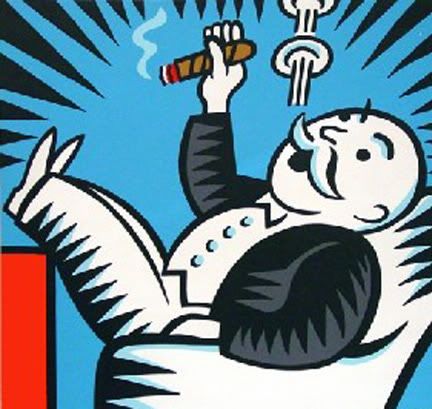 Thanks so much for stopping by today!

namasté,