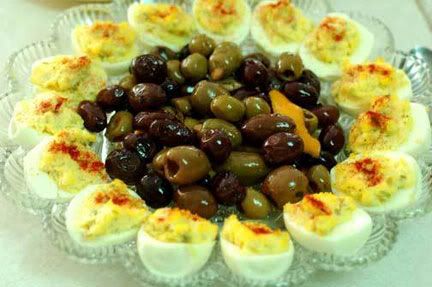 Stuffed eggs or devilled eggs? I always call them stuffed eggs, as evidenced in the title of my post. Humans have been making stuffed eggs for a long time. They have their roots in ancient Rome, with the first known published recipes for stuffed, boiled eggs coming from Europe in the Middle Ages.
In the 17th century stuffing was a common way to prepare eggs, but they were not referred to as devilled until the 18th century in England. In the culinary sense, devilled means a highly seasoned, chopped, ground, or whole mixture that is served hot or cold. Numerous foods, including eggs, are served devilled. Originally the term was associated with kidneys and other meats, rather than eggs.
Medieval recipes commonly called for adding cheese and raisins to the stuffing and were not written in the same form we use now.
from Liber de Couina (Medieval Kitchen #118)
Eggs: to prepare for stuffing. To make stuffed eggs, cut each one in half when it has been well cooked and thus hard. Then remove the yolk and take marjoram, saffron, and cloves and mix with the yolks of those eggs; and mash it thoroughly, adding a little cheese. For each eight eggs, add one raw egg. This done, fill the egg whites with this mixture. And fry in good pork fat, and eat with verjuice.
Not only are the recipes written down differently, the above does not bear much resemblance to the stuffed eggs most of us know and love. Stuffed eggs as we know them gained in popularity in the first half of the 20th century. By the 1940s they were quite common with meals at home and at parties. Often stuffed eggs are served as an appetizer. And I've never been to a potluck where at least one person didn't provide stuffed eggs.
There are thousands of recipes for stuffed eggs. Families have their own favourite "handed down" recipes and new ones continue to evolve. The filling can be as plain as adding some salt, pepper and mayonnaise to more elaborate concoctions that add such things as tuna, sun-dried tomatoes or caviar. I don't think I ever met a stuffed egg I didn't like. One of the best things about stuffed eggs is that they are a wonderful canvas for experimentation. Play with different additions that YOU like.
All stuffed eggs start with hard cooked eggs. There is an art to properly preparing hard cooked eggs.

First of all, the eggs should be at least a week old. Fresh eggs will not peel nicely at all.

Overcooked eggs will have a green ring around the yolk. Not attractive. I've detailed the method to prevent that in my recipe. And of course I use the organic free range eggs that come in our veggie box.
My standard recipe for stuffed eggs is a variation of my both my grandmothers' and my Mom's recipes for stuffed eggs. My maternal grandmother cut her eggs in half lengthwise, while my paternal grandmother cut hers crosswise. We always have them at family gatherings, cookouts, etc. And they are often served with salads as I did Thursday night.
Louisiana Stuffed Eggs

12 large eggs - at least a week old
6 Tbsp good mayonnaise
3 Tbsp pickle relish
2 tsp mustard
1/2 small sweet onion (about 2" diameter)
Kosher salt
Freshly ground pepper
Tabasco Sauce
Paprika

Place the eggs in a pan of cold water. Cook over high heat until the water just comes to a boil. Cover, remove from heat and set aside for 20 minutes. Pour off the water, crack the eggshells and fill the pan with cold water (and some ice, if desired). Let sit until the eggs are cool. Peel the eggs and slice in half, putting the yolks in a bowl and the whites on an egg tray.

Mash the yolks. Add the mayonnaise, pickle relish and mustard. Grate the onion with a small grater into the yolks and season to taste with salt and pepper.

Place a couple of drops of Tabasco sauce in each egg white and fill with the yolk mixture. Refrigerate until time to serve. Be sure to sprinkle paprika on top before serving.
--------------------


Notes:


1. I like to grate the onion with the microplane that's made for hard cheeses.
2. Pickle relish - I use 2 Tbsp of sweet relish and 1 Tbsp dill relish.
3. We like Dijon mustard, but plain French's gives a brighter yellow colour.
4. Any kind of sweet onion will do. I use Vidalias whenever they are in season, but Texas Sweet and Walla Walla are also good.
5. I try to make these several hours ahead of serving so that the flavours have time to meld and the eggs to chill.
6. My paternal grandmother preferred not to use paprika. She would place small strips of pimiento criss-cross over the egg yolk filling before serving. I do that sometimes, too.
7. Sometimes when I have fresh dill, I will garnish with that.