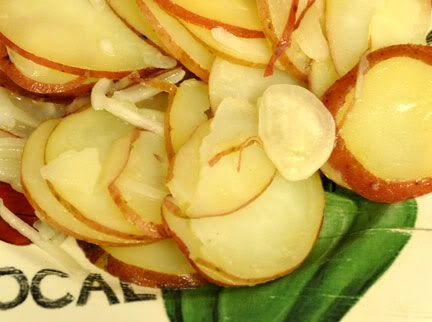 Mezza Luna is a great restaurant! The owner/chefs trained under Frank Stitt in Birmingham and put their own creative touch to food in Huntsville. Beginning in May, they started a once a month cooking class. It's a demo style class where everyone sits around the bar and watches. And of course anyone is free to get up and go behind the bar to look if they can't see well from where they're sitting. Most of us seem to be a lazy bunch. We just sit and have some drinks while we watch. LOL. Once all the food is prepared, the attendees have dinner. I have loved both classes so far.
Classes are normally to be held on the 3rd Sunday of the month. In May, one of the dishes was Coined Potatoes. These are both simple and elegant. Served at room temperature with a vinaigrette dressing, I consider them a salad. Our veggie box had quite a few new potatoes and spring onions, so I decided to make a batch of these today. They're a wonderful recipe for "eating local". And I used the mandoline for slicing. I figured it was safer than a knife as it has a guard.
Mandoline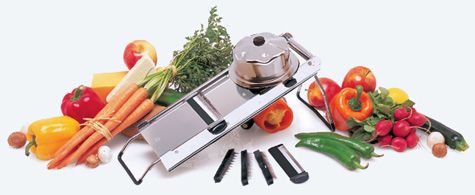 Let's start with the onions and new potatoes.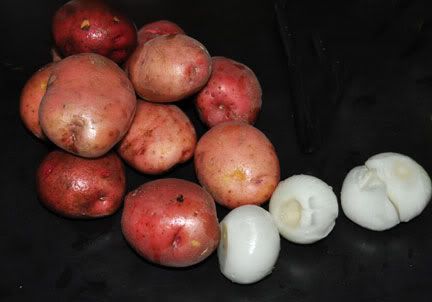 The mandoline does a fabulous job of slicing things very thinly. Check out the onions.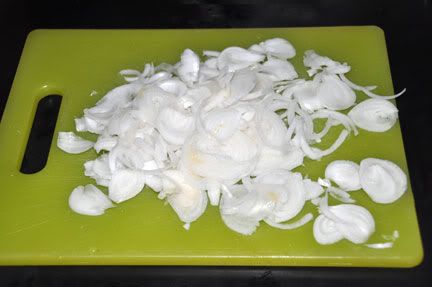 Mandoline in action (guard removed for photo, only. ALWAYS use the guard when slicing veggies with the mandoline!)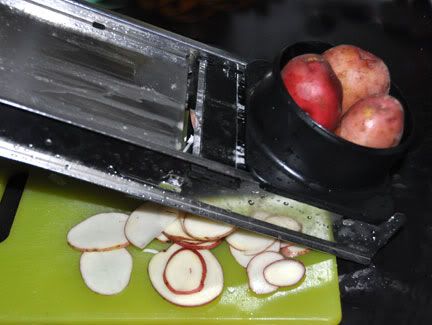 And perfectly sliced potatoes
Potato slices in the pot with salted water
Draining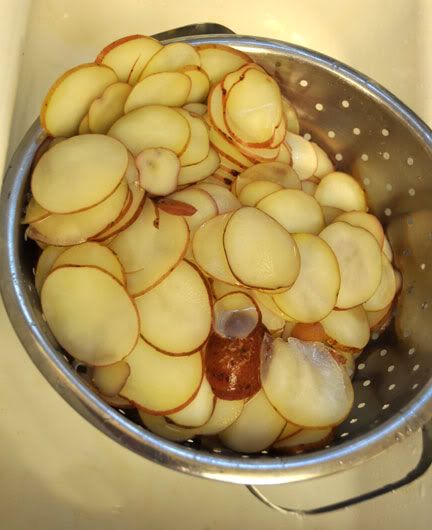 Potatoes and onion vinaigrette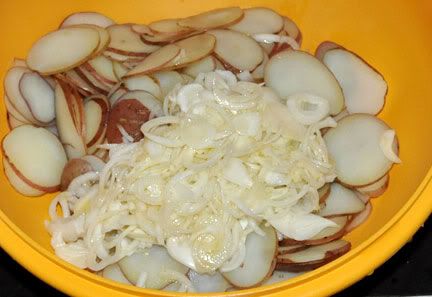 And our lovely plate of coined potatoes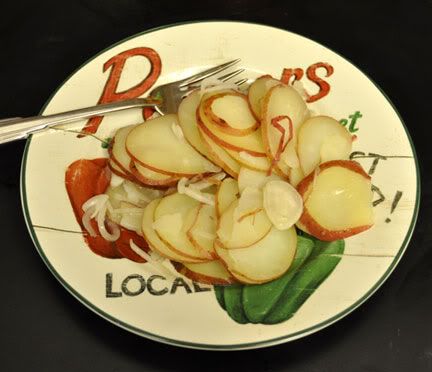 Here is my slightly adapted recipe.
Coined Potatoes

3 spring onions
6 Tbsp pinot grigo vinegar or other white wine vinegar or champagne vinegar
1 tsp of sugar
kosher salt
12 red new potatoes
1 Tbsp extra virgin olive oil

Peel and slice shallots very thin. A mandolin is good for this. Combine sliced shallot rings, vinegar, sugar, 1/2 tsp of kosher salt. Mix together and allow mixture to sit for about 10 minutes.

While the mixture is resting, slice potatoes 1/8" thick. Put the coined potatoes in a pot of cold water. Salt the water with 3 to 4 Tbsp of kosher salt and bring to a boil. The water should be about the same salinity as the sea. Strain and place potatoes in large bowl. Pour the shallot and vinegar mixture over the top of potatoes and toss with extra virgin olive oil. Spread the potatoes on a sheet tray and let cool to room temperature to serve.
Now how easy was that?