There are probably as many recipes for chicken salad as there are cooks. Or perhaps more. I know I don't make chicken salad the same way every time.
It's summer and it's hot. Still in the 90s after 9:00pm. As I decided to make a salad plate for dinner Thursday night, I didn't want the chicken salad to be to complicated. And I didn't make photos of the whole process as I'm short on energy due to lack of red cells. This is a nice, simple recipe that can be dressed up by serving in lettuce cups. The celery gives it a bit of crunch and the grapes add a nice sweetness.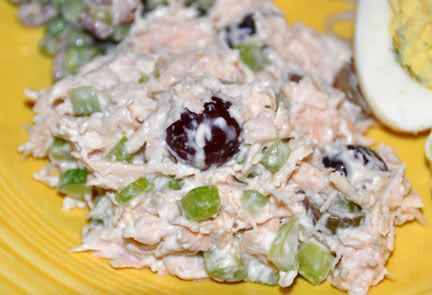 Simple Chicken Salad

2 whole boneless chicken breasts, poached and chopped
1 1/2 cups halved seedless red grapes
2 ribs celery, diced fine
good mayonnaise

Mix together the chicken, grapes and celery. Stir in enough mayonnaise to bind it together. Just use the amount you like to get the texture you prefer. Refrigerate until serving time.