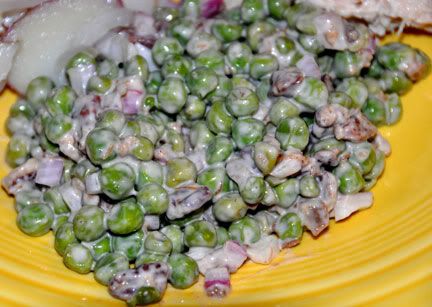 Wednesday I was looking in the freezer and noticed there were two bags of peas. Obviously I needed to use one of them, so I mentally filed that away. Then that night I was looking online for recipes and ran across this recipe for Crunchy Pea Salad. I saw it first on Tastespotting, but it's from
Wondertime Magazine
. The publication is owned by Disney and it appears to be a parenting magazine. Not one I've actually seen in print, though.
This recipe appealed to me, though I did change it up a bit. Tonight the pea salad was being served along with a simple chicken salad and I made the changes so the two would complement each other. Mike and I had very divergent opinions about this recipe. Now that I've tasted it, I would leave out the bacon. Just my personal preference. He thought the bacon really added to the taste of the dish and felt it would be a mistake to make the salad without it. Both of us agreed it was a very good salad and I will make it again. I've only got a photo of the finished product, as I didn't have the energy to do the whole process.
ETA: I think this salad definitely benefits from being made the day before serving.
Crunchy Pea Salad

4 slices bacon
1/2 cup good mayonnaise
1 tablespoon plus 1 teaspoon apple cider vinegar
Squeeze of fresh lemon juice
1 tsp sugar
Freshly ground black pepper to taste
10 oz frozen peas, thawed and drained
1/2 red onion, diced fine
3/4 cup chopped pecans, toasted

Cook bacon. Drain, crumble and set aside. Whisk together mayonnaise, vinegar, lemon juice, sugar, and pepper to combine. Gently stir in the bacon, peas, onion and pecans. Chill for at least 1 hour before serving.