So, the little convertible is gone. In the meanwhile we have rented a car for Abbey to drive and DD#2 is driving Abbey's Jeep. The accident happened Monday afternoon. On Tuesday, Mike went back home to see about DD and other things. He got her to the doctor, got the stuff from my car, talked to insurance people, etc. While he was down there, Sally came to stay with me.
Wednesday my sister and I went out antiquing and dishing. Didn't find a single dish, but I did get a little chrome and black art deco side table. Not sure where it is going to go, but for $35, it was too good a deal to pass up. After we got home I started researching cars on the internet. I decided not to get another convertible, because of this rule I now have about having to wear sunscreen all the time and not being in the sun. Don't want GvHD! My other two favourite cars I had were an Audi 100LS and an Acura Legend. I started by checking on Acuras and Audis. After a number of hours of research, I decided the Acura TL Type S was what I wanted to go test drive. Looking online, there just happened to be one at the Acura dealership here in Nashville that was a colour called Moroccan Red Pearl. Red, how could I resist?
Thursday Sally and I went car shopping. I am still not allowed to drive, but I sat in the driver's seat and played with all the controls. Then Sally took us on a good test drive. Oh my. This car will go. The speedometer says max speed is 160. I think I will not test it out, though they tell me it really will go that fast. The car talks to you. And you can talk back. It's got every bell and whistle one can want. (Other than it is not a convertible.) As we were just shopping, I got the salesman's card and told him I would get back with him.
So after Mike got back up here, I was telling him about the car. He said, "Is this the car you want and will make you happy?" I told him I wanted him to go back with me to also test drive it and offer input. And I did know that I wanted a TL-S to replace my Sebring. Plus, I love the Moroccan Red Pearl.
Yesterday we went off to test drive. I am still not allowed to drive on the road, but after we got back from Mike's test drive I drove around the parking lot. Gosh, it's been four months since I have driven a car. Didn't seem like that long. LOL. After both of us were happy with driving, we went in, made a deal, and now I have this lovely vehicle. Did I mention it is RED?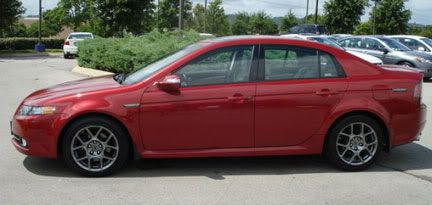 namasté,