Another new recipe to use blueberries. Blues and Bay - just the name sounds intriguing. And it's a super easy recipe, too. The berries can be served with yogurt for breakfast or as a topping for ice cream, pound cake, cheesecake, pancakes, etc.
Fresh organic blueberries: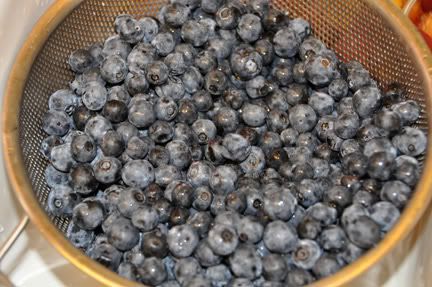 In the jars with a home grown fresh bay leaf from my bay tree: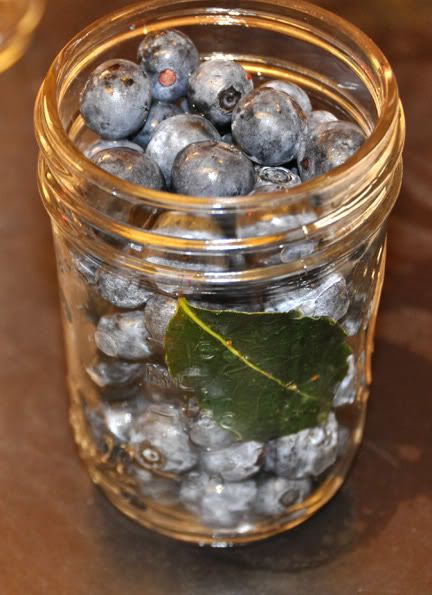 Canned and listening for the ping of the seal: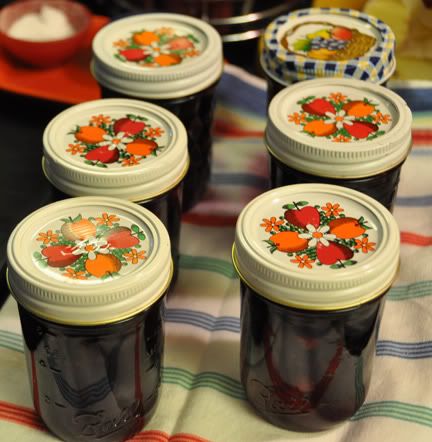 Blues and Bay
adapted from The River Cottage Preserves Handbook
The delicate note of fresh bay complements the blueberries perfectly.
makes 6 half-pint jars

3/4 cup sugar
2 1/2 cups water
1/4 cup lemon juice
2 1/2 lbs blueberries
6 fresh bay leaves

Sterilise jars and lids and keep warm.

Make a simple syrup with the sugar and water. Mix the sugar with the water in a saucepan and bring to a slow boil to dissolve the sugar. Remove from heat and add lemon juice.

Pack blueberries firmly into jars without crushing them. Slide one bay leaf into each jar next to the glass.

Pour boiling syrup over fruit leaving 1/2" headspace. Wipe rims, top with lids and screwbands. Process 15 minutes in BWB.
Thanks so much for stopping by today!
namasté,