Today over 1000 bakers are having a
Pie Party
. This started last week spontaneously on Facebook and Twitter -- talking about pie. A group of people were talking about how much we like pie, how we like making it, and how sad it makes us that people are too afraid of pie crust to make pie. So we're baking pies. And if you are one of those people who are afraid of pie crust, do try out the recipe I used today. It's simple, never-fail and made in a food processor. How easy is that?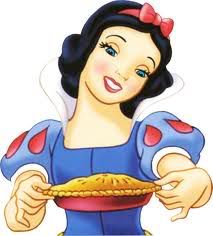 The pie I'm offering today is a combination of OLD and NEW.
I have always loved making and been known for my pie crust. While my sister is the cake baker in our family, I am the pie baker. Recently I ran across a pie dough recipe that is made in the food processor and makes enough so that you can freeze it in portions to have ready to use another time. That is the crust I am using today. It's NEW!
Now what kind of filling? I looked through lots of my recipes and finally decided on a family recipe for Chocolate Meringue Pie. I can remember sitting at my great-great aunt's table eating a piece of this pie along with a glass of cold milk after playing the piano for her. (As an aside, she left her piano to me. It is a Cable-Nelson Upright Grand that was made around 1906. The piano has lived with me since she crossed in 1974, but just this last Christmas I passed it on to Abbey.)
Although I've had this recipe forever, I have never actually made the pie before. Chocolate is not my favourite flavour, you know. But my family loves chocolate, so it was high time for me to give this a try. The filling is the same recipe that my great-grandmother used to make chocolate pudding. So I'm guessing this was probably my great-great-grandmother's recipe. It's OLD!
Old recipes oftentimes do not give a specific oven temperature. That's because they were originally developed back when people cooked on woodstoves and there wasn't any really accurate way to know the temperature. Our OLD pie recipe says to bake in Slow Oven. A Slow Oven is normally considered to be 300°F. I made note of that in the recipe.
First we'll make the pie dough.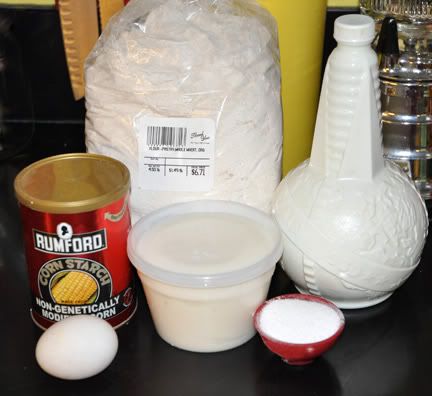 That's a duck egg from my CSA and whole wheat local pastry flour. The container of white stuff in the centre is rendered leaf lard. Leaf lard is not what you buy at the market in a box on a shelf.

Leaf lard is the fat that surrounds the pig's kidneys. It is extremely high quality and really is the gold standard for fat in pie dough. When rendered it makes the flakiest and best tasting pie crusts. There are several mail order and internet sources. I have always gotten mine from
Dietrich's Meats
. (Did I mention that I have won 1st place in Pie Competitions at our Parish Fairs using good lard for the crust?)
I know many people may be leery of using lard, but did you know it is probably the healthiest fat you can use for baking? It is lower in saturated fat and cholesterol and higher in unsaturated fat than butter, and it has none of the transfats of the hydrogenated and partially hydrogenated man-made solid fats. Nor does it have any of the additives used in those. Leaf lard has little to no pork flavour, so it won't compete with the flavour of your filling.
Dry ingredients and lard in processor: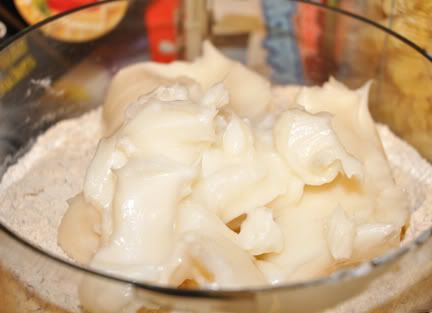 Leaf lard needs to be used right out of the refrigerator at its coldest temperature.
Liquid ingredients: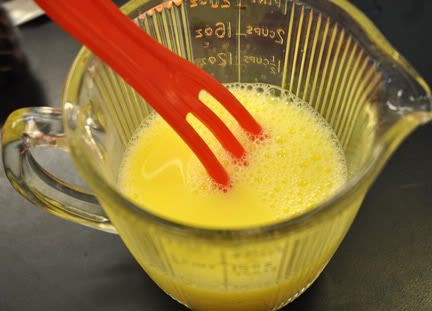 Dough divided into portions with five bags to go in the freezer: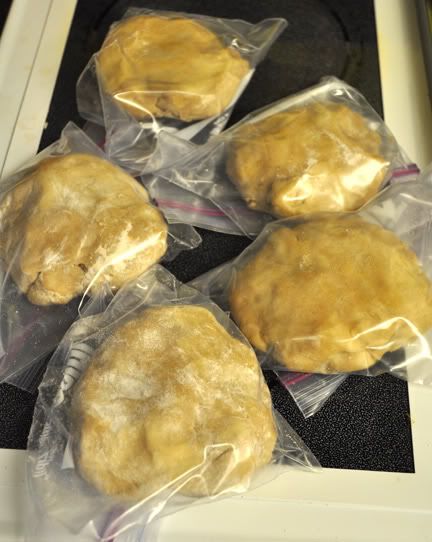 Last portion rolled to use today: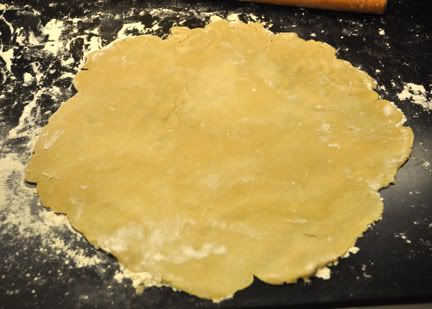 Fitted in pie baker: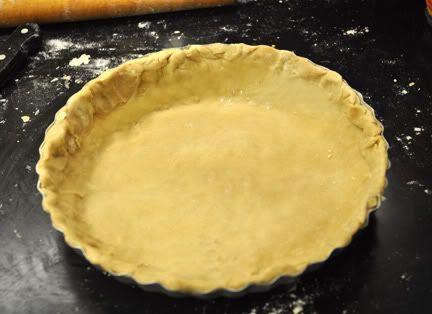 Ingredients for filling: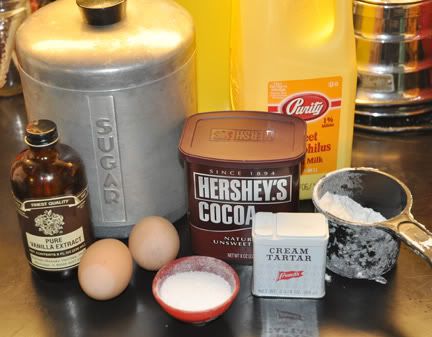 Filling getting mixed for cooking: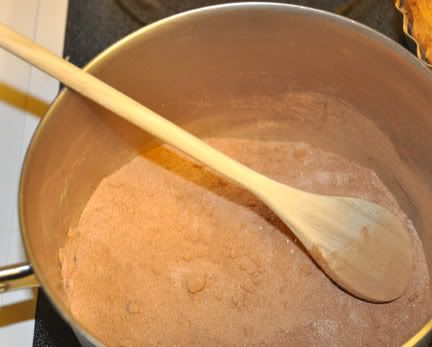 g
Cooked and poured into crust: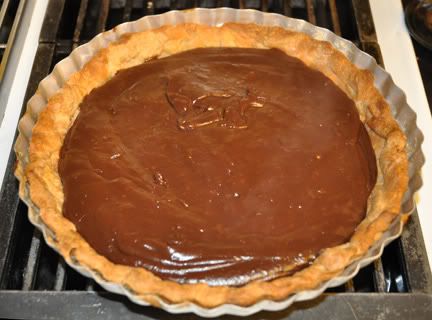 Meringue on pie: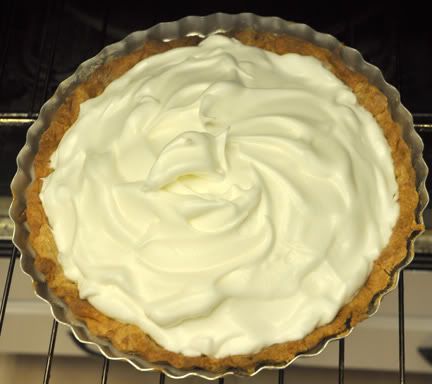 Baked to a beautiful golden brown and sitting to cool: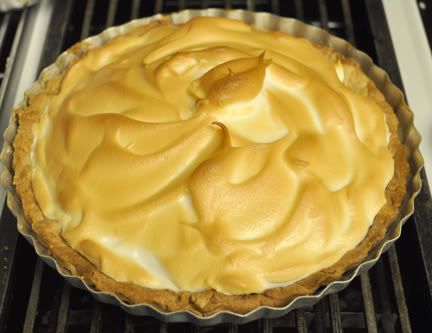 Sliced and plated to serve on Fiesta: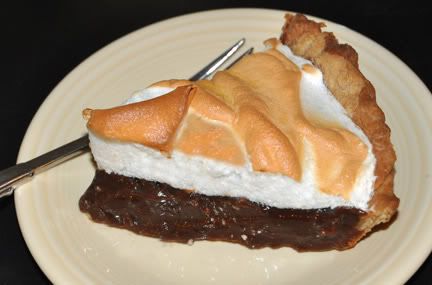 Chocolate Pie

1 unbaked 10" pie crust



filling:


4 large eggs, separated
1 1/2 to 2 cups sugar
4 Tbsp cocoa
4 Tbsp flour
1/4 tsp kosher salt
2 cups milk
2 tsp good vanilla



meringue:


1/2 tsp cream of tartar
pinch salt
2 Tbsp sugar



Blind bake the pie crust:

Preheat oven to 450°F. Place dough in 10" pie pan and shape to fit. Line with parchment or foil. If desired, add beans or pie weights. Bake for 20 minutes. Remove parchment and weights. Prick the bottom with a fork (aka docking) and bake another 5 minutes. Remove from oven and set aside.



While crust is baking, make the filling and meringue.




Filling:


Beat egg yolks lightly. Mix sugar with cocoa, flour and salt. Gradually stir in the milk, then the egg yolks. Cook until thick, stirring constantly, and add vanilla. Pour into crust.



meringue:


Beat egg whites with cream of tartar and salt until soft peaks. Slowly add sugar and beat until stiff. Put over pie and bake a 300°F for about 15 minutes or until meringue is golden brown.

Remove from oven and let sit until pie comes to room temperature. Store in refrigerator.



Notes:

The original recipe calls for 2 cups of sugar in the filling. That is too sweet for us, but if you like a sweeter filling, use the full amount.
Never Fail Processor Pastry
Makes enough pastry for 3 double-crust pies or 3½ dozen muffin-size tart shells.

5 cups pastry flour
1 tsp salt
2 tsp baking powder
1 lb leaf lard, use very cold - right out of refrigerator
2 tsp white vinegar
1 egg, slightly beaten
Water

Mix together flour, salt and baking powder in food processor. Cut in leaf lard until crumbly. Do not overmix as you don't want the lard to get too hot and melt.

Add water to vinegar and egg to make 1 cup of liquid. Add liquid to dry ingredients and process just to mix. Remove from processor and shape into six balls. At this point you can place each ball in a Ziploc bag, press out air, seal and freeze. OR refrigerate for about an hour before rolling and using.

Roll out on a floured board. Crust can be rolled nearly paper thin and not fall apart. Let frozen pastry thaw overnight in fridge before using.

Besides the pie party, with this recipe I'm joining:
Michael Lee's
Foodie Friday
@
Designs By Gollum
Friday's Favourites
by Sandi & Bill @
Whistlestop Cafe Cooking
Thanks so much for stopping by today! Enjoy your pie.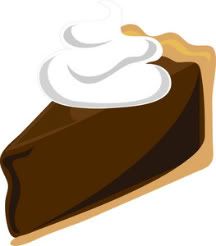 namasté,