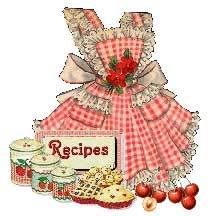 The majority of my family recipes are from my Mom's side of the family, but this one came to me from my Papa's mother. And she got it from her mother. I really didn't have a lot of her recipes written down, so when I was first married and lived in Dallas, I would drive over to Fort Worth several days a week to spend time with Mamah and Aunt Jean. We went through lots and lots of family recipes and as I would write them down, I'd get her to actually measure. Because she would say things like, "Oh put in about half a handful."

Everybody's hands are different, n'est pas? So she would measure into her hand and then we'd put it in a measuring cup. Sometimes we'd actually make the recipes with me watching and if she said, "Put in enough until it looks/feels right", I could measure that amount also. I am so glad I spent the time doing this, otherwise many of her recipes would be lost to us now.
A funny story. A few years ago I was making one of those recipes and my Aunt Sissy (Mamah's youngest daughter) was over here visiting. She said, "Mama never made the scalloped potatoes like that." And I said she must've changed how she did it, because I wrote it down as we made it. And we agreed that most of us will change up recipes as the mood or ingredients change.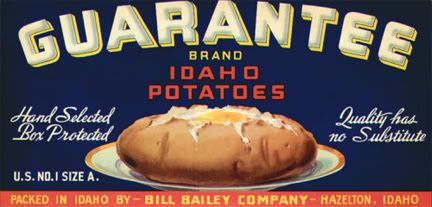 From the first time I made it for him, this became The Guy's favourite potato salad. We have it often when we are barbequing during the summer. And always for the 4th of July. I never get out the recipe and measure anything when making this, I just use enough of the ingredients until it looks right. LOL. But in the recipe I listed the amounts my grandmother told me and the way we made it one long ago day in Fort Worth. Really you can adjust any of the ingredient amounts to suit your own taste.
Collected ingredients: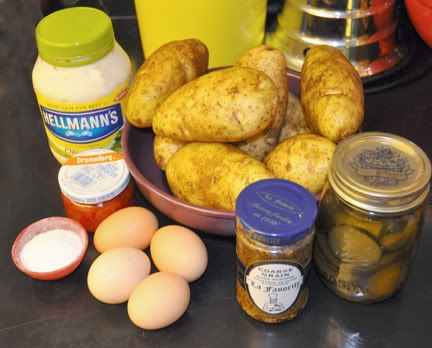 Potatoes cooking: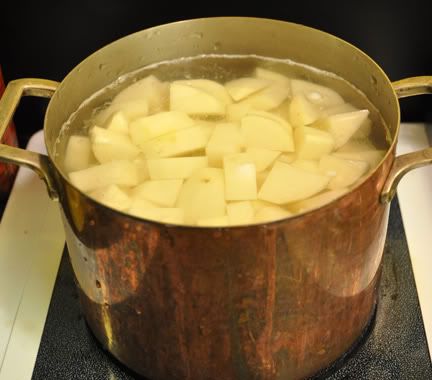 Put everything in a large bowl: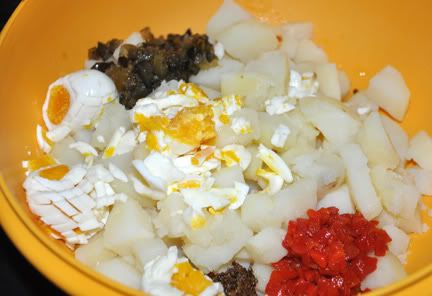 Look at the bright orange gold of the organically-grown free-range egg yolks.
This potato masher belonged to Mamah's mother. It is one of the few kitchen utensils I inherited from my Papa's family, and in my opinion is the best potato masher design ever. I'm guessing it has been mashing potato salad for somewhere around 100 years.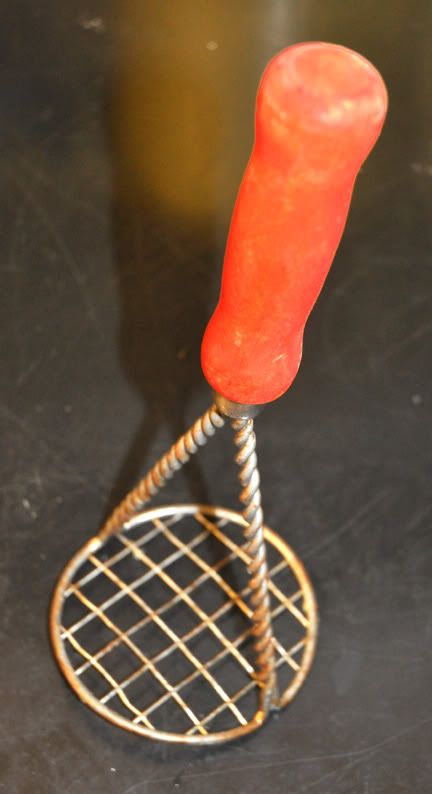 Mashed, stirred and served in a marigold Fiesta nappy: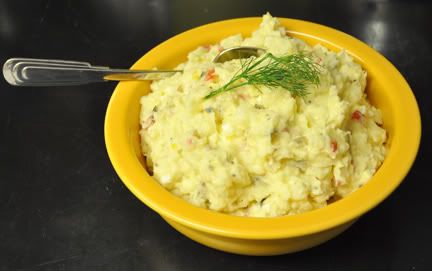 Mamah's Potato Salad
Make early in the day or the day before you want to serve to give the flavours time to meld.

2½ quarts peeled, cubed potatoes
salt
4 hard cooked eggs
2 Tbsp chopped pimientos
½ cup chopped sweet pickle
2 Tbsp or so dill pickle juice or vinegar
1 cup good mayonnaise, approximately

Put potatoes in 3 qt. pot, salt and cover with water. Boil till tender, but not mushy. Chop eggs. Mash the potatoes slightly, leaving some lumps. Stir together the potatoes, eggs, pimiento, sweet pickle and some pickle juice. Fold in the mayonnaise. Adjust salt, mayonnaise and pickle juice to desired seasoning and consistency.



Notes:


1. Mamah always said that if you made this ahead of time you could bury a quarter of an onion in the middle of the salad and take it out before serving or you could stir in some chopped green onions. That's what her mother always did.
2. Sometimes I vary the recipe by adding mustard. The Guy's current favourite is a jalapeño flavoured one.
3. Adding fresh chopped dill is good, too.

Thanks so much for stopping by today!
namasté,