Another wonderful preserve recipe using beautiful summer fruits: Cherries and Peaches.
Fruits mixed together with sugar: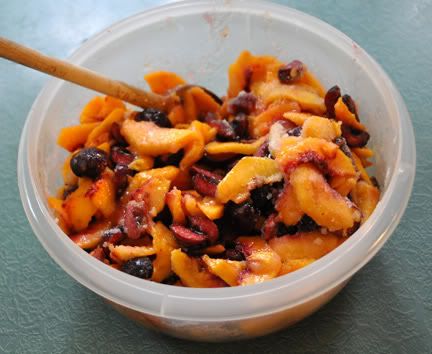 Juice draining into maslin pan: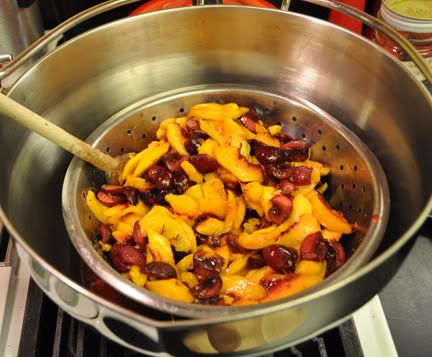 Juices cooking: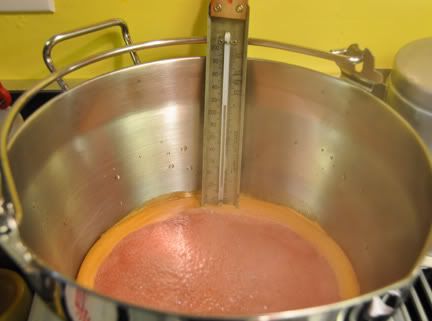 Temperature approaching 220°F: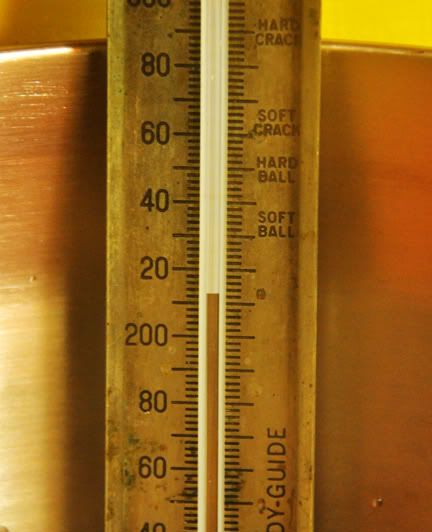 Preserves in jars waiting to seal: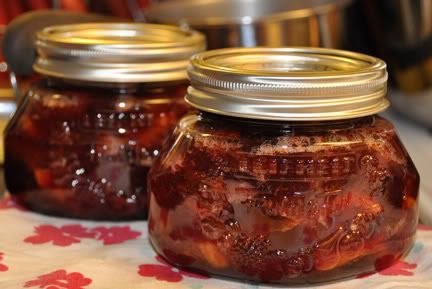 Cherry Peach Preserves
adapted from the recipe I use for Peach Preserves
makes 5 or 6 half pints

5-6 cups, pitted, peeled and sliced peaches
2-3 cups pitted, quartered cherries
2 cups sugar
2 Tbsp freshly squeezed lemon juice

Sterilise jars and lids and keep warm.

Measure fruit. You need about 8 cups total. Gently mix fruit and pour the sugar on them. Turn gently and allow to sit at room temperature 2-3 hours. Place a colander over your preserving pan and pour the fruit and liquid into it. Let the juice drain for about 15 minutes. Put the fruit back in the bowl and set aside.

Add the lemon juice to the preserving pan and cook over high heat. You want to cook this into a syrup that is 222°F. How long it takes depends on the size and shape of your pan. I use a maslin pan and it takes about half an hour or so with the heat on high.

As soon as the syrup reaches the proper temperature, pour in the fruit and any other juice that has accumulated. Cook over high heat, stirring as needed, until the peaches begin to get translucent. This usually takes me about another half hour or so.

Pour preserves into jars, wipe rims, place on lids and rings. Process in BWB for 5 minutes. Remove from canner and allow to cool before storing. Be sure to listen for the pings that tell you the jars are sealed.
Thanks so much for stopping by today!
namasté,