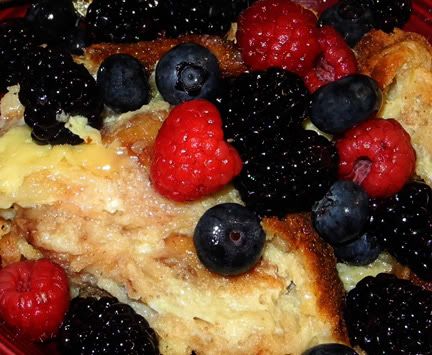 This was originally a recipe from Bradley Ogden that first appeared in
Food & Wine
back in 1987 - the year I had my first baby. Sometimes I do wonder where the time goes! I have always used this as a dessert (bread pudding, you know), but the magazine suggested it as a breakfast or brunch item. My friend Linda @
How to Cook a Wolf
always serves it for Christmas breakfast with maple syrup and the berries. No matter when you eat this, it is delicious!
Yesterday I got several transfusions of red cells and platelets, so today I got to be one of those "wives with knives". You know, a person who gets to really cook. Someone, I wouldn't know who, had bought a loaf of Cinnabon Cinnamon Bread that needed something done with it. This recipe was just the thing to rescue that loaf of bread. After all, bread pudding (like pain perdue) was invented as a way to use up bread that might otherwise go stale.
Let's get everything we need together. (Now where is the butter hiding? I know it made it into the recipe.) Eggs with the beautiful green and brown shells are from my CSA.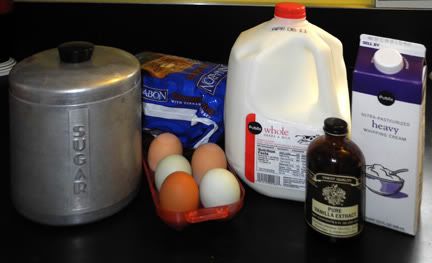 (Look at how weird this picture looks. I'm trying out my new Coolpix P7000 while my D90 gets repaired. Have to work on the flatness.)
Bread torn up into pieces (I didn't have quite enough slices of cinnamon bread today, so I supplemented with some good white sandwich bread.)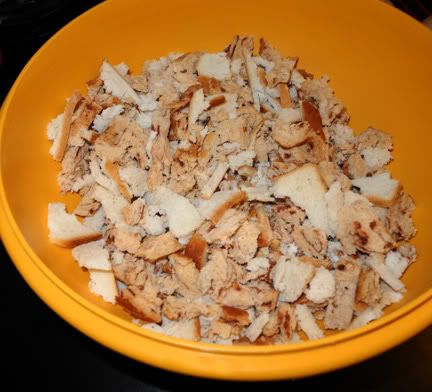 Into the baker and ready to go in the oven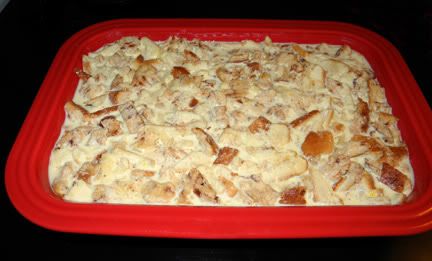 While the pudding is baking let's work on the topping. Some beautiful fresh raspberries, blackberries and blueberries along with my
homemade Blackberry Liqueur
.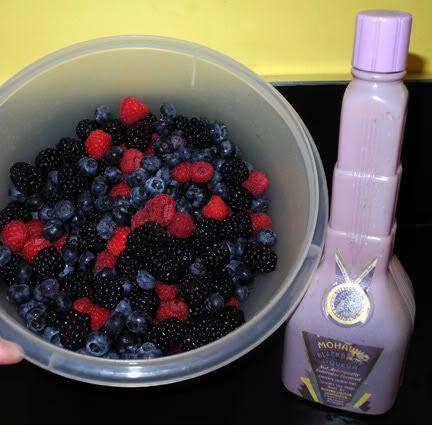 Berries macerating.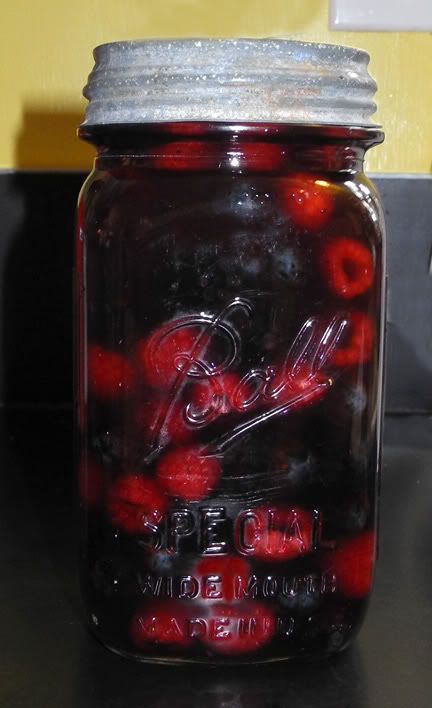 I like to just put them in a canning jar and put them in the fridge for awhile.
Look how beautifully this bread pudding puffs.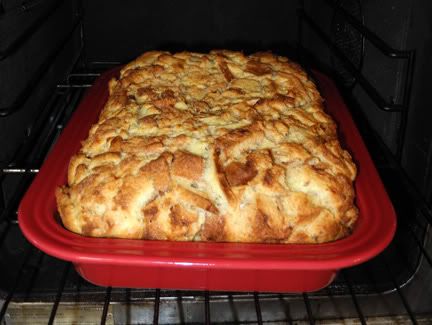 Cooling before serving.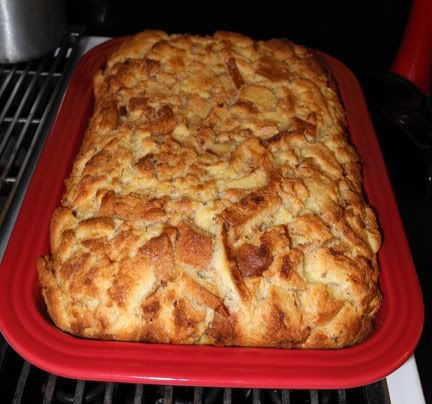 And plated in a maroon Harlequin bowl with Cityscape flatware. I love the way this recipe looks in this dish!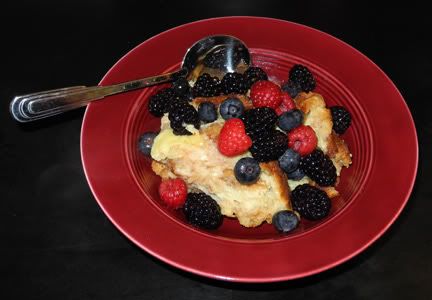 Bread Pudding is a wonderful Southern dessert and most families have their own version. There are three basic ingredients: bread, milk/cream, and eggs. It's the flavourings and additions that personalize the recipes. In Louisiana we typically used French bread, but using different breads gives a somewhat different end product. I've used French bread, brioche, croissants, etc. Really just whatever bread is on hand and needs to be used. Cinnamon raisin bread is a nice change of pace. Over time I have altered the way I make the recipe to be more like the way my Mom makes Bread Pudding, but the link to
Food & Wine
will take you to the original. Bon Appétit!
Cinnamon Custard Bread Pudding with Fresh Berries
16 slices of cinnamon or cinnamon/raisin bread
6 Tbsp unsalted butter, melted and cooled slightly
5 large eggs
¾ cup granulated sugar
3 cups milk
1 cup heavy cream
1 Tbsp vanilla
pinch of salt
¼ tsp nutmeg
Fresh berries
Chambord or homemade Blackberry Liqueur, optional

Preheat the oven to 350°F. Grease a 9"×13" glass or ceramic baking dish. These days I use my Fiesta rectangular baker.

Tear up bread into bite-sized pieces and drizzle with melted butter. (Pour bread into baking dish if you did this in a bowl.)

In a large bowl, whisk the eggs with the granulated sugar, milk, cream, vanilla, salt and nutmeg. Pour the milk mixture over the bread, pressing gently to be sure all the bread is moistened well.

Bake in the upper third of the oven for about 45 minutes, or until the top is lightly browned and the custard is set. Transfer the baking dish to a rack and let rest for 15 minutes.

While the custard bread pudding is baking, macerate the berries in the liqueur if you are going to use that. Plate the pudding into individual dishes and serve with berries and a drizzle of their liquid.



Notes:


1. Like so many of the overnight "French Toast" recipes, this can be assembled several hours or the night before you want to bake it. If I do that I will take it out of the fridge to rest for about 20 minutes or so before putting it in the oven.
2. Another serving option would be with the fresh berries and whipped cream.
I'm linking this to Michael Lee's
Foodie Friday
@
Designs By Gollum
,
Friday's Favourites
by Sandi & Bill @
Whistlestop Cafe Cooking
,
Sweet Tooth Friday
with Allison @
Alli'n Son
, and Kim's
Saturday Swap
over at
Quit Eating Out
.
namasté,