The last couple of days have been very spring-like. Daffodils, flowering trees and bushes have been showing their blooms everywhere around here. And the fragrance is amazing! Many of the flowers are pink and I debated whether or not to use some of those photos for joining Beverly's
Pink Saturday
@
How Sweet the Sound
, but 80° makes me think warmer than spring. I decided to post this tablescape that was photographed last summer, right after I was lucky enough to find the pink tablecloth on Etsy.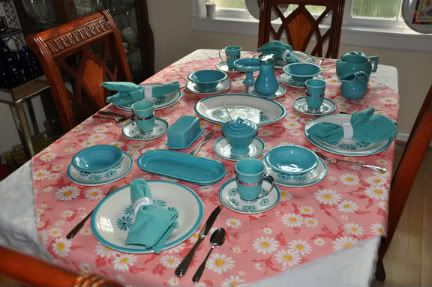 Hawaiian 12 Point Daisy is one of the two Fiesta Casuals that Homer Laughlin produced in the 1960s. That is not an official name from HLC. The moniker was given by collectors. Originally 12 Point was in the name because each daisy has 12 petals. Most collectors now simply call the pattern Hawaiian Daisy. Not every shape was made with the daisy design. Turquoise Fiesta pieces were sold to fill out the sets.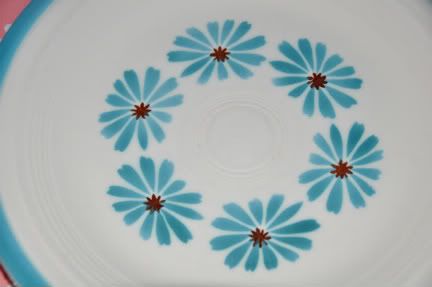 I have loved this pattern for years, but had a hard time finding a tablecloth that I liked with it. Finally I ran across this pink daisy tablecloth and the Hawaiian Daisy was the first thing that crossed my mind.
In addition to using some vintage turquoise Fiesta, I also used vintage turquoise Harlequin, Riviera and Franciscan.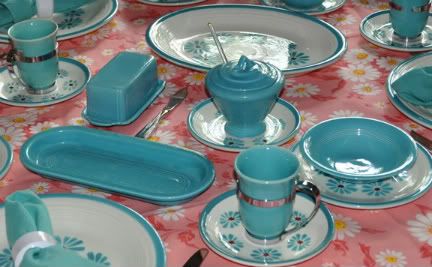 Riviera butter dish (very HTF in turquoise), Harlequin marmalade, Franciscan tumbler made into mug with art deco chrome holder, original straight-sided Fiesta utility tray.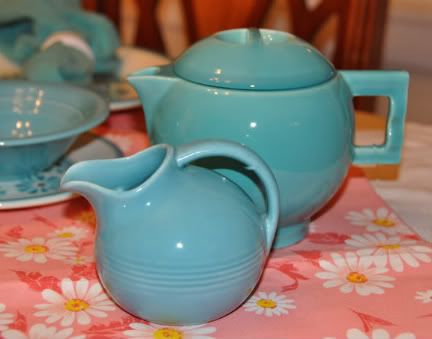 Harlequin novelty creamer and Fraciscan promotional teapot made for Sperry Flour.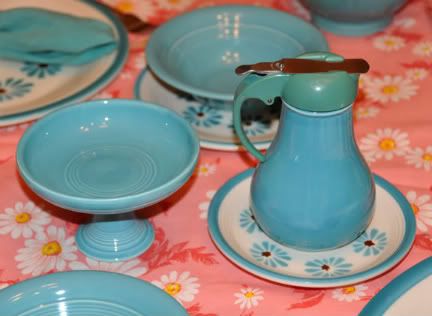 Fiesta sweets comport, Fiesta syrup pitcher, Harlequin 36s oatmeal bowls.

In addition to the featured pottery the table is set with:
Pink Daisy tablecloth, maker unknown
Cityscape flatware by Oneida
Post-86 Fiesta go-along turquoise napkins
White napkin rings I have had forever.
namasté,