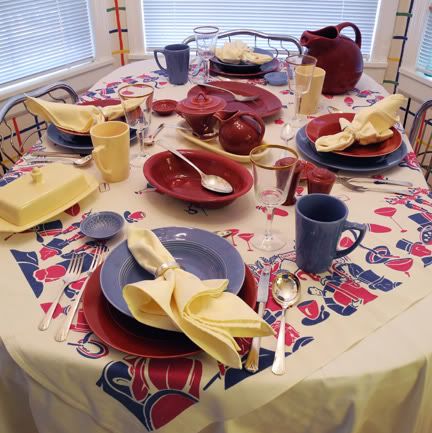 Today I am so lucky! I have been able to set an X-tra special table. It is x-tra special because the tablecloth belongs to my friend Elaine @
Dishing with CaraFaye
and she has loaned it to me. Elaine and I are IRL friends as well as online friends. We first met several years ago on our favourite dish board and have been friends ever since. Last month when my sister, my DDs and I went on our girls' trip to Virgina, we stopped by to visit Elaine. Her house, dishes and tablecloths are TDF. I had seen photos of this tablecloth and asked her if I could borrow it for a Harlequin table. She graciously agreed and I brought it home with me then. Now I am so excited to see how my favourite art deco dishes look with it.
Doesn't the tablecloth have the greatest deco jazz design? I love the musicians, cocktails, etc.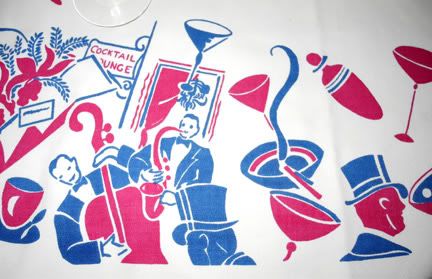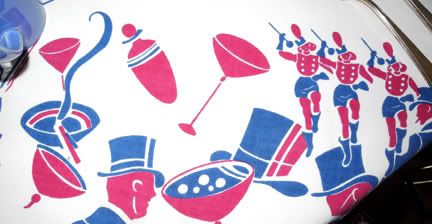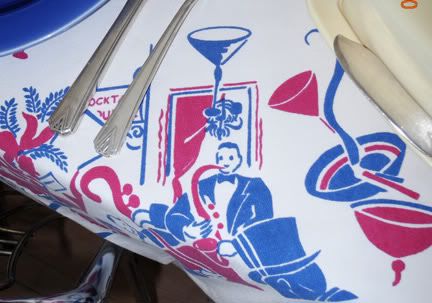 Harlequin was introduced by Homer Laughlin in 1937 as a less expensive counterpart to Fiesta and it was sold through Woolworths. Originally there were four glaze colours: maroon, Harlequin blue, Harlequin yellow, and spruce. Today I am using two of those colours - maroon and Harlequin blue. And as I have used Harlequin blue several times lately, this time the main colour is maroon. I'm also using a few pieces of ivory Fiesta and Riviera as accents.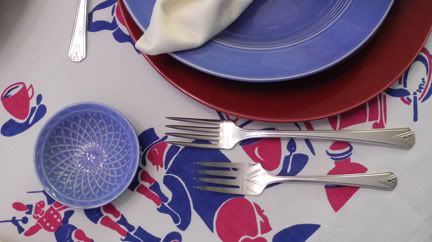 While Fiesta has iconic rings, Harlequin has this iconic cone shape.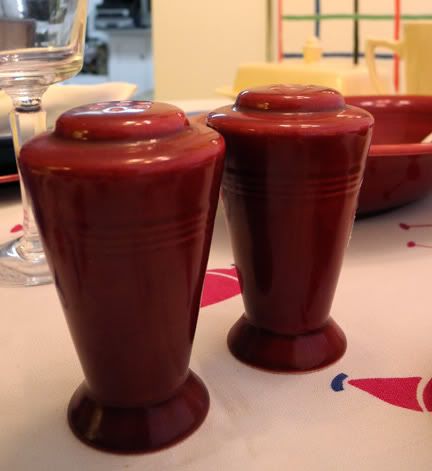 Sugar bowl and novelty creamer on a Fiesta utility tray. The regular creamer is cone-shaped, but the novelty creamer is a round ball like the service water pitcher.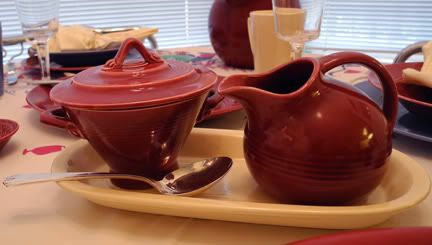 The Harlequin ball jug, aka service water pitcher. This particular one is the first one I ever purchased. My Mom and I found it at a flea market in Louisiana many years ago and I remember us both being so excited! (She collects Harlequin, also.)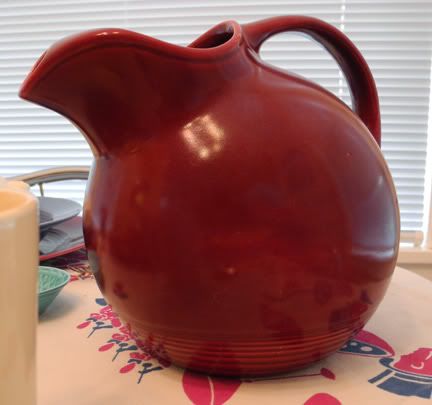 The butter dish that was used with Harlequin was the Jade shape. Ivory is not a standard Harlequin colour, but several of these ivory glazed butter dishes are around. Many have decals, but as this one was just the plain glaze I picked it up when I saw it. It holds two sticks (one-half pound) of butter.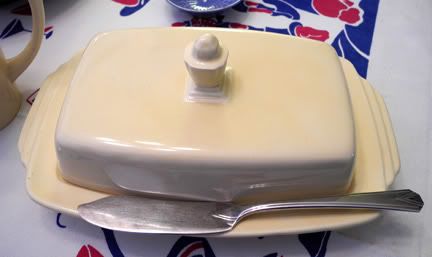 Nut dishes were copied from a Japanese piece and glazed in Harlequin colours. I like to use them for salt cellars or soy sauce. The original Japanese dishes had a floral design embossed in the clay, but when the bowl was reproduced for Harlequin, they only kept the basketweave pattern.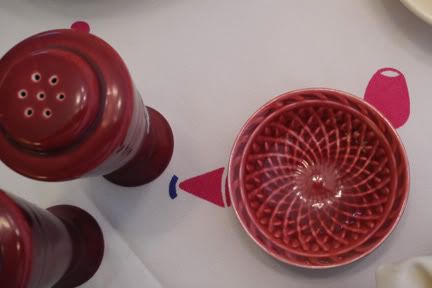 To me the Deauville flatware is just perfect to use with Harlequin.
My wedding crystal: Eternal by Lenox. Lenox no longer makes this original Eternal pattern. The current one is called Eternal Gold. The stems on the original were hand cut and production costs became prohibitive. It rings beautifully.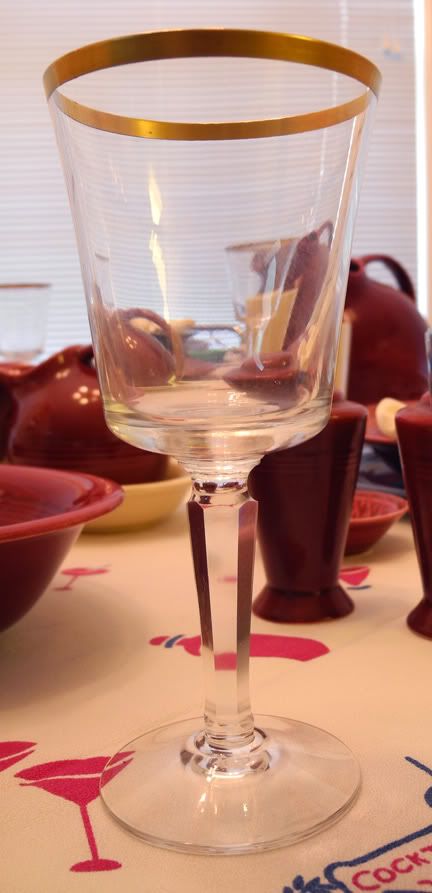 Thanks to all for stopping by.

I am linking this to Jenny @
off on my tanget
for
Alphabe-Thursday
where Today's Letter is "X" - X is for "
X-tra Special
" and Susan at
Between Naps on the Porch
for
Tablescape Thursday
.
On today's table:
Harlequin:
Harlequin blue plates, deep plates and nut dishes; Maroon plates, deep plates, nut dishes, ball jug, novelty creamer, sugar, shakers, platter and oval vegetable bowl; ivory half pound butter dish
Fiesta:
ivory utility tray
Riviera:
Harlequin blue handled mugs, ivory handled mugs
Flatware:
Deauville silverplate by Oneida
Ivory napkins have been around a long time and I don't remember from whence they came.
Silverplate napkin rings
Goblets - Eternal by Lenox (no longer produced)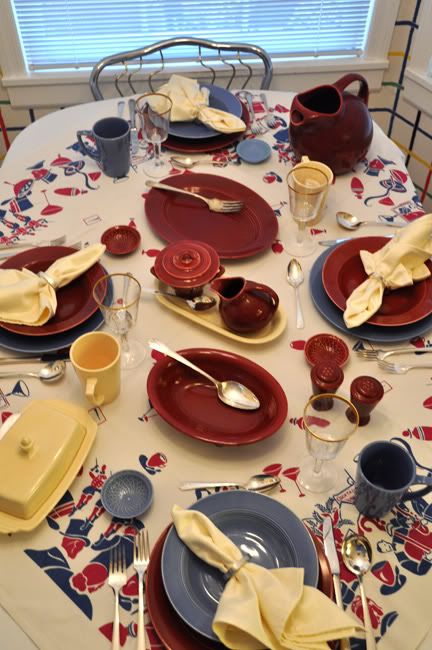 namasté,