St. Patrick's Day. Many people I know become Irish on 17 March. I am fortunate enough to have an Irish branch of my family. My ancestor from Ireland came to the US back in the early 1800's and settled in Louisiana. At some point there was a marriage between one of the Irish and a lady of French descent (one of the Lafittes, as a matter of fact). Later an Englishman was added to the bunch. And that was just on my Mom's side of the family. I love being part of the melting pot with such a varied heritage.
So on St. Patrick's Day, I truly am Irish.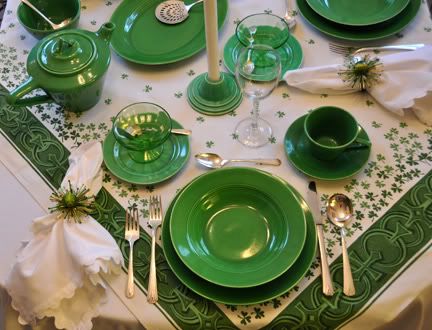 This year I decided to set up my green holiday table using vintage Harlequin in medium green and light green.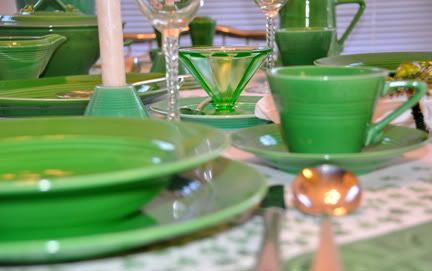 I got a lovely tablecloth from one of my friends in the Vintage Tablecloth Lover's Club. It is a perfect foil for the dishes. I love the way it incorporates a Celtic cross in with shamrocks for the design.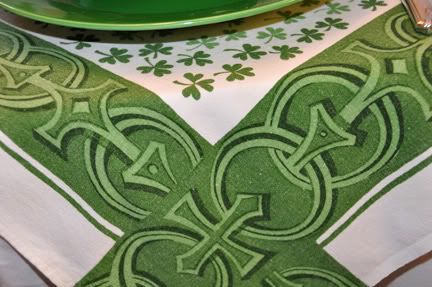 Harlequin is my all-time favourite dinnerware and medium green Harlequin is even more difficult to find than medium green Fiesta. It has taken me many years to assemble my collection. I just love the angular art deco lines of Harlequin. The triangular handles and cone shaped hollowware set it apart from Fiesta.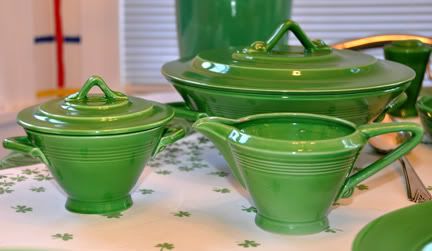 creamer, sugar, casserole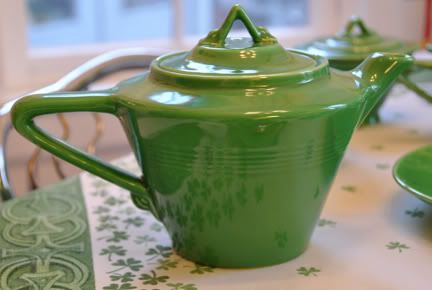 teapot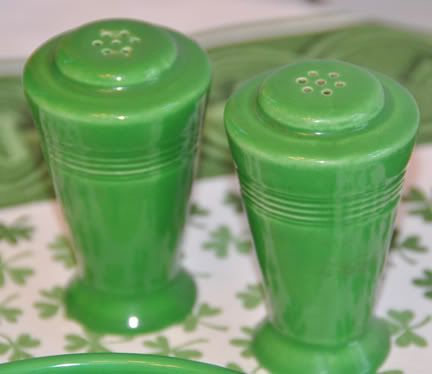 shakers
There are some shapes (e.g. candleholders) that were discontinued before the introduction of medium green. The light green colour blends nicely with the other dishes.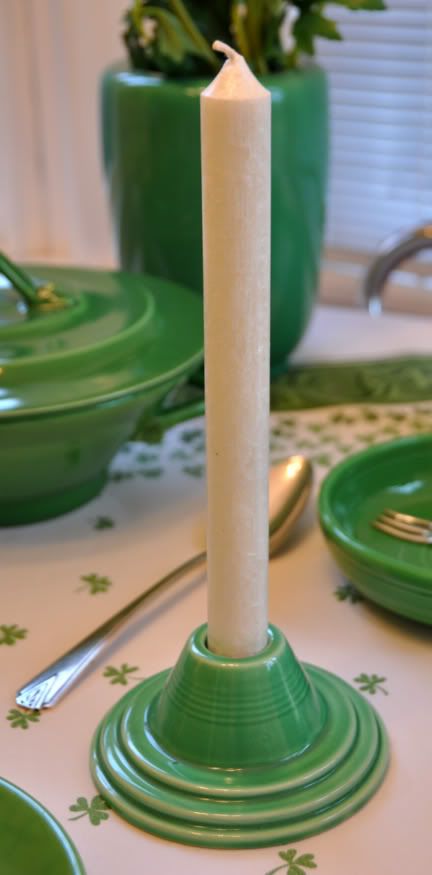 Also in light green is this vase that came from the Potter's Exhibit at the 1940 New York World's Fair.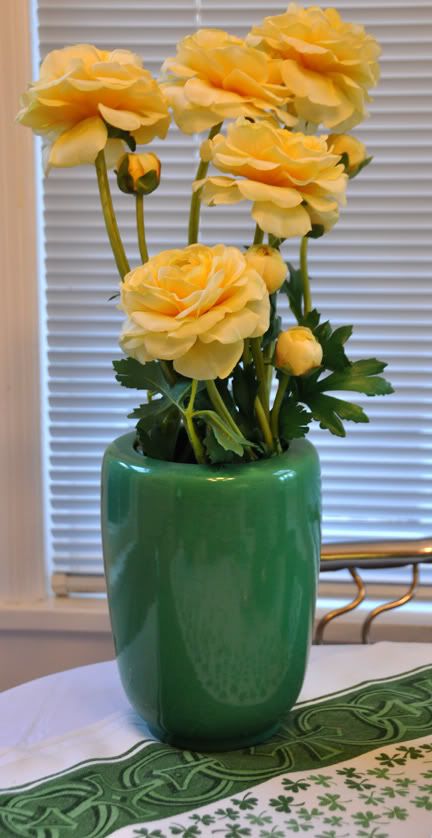 These green Depression Glass sherbets by Federal Glass echo Harlequin's cone shape.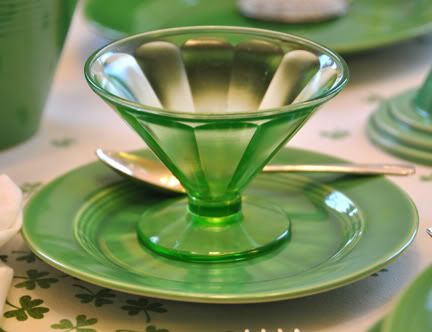 Wine goblets were in a gift basket I won as a door prize at a conference the Guy and I attended back in November.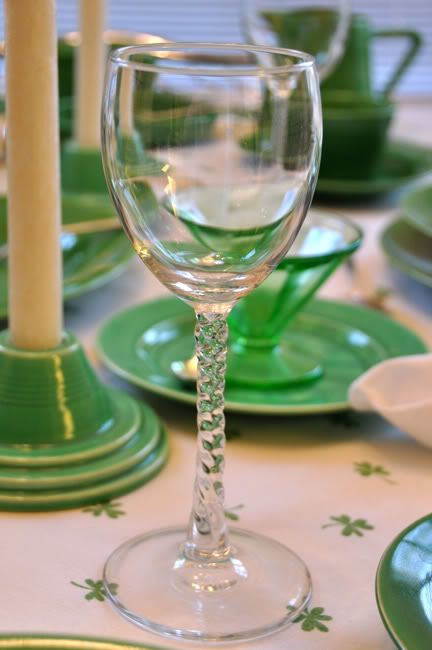 White napkins and green glass napkin rings came from Pier One. The flatware is a vintage art deco silverplate pattern: Deauville by Oneida. The chevron design on the flatware makes it a perfect accompaniment for Harlequin.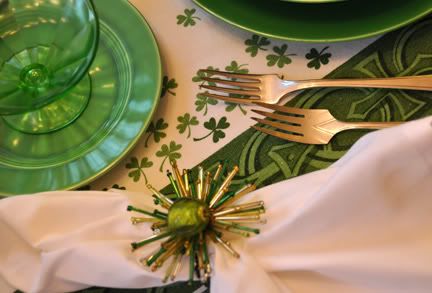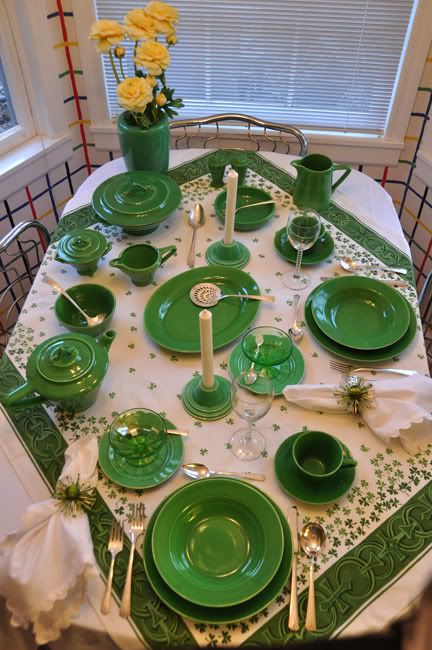 This year's menu:
Collins Clan Irish Soda Bread
Mustard Glazed Irish Boiling Bacon
Sautéed Green Cabbage
Irish Potato Farls

Bailey's Irish Cream Ice Cream

And today may you all have
The Luck of the Irish!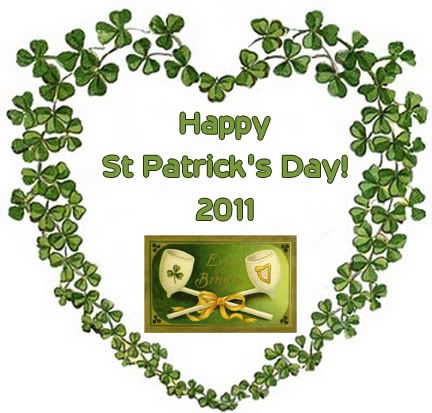 This week I am joining Susan at
Between Naps on the Porch
for Tablescape Thursday.
namasté,