...down in New Orleans. Mardi Gras is Tuesday, 8 March 2011.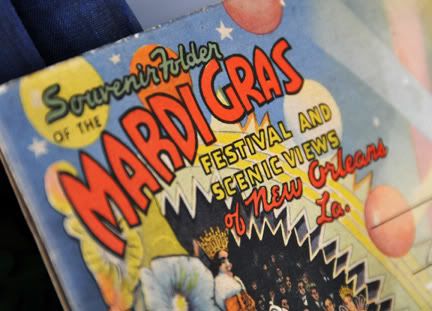 Carnival began on Twelfth Night and culminates with the Mardi Gras. This weekend is one huge party in New Orleans. Mardi Gras is the day before Ash Wednesday with lots of partying, parades and good food. One of the things I missed most when I moved away from Louisiana was being able to buy King Cake. But not to fear. I learned to make them on my own.
Click for recipe
.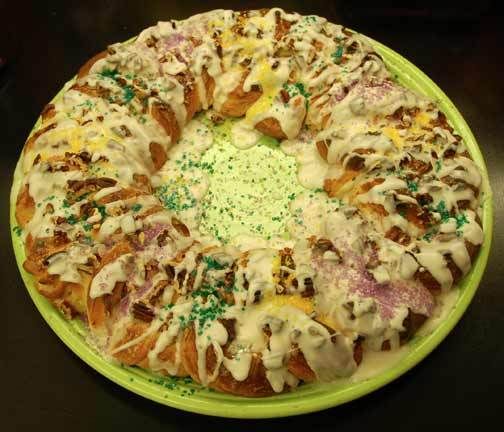 Even though we moved away from Louisiana, we still celebrate Mardi Gras at our house each year. And I can't begin to count all the King Cakes I have made for school, jobs, and us. Mardi Gras loosely translates into Fat Tuesday. It's a day to feast before the Lenten fast begins on Ash Wednesday. Our menu: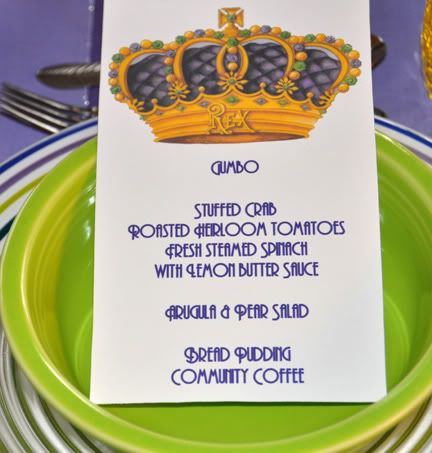 That Community coffee just might get made into Café Brulot before the evening ends.
The colours of the Mardi Gras are purple, green and gold. Purple is for justice, gold for power and green for faith. During Carnival you should always wear the Mardi Gras colours when you are not in costume.
I love setting my table for Mardi Gras.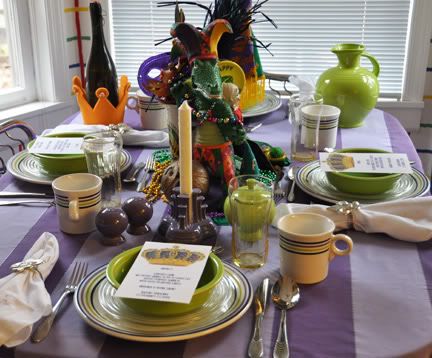 The dishes I use each year are a striped Post-86 Fiesta known as Retired Bands. The colours of the stripes are sapphire, lilac, chartreuse and juniper. I supplemented the striped dishes with chartreuse and lilac Fiesta and Manhattan depression glass.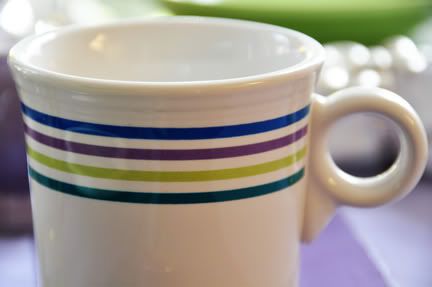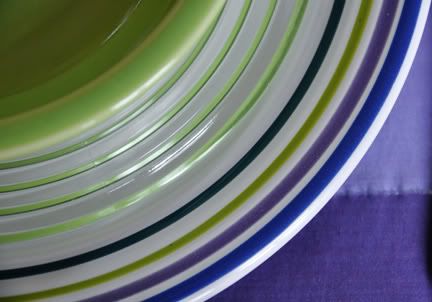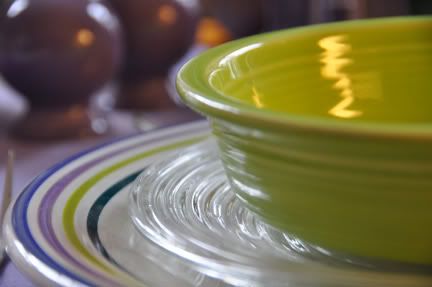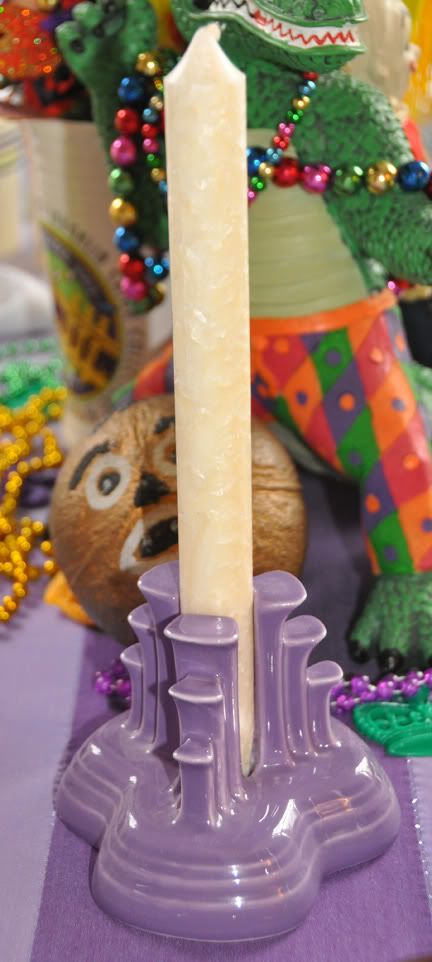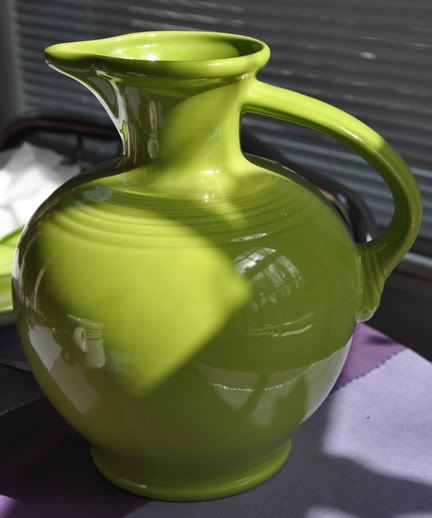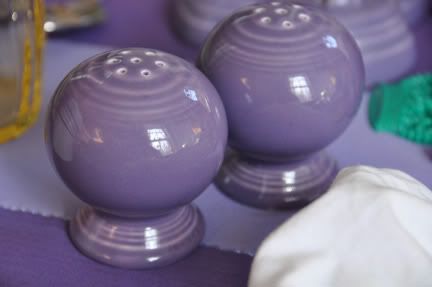 To add a little gold, I used my great-grandmother's tea glasses.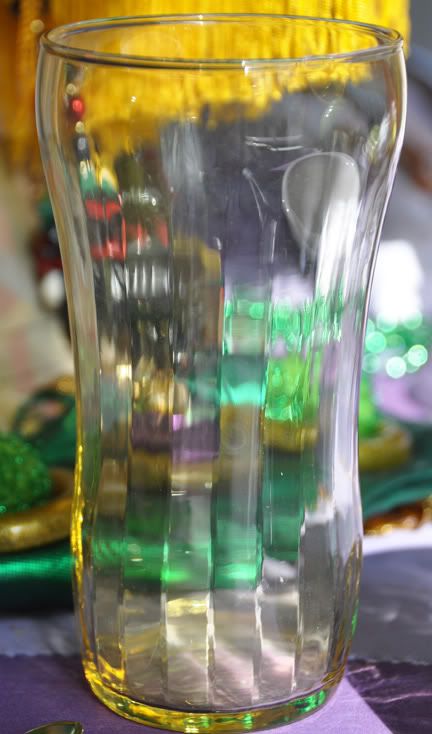 Marie Laveau, the Voodoo Queen, gets her own jewellery.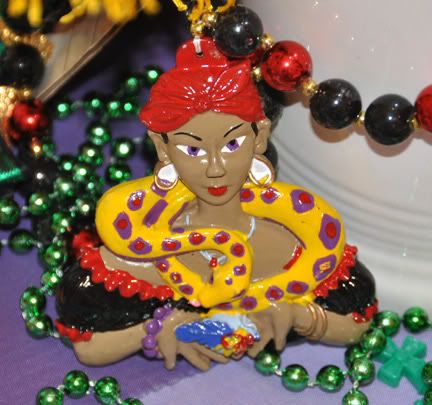 And a bag of gris-gris.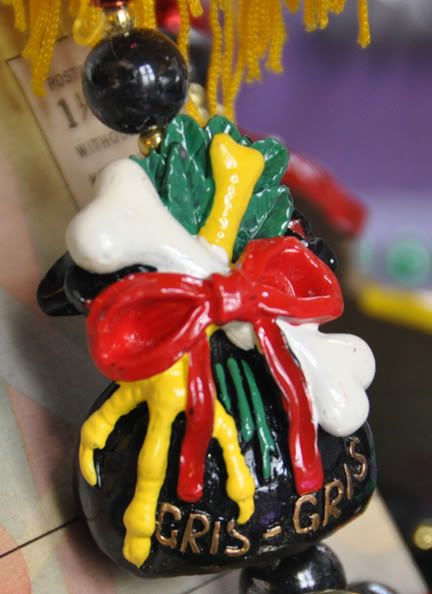 "Trow me sumpin mista!" ("Throw me something, mister!") is the chant heard when the floats roll by. Several of these throws are from my grandparents' first trip back to Mardi Gras (1964) after their house burned. Others are from the 1970s when I was in college and graduate school.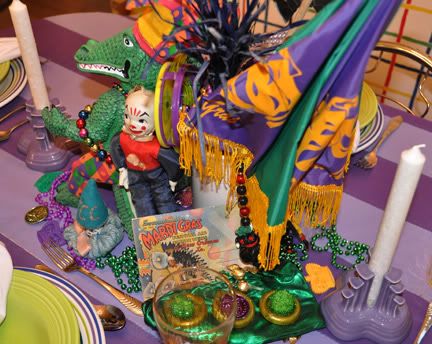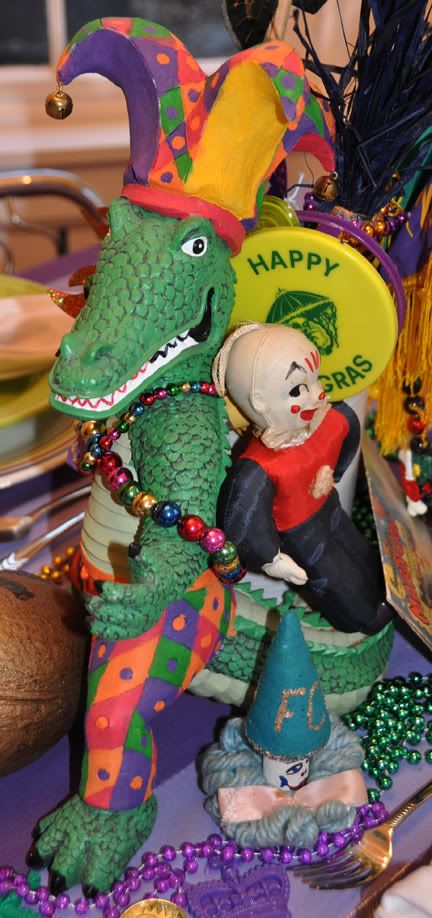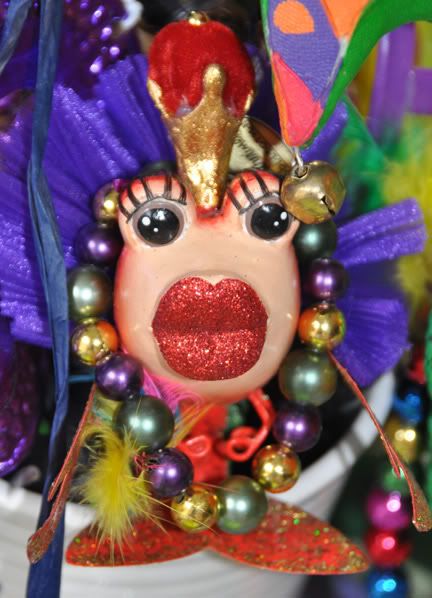 There is a whole series of children's books about Gaston, the green nosed alligator. One of them is
Gaston Goes to Mardi Gras
.
We have our own Gaston, who stands guard over an early 70s vintage Zulu coconut.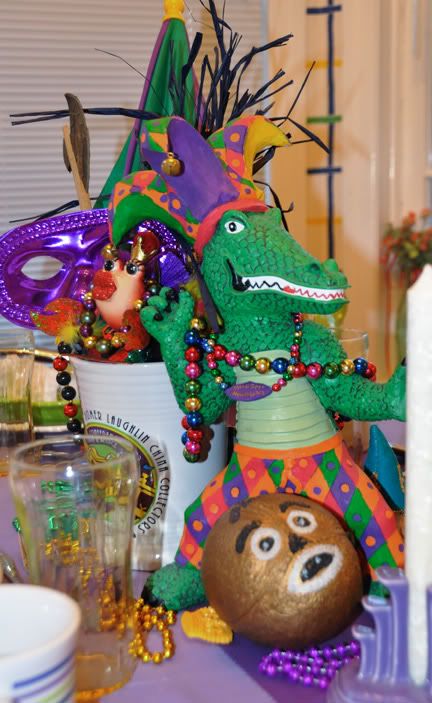 When the HLCCA had their annual conference in New Orleans, the centrepieces included these white Fiesta tool crocks with a New Orleans decal.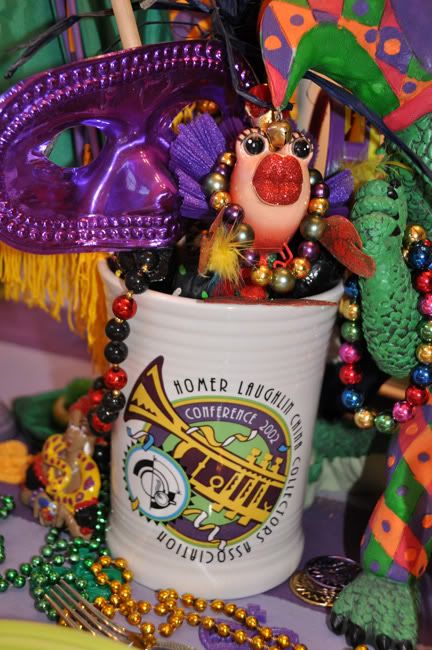 They also made a few commemorative brass doubloons.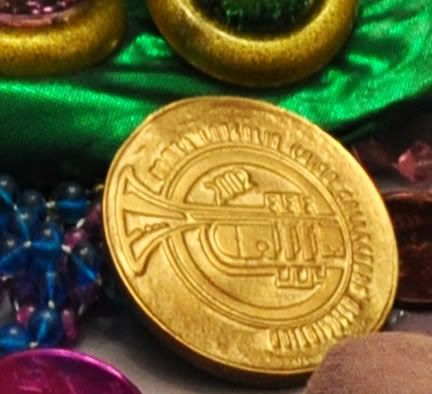 Fleur de lis napkin rings admonish, "laissez les bons temps rouler" ("let the good times roll").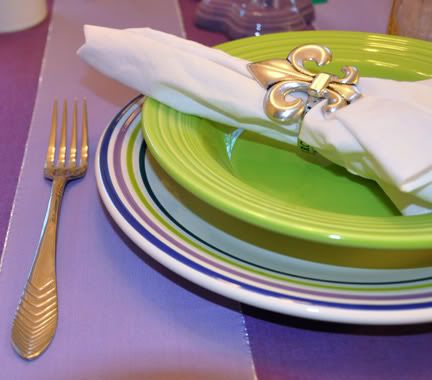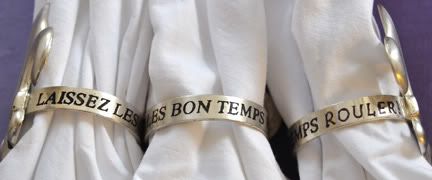 That's certainly the motto during "Carnival Time".
There's that coconut again, along with a Fiesta lilac pyramid candleholder.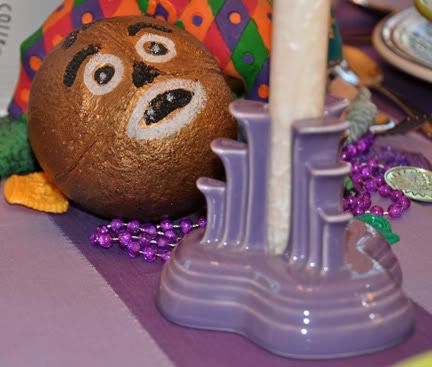 Zulu Coconuts, aka Gold Nuggets, are the most highly prized throws from all the parades. All year the Zulu Krewe works on painting the coconuts. Most are gold with a black face, though other colours are sometimes used. Back in 1987, due to a few people filing lawsuits saying they had been hurt by the coconuts, the Krewe of Zulu was denied insurance. So that year, the honoured tradition of Zulu Coconuts was suspended. After much lobbying, the Louisiana Legislature passed SB188, aptly dubbed the "Coconut Bill," which excluded the coconut from liability for alleged injuries arising from the coconuts handed from the floats. On July 8, 1988,the bill was signed into law. Gold Nuggets could fly again. My Zulu Coconut is from 1973.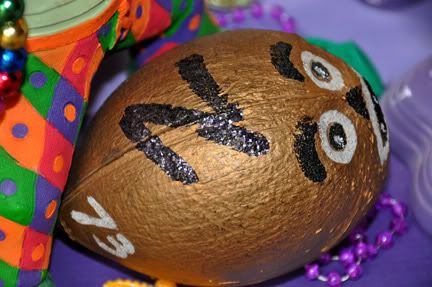 The original "Gold Nuggets" were walnuts that had been painted gold. Sometime in the early 1900s the switch was made to coconuts.
On the table:
Post-86 Fiesta in chartruese, lilac, Retired Bands and the HLCCA New Orleans tool crock.
My great-grandmother's tea glasses.
The original P-86 Fiesta flatware.
Napkins I got in St. Thomas.
Fleur de lis napkin rings were a gift.
The tablecloth is one that I've had for 15 years or so.
Our Gaston was purchased years ago during a trip home to Louisiana from a now defunct filling station.
Throws from various New Orleans Mardi Gras parades.
Voodoo dolls from a voodoo shop in le Vieux Carré (the French Quarter).
Menu Crown is a reproduction of the Krewe of Rex Ball Invitation from 2008.
If you ever get a chance, I highly recommend you "Go to the Mardi Gras".
I will be joining The Tablescaper for
Seasonal Sunday
, Marty at
A Stroll Through Life
for TableTop Tuesday, and Susan at
Between Naps on the Porch
for Tablescape Thursday.
namasté,