I am so excited that I was able to do some cooking the last couple of days. It's been several weeks since my blood counts have been high enough for me to not have to worry about using knives and to have the energy to stand in the kitchen. It's amazing what a few blood transfusions will do for you!
Now I don't do a lot of cooking of meat, but I was going through the freezer yesterday and found a package of pork tenderloin. It seemed that it would be nice to do something different with it, so I started looking through my files. There I came across a recipe that was originally on Sara Moulton's show,
Sara's Secrets
. It seemed like just the thing.
Not too many ingredients: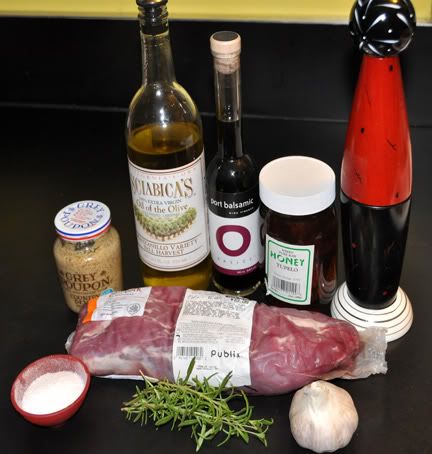 The glaze calls for 1/2 cup of balsamic vinegar. I decided to try some O Port Balsamic that I had gotten a while back. It was quite good. Also used Sciabica's Fall Harvest Manzilla Olive Oil. The rosemary came from my container garden.
As the directions said to cook to 140°F, I finally got a chance to use my super-duper, really nifty Thermapen instant read thermometer.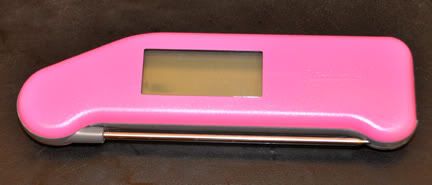 If you don't have one of these, I can't recommend it enough. It is fabulous! Comes in other colours besides pink.

My package of tenderloins weighed exactly 2 pounds.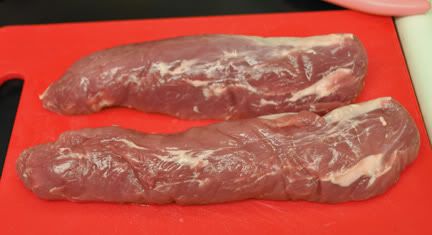 Here they are sliced into medallions.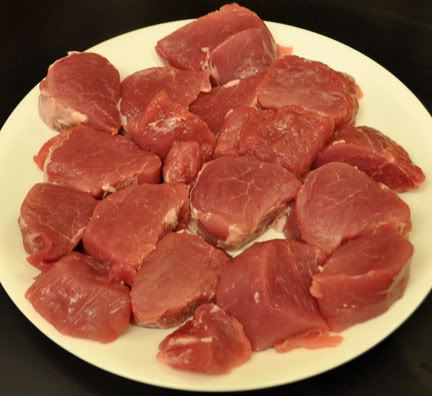 Searing in my cast iron chicken fryer.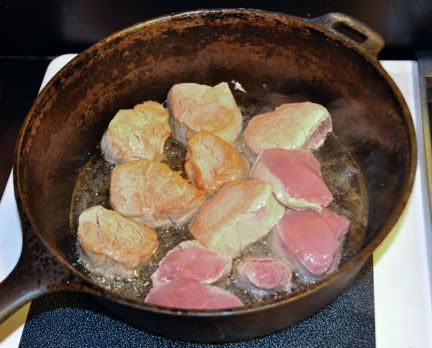 They fit just perfectly into a Fiesta rectangular baker.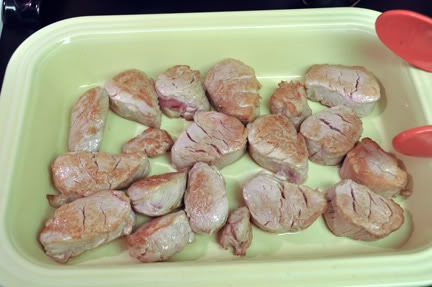 Glaze is poured over and they are ready to go in the oven.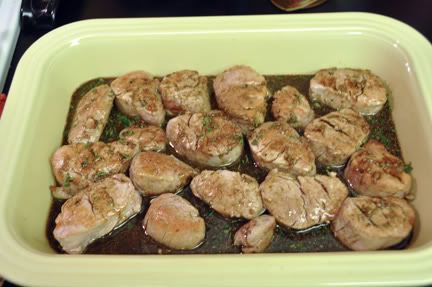 140° exactly! (Well almost. I think we can round down the 0.1.)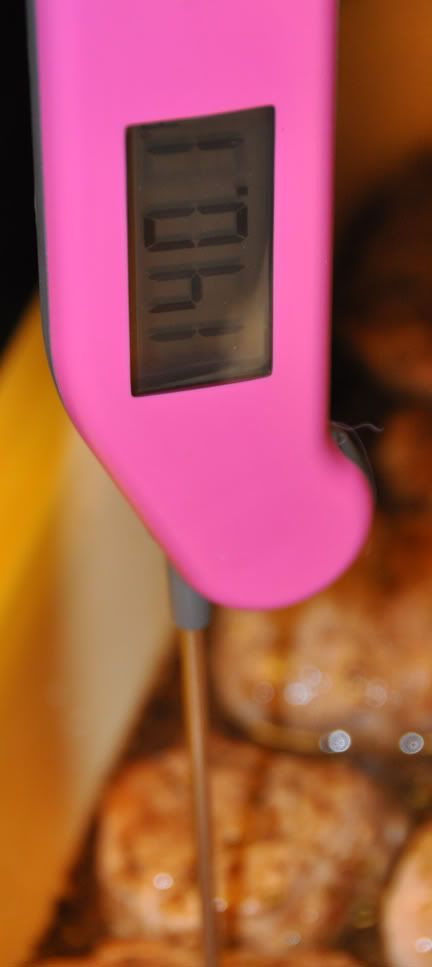 Roasted and resting: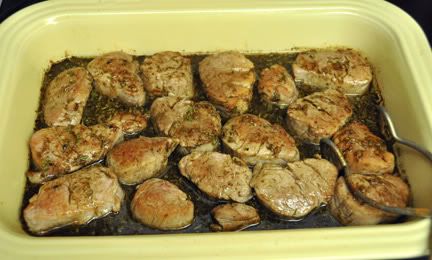 Served on scarlet Fiesta with egg noodles, roasted heirloom tomatoes and roasted haricots verts with onion.
This was some of the most moist and tender pork I have ever eaten. The rest of the family thought it was delicious and gave it two thumbs up. I'd also like to try this glaze with chicken, as it is very tasty.
Pork Tenderloin with Balsamic Honey Glaze
adapted from Sara's Secrets

For the balsamic-honey glaze:
4 cloves garlic, minced
1 Tbsp chopped fresh rosemary
½ cup balsamic vinegar
3 Tbsp local honey
2 Tbsp good olive oil
1 Tbsp Dijon mustard (I like the country style)
Kosher salt
Freshly ground black pepper

For the pork:
1¾ to 2 lb pork tenderloin
vegetable oil, for searing

Preheat the oven to 350°F.

Make the glaze: Put garlic and chopped rosemary in a small bowl. Add the vinegar, honey, olive oil, mustard, and salt and pepper, to taste, and whisk to combine.

For the pork: Slice the tenderloin into 1" thick medallions (rounds).

Cover the bottom of a heavy skillet with a little vegetable oil and heat over medium-high until hot. Add the pork medallions in 1 layer, season with salt and pepper, and sear for 1 minute. Turn and sear for 1 more minute, until lightly browned. Transfer the slices to a shallow baking dish, making sure there is only one layer. Pour the glaze over the pork and turn to coat.

Roast for 10 minutes or until a thermometer inserted reaches 140°F for medium. Remove from the oven and keep warm, loosely covered until ready to serve.

To serve place pork medallions on a platter and spoon the balsamic-honey glaze over them.
I'm linking this recipe to Kim's
Saturday Swap
over at
Quit Eating Out
. Click on the logo to check it out and join in the fun.

namasté,