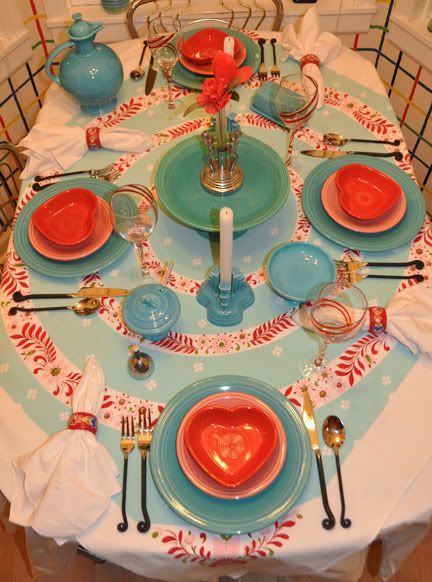 I'm linking this up at
Seasonal Sunday
with The Tablescaper. Check it out to see other great posts related to the season. Also,
The Colours of Love: Coast to Coast & Shore to Shore
is still open, so please join us there, if you haven't already.
Rosemaling is Norwegian Rose Painting. It is a form of Folk Art that has been around at least since the 1700s. Each Rosemaled piece is one-of-a kind, being painted individually. When Abbey was a baby and I was decorating her room, I was able to find several pieces of rosemaling (candleholders, boxes, etc.) to use. The red and white with roses and hearts was a neat look for a little girl.
Fast forward many years. I found this set of rosemaled napkin rings and thought they would be great to use on a Valentine table. Not that I had anything else to go with them for tablescaping. As I didn't want to leave them behind they found their way home with me. They even came on their own stand, so storage was not a problem.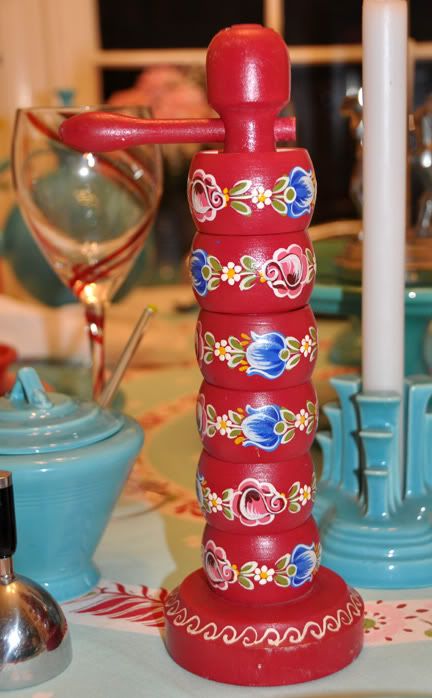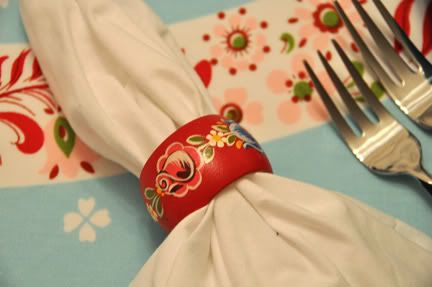 Then one day I was looking at tablecloths on eBay and Etsy and ran across one where the design was just perfect to go with rosemaling.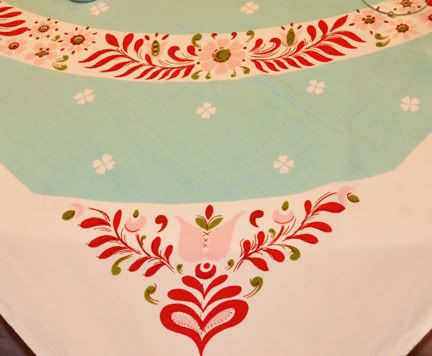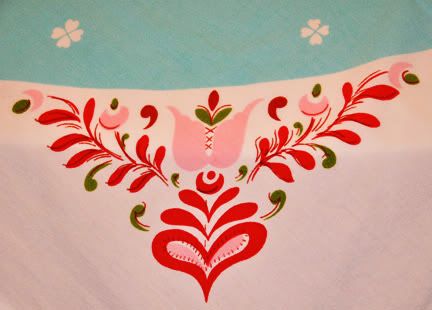 Now I had the basis for my table. There are plenty of dishes from which to choose some that will look seasonal for Valentines. I went with turquoise, rose and scarlet.
Place settings are turquoise, rose and scarlet Post-86 Fiesta.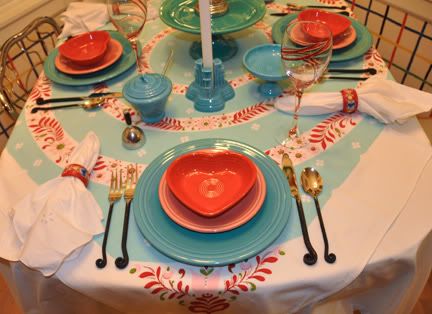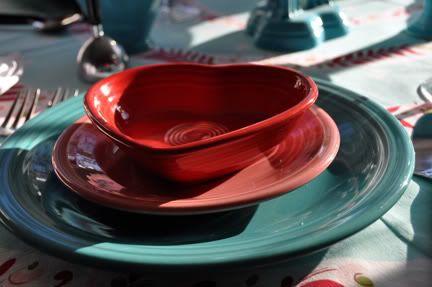 The centrepiece is a vintage Bauer turquoise cake stand and a Farberware chrome nude bud vase.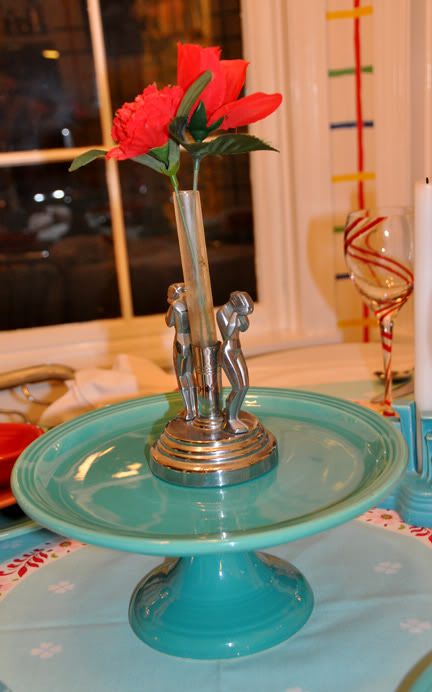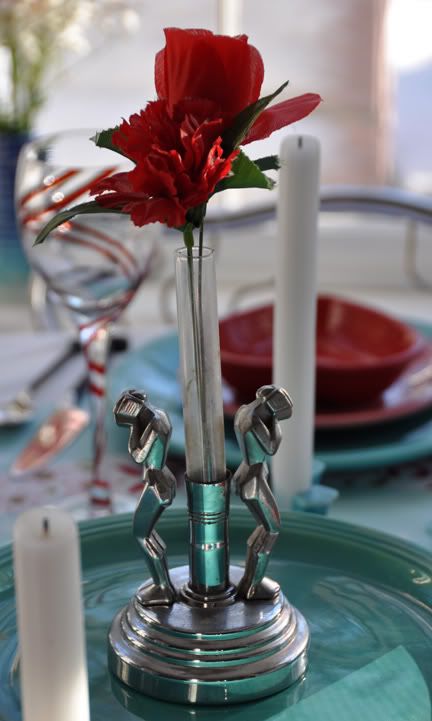 These ladies are highly collectible. They are known as cubic nudes, weeping nudes or bashful nudes because of the design and position of the figure.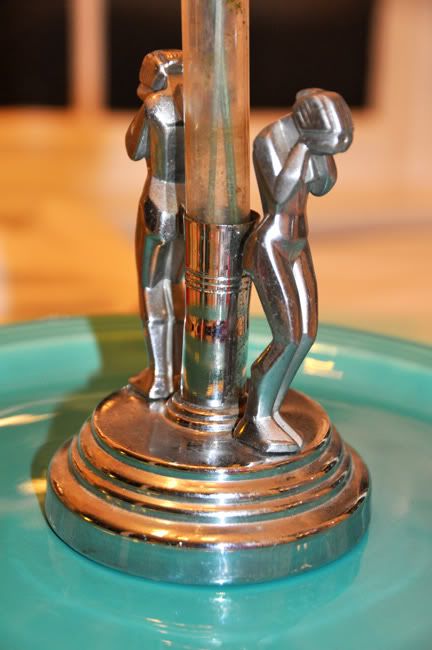 The ladies can be found both standing and kneeling. And they are on a number of different styles of decorative accessories (e.g. shot glass trays, coffee dispenser, candy dishes, candleholders, bud vases, and bridge tokens, etc.)
I also used some vintage turquoise Harlequin and Fiesta on the table.
Fiesta carafe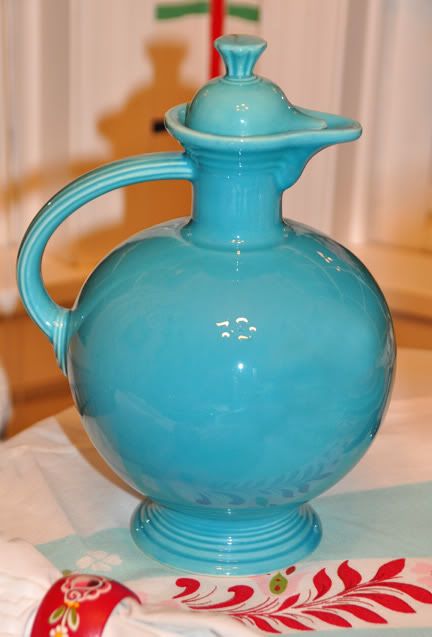 Harlequin marmelade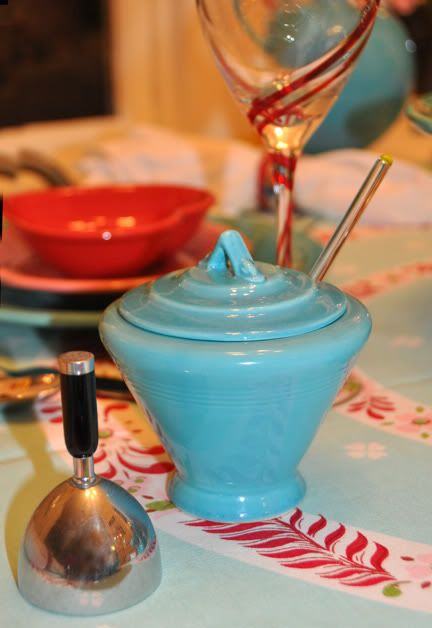 Fiesta sweets comport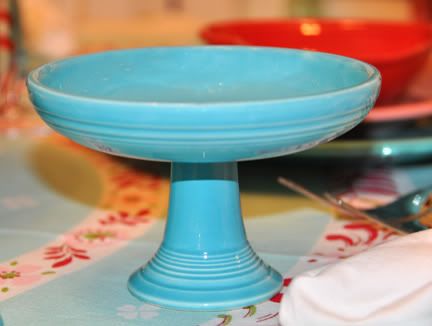 Fiesta tripod candleholders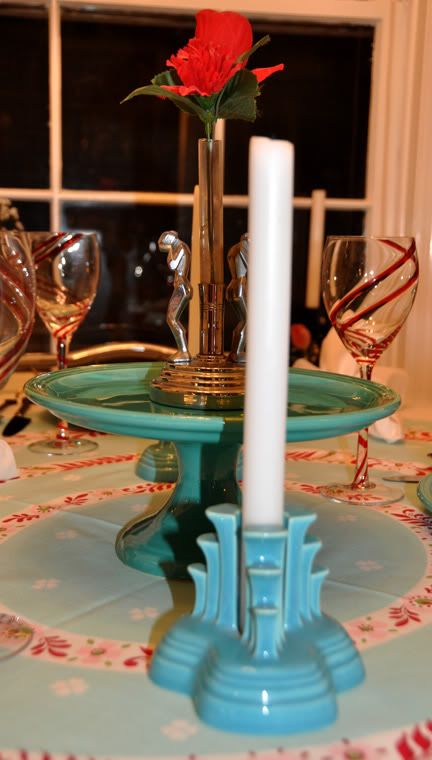 Goblets are from Pier One.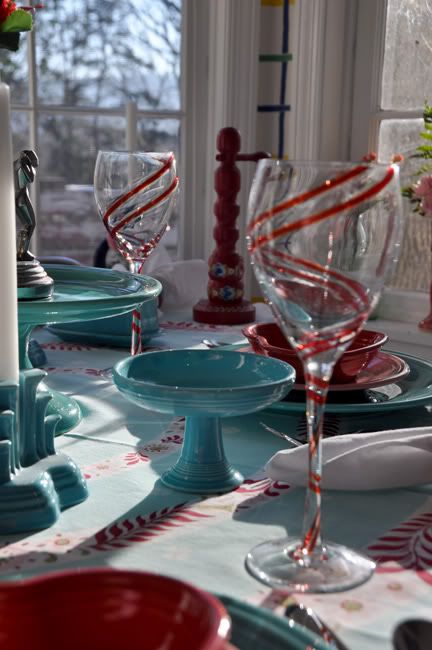 The flatware is Treble Clef by Gourmet Settings.
And no proper deco tablesetting would be complete without a dinner bell or gong. Chase made several different designs. This is the Ming Bell.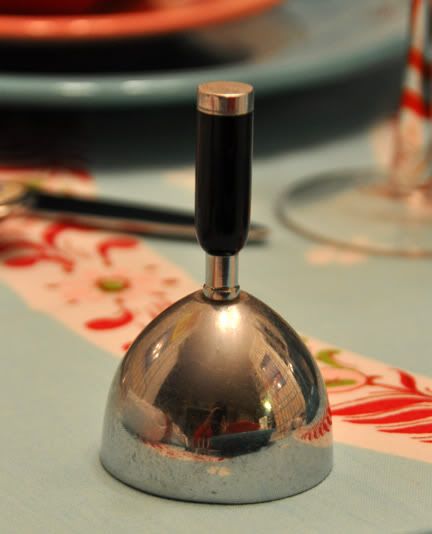 Napkins are the same ones I used in the L'amour est Bleu table: cutwork embroidered cotton that I brought back from St. Thomas. And I just love the way the napkin rings echo the design on the tablecloth.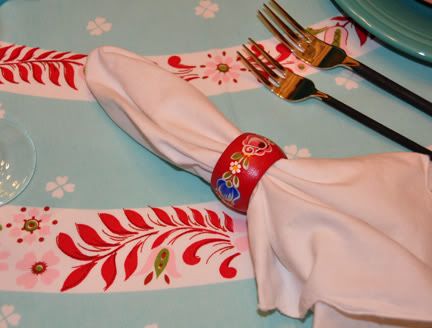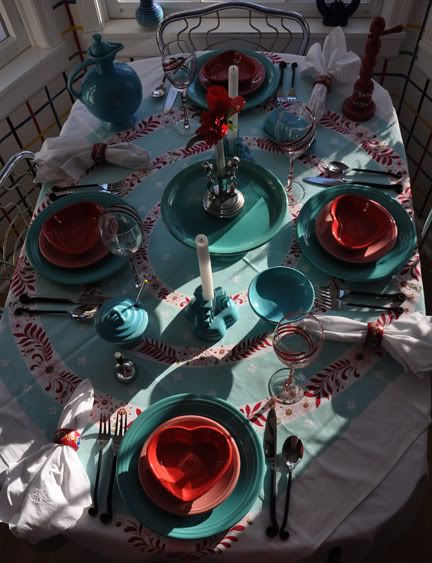 namasté,