Today I am being part of a tablescaping event - The Colours of Love: Coast to Coast & Shore to Shore. This began among some far flung dish friends who also love vintage tablecloths and beautiful accessories. The group has become known as the Dish Divas or Tablecloth Fairies as we share a mutual love for Homer Laughlin dinnerware, both contemporary and vintage table linens, and we've been known to bestow unexpected gifts upon our fellow collectors.

Divas participating in today's event:


Candy

@ The Little Round Table, who is actually hosting our linky party


Daphne

@ Tabletop Time


Elaine

@ Dishing with CaraFaye


Becky

@ Random musings of deco lady

Please add your table of

to our linky party as we all celebrate. The Linky Party is up now! And here's wishing everyone the happiest of Valentine Days from
Coast-To-Coast and Shore-To-Shore around the world!
We are also joining Susan at
Between Naps on the Porch
for
Tablescape Thursday
, and I will be linking up with Beverly's
Pink Saturday
at
How Sweet the Sound
and
Smiling Sally
for
Blue Monday
.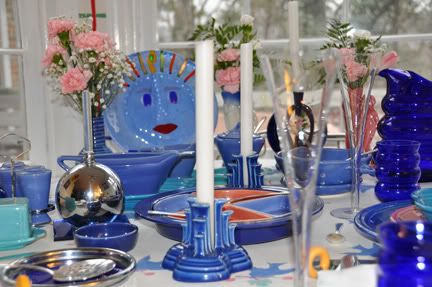 L'amour est Bleu
aka
Love is Blue
This song has been recorded by numerous artists, but the most famous is the version by French orchestra leader Paul Mauriat. His instrumental back in 1969 remains the only number-one hit by a French artist on the Billboard 100 in the US.
In the original French, the song describes the pleasure and pain of love in terms of colours and natural elements, while the English lyrics focus on colours only, using them to describe elements of lost love. However, if you translate the original it's not really about lost love. It's a haunting celebration of love that ends with "Blue, blue, love is blue, Love is blue when I am yours, Love is blue when I am yours".
With our theme:
The
Colours
of
Love
, this song kept running through my mind every time I thought of what to do for my table. And given that I have already done two
red
Valentine tables this year, what's a girl to do? Get out her
BLEU
dishes, of course! Today's table is set for two so the Guy and I can have a romantic celebration. And because there is a bit of rose pink in the tablecloth, I used some pink in the dishes and flowers to tie it all together.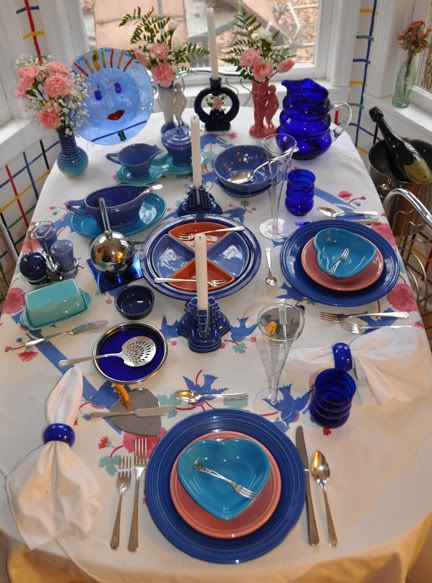 I started out with my bluebird tablecloth because of the symbolism of "the bluebird of happiness".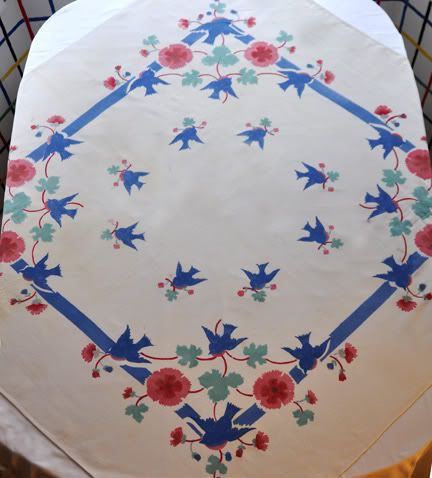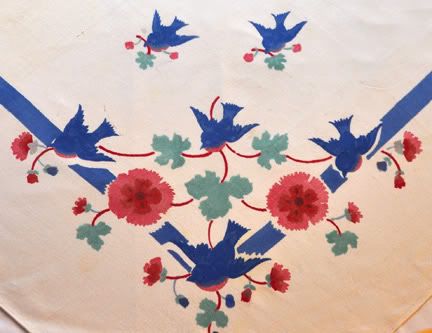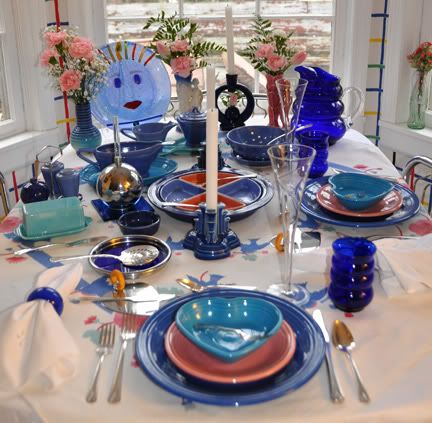 And when it comes to blue dishes, Harlequin blue Harlequin are my favourites. The colour is called Harlequin blue because it was developed especially for the Harlequin line of dinnerware at Homer Laughlin. And although I have a lot of Fiesta, Harlequin is my first and best passion in dinnerware. I love its angular and conical lines. Some of the very finest of art deco design.
Harlequin high-lip creamer and marmalade on a vintage Fiesta turquoise figure 8 tray that was made as a promotional piece. The tray is scarce in this colour and both pieces of Harlequin are difficult to find.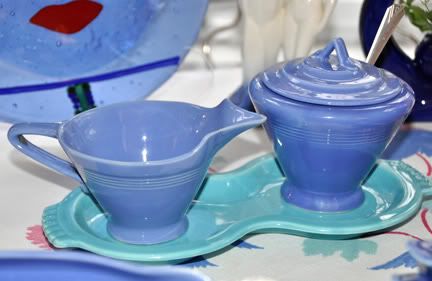 Harlequin sauceboat, Post-86 peacock Fiesta platter and Deauville ladle: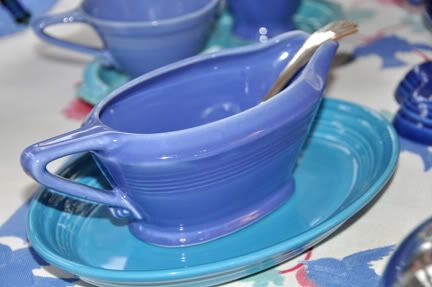 This is a marriage. As Harlequin relish bases only come in turquoise I chose to use a Fiesta cobalt base. Rose is not a standard Harlequin relish insert colour, so I was thrilled to find these two. I paired them with Harlequin blue inserts and a couple of Deauville pickle forks. Also in this shot are a cobalt Fiesta relish centre and an art deco chrome and cobalt glass hors d'œuvre ball.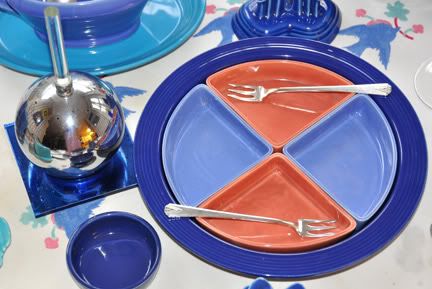 RoyalChrome condiment holder with Fiesta cobalt mustard and Harlequin blue Harlequin shakers: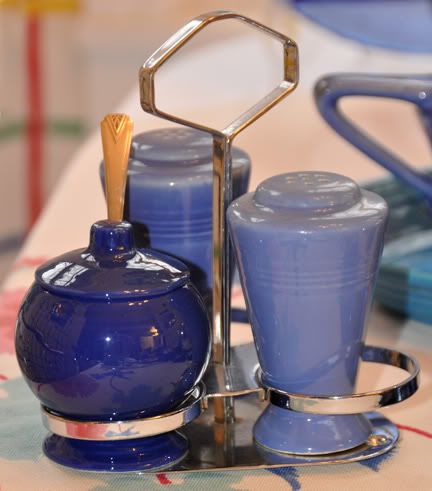 For the place settings I chose P-86 Fiesta in sapphire, rose and peacock. The flatware is Deauville, except for the strawberry forks. I'm also using Chase heart chrome and bakelite servers as butter plates paired with Deauville butter spreaders.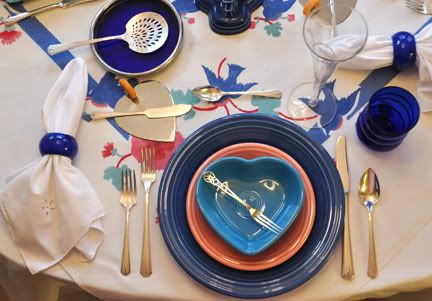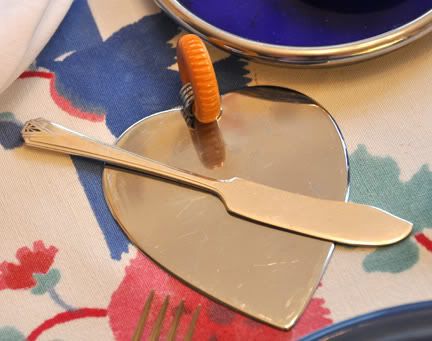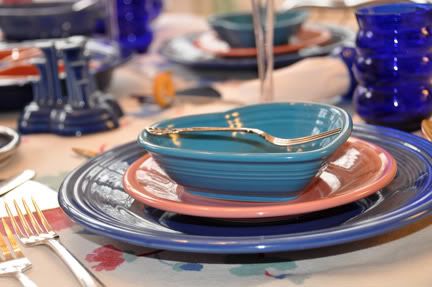 Strawberry forks are a whimsy that came about in Victorian times and by the art deco period they had dropped out of favour. However, some were still being made during the arts and crafts era and those are not as elaborate as their Victorian counterparts. I have managed to find five of the arts and crafts style so far. They all have a pierced design in the handle.
There are some other blue dishes in use today. Riviera turquoise 1/4 lb butter dish. It's interesting that they are the perfect size for the west coast style butter sticks, but don't fit the ones from east of the Rockies. Beside the butter dish is the Deauville master butter knife.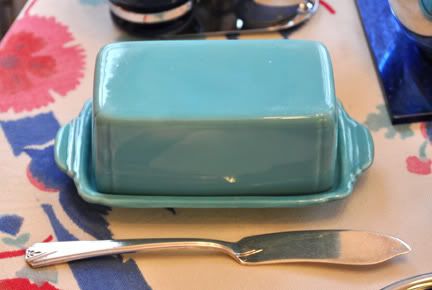 The blue berry bowl and underplate are handcrafted by an artist I found on Etsy.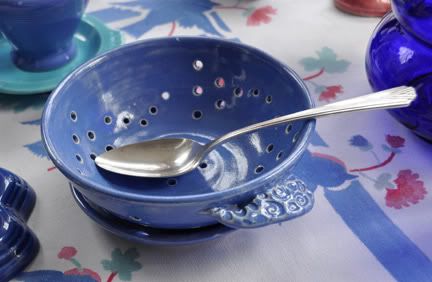 The pyramid candleholders were not officially produced in sapphire, but a friend gave me this pair as a birthday gift.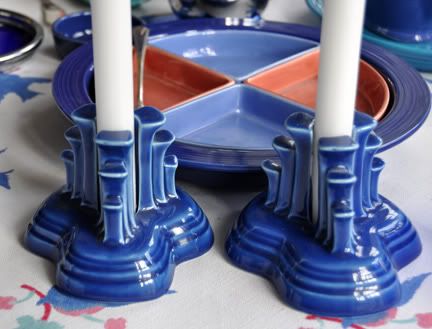 I just adore cobalt glass and it was quite popular during art deco times. Several pieces help round out the blues in today's table. First is a water/lemonade set. The design reminds me of the Michelin Man.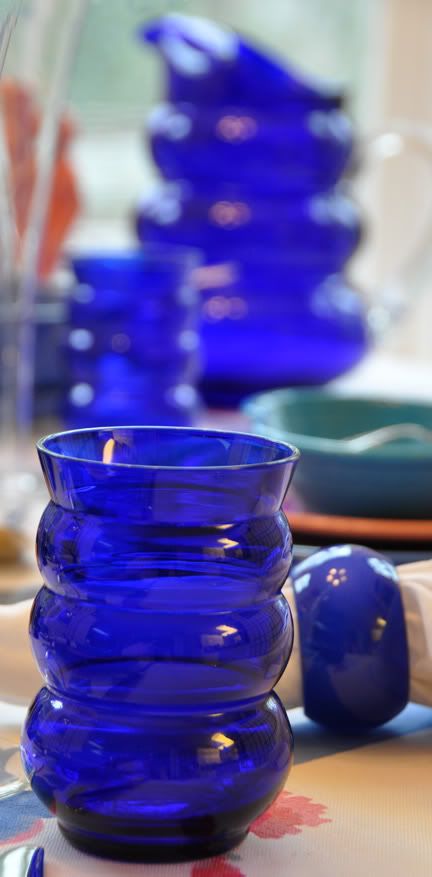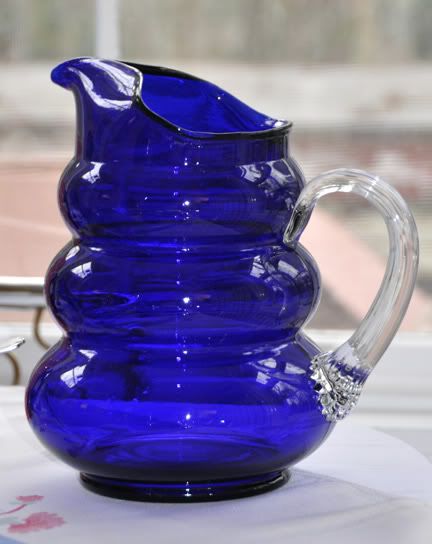 This tray is part of the Russel Wright pancake set by Chase. With it is the Deauville jelly/tomato server.
I have worked in stained glass for many years and several years ago decided to take a glass fusing class. My pièce de résistance is this face that I have always called Goddess of Love. She had to be part of our Colours of Love celebration.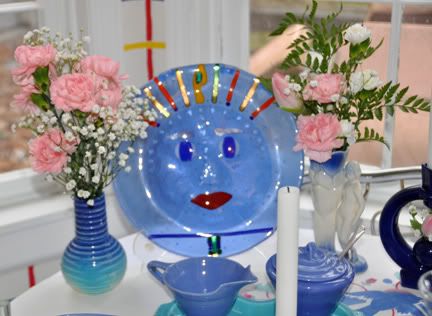 It wouldn't be a proper Valentine's Day without flowers.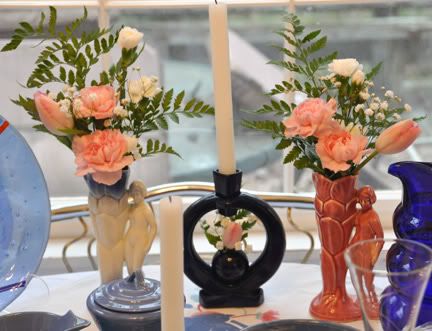 The two nude vases are quintessential art deco. Nude nymphs are in integral part of many art deco figural accessories. I have this vase in a number of different glaze colours and treatments. While these two are not marked, one of the ones in my collection is marked "Hoskinson Usona".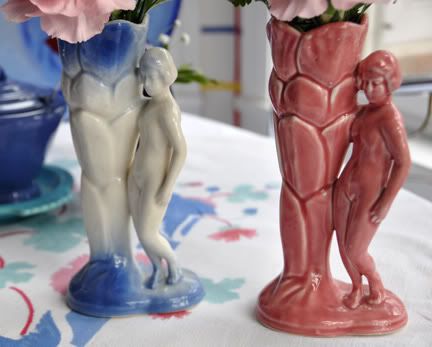 This combination vase/candleholder is something I picked up in a thrift shop. I have no idea of the maker or age.
When Frederick Rhead was Art Director of Homer Laughlin (1926-1942), he periodically held ceramics classes. This vase was made by a lady who went to one of those classes and is glazed in Fiesta turquoise and cobalt. That would put its date of origin between 1937-42.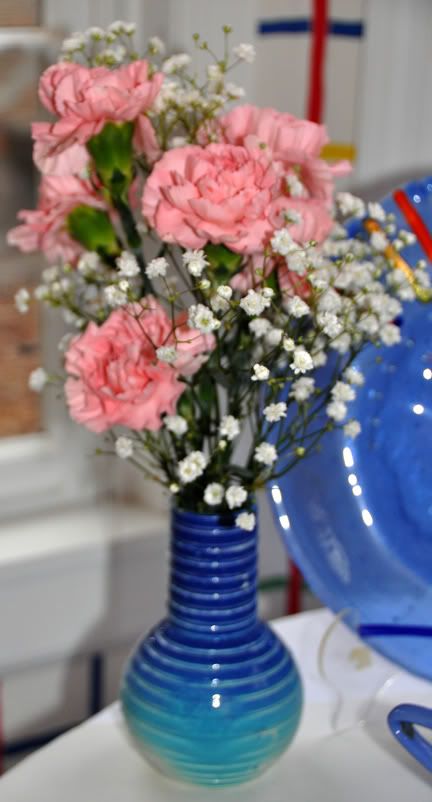 Champagne glasses: We prefer flutes to coupe-shaped champagnes. These particular ones are favourites of mine as the stem is open all the way down to the base. Watching the bubbles originate at the bottom and make their way to the top is beautiful.

On the table:
1.
tablecloth:
vintage bluebird and floral
2.
flatware
: art deco silverplate, Deauville by Oneida/Community Plate and assorted arts and crafts era strawberry forks
3.
napkins:
white cutwork embroidered cotton I brought home from St. Thomas
4.
napkin rings
: Sur la Table
5.
place settings:
sapphire, rose and peacock Post-86 Fiesta
6.
other dishes:
vintage Harlequin (Harlequin blue and rose), vintage Fiesta (cobalt and turquoise), vintage Riviera (turquoise), P-86 Fiesta (peacock and sapphire), handthrown strawberry bowl and underplate from an Etsy artist
7.
glassware:
champagne flutes that I've had just about forever, art deco cobalt glass water/lemonade pitcher and glasses, Chase Russel Wright pancake set tray, art glass Love Goddess, art deco chrome/glass cocktail ball (unknown maker)
8.
other:
art deco nude vases, Rhead art class vase, RoyalChrome condiment holder, Chase art deco chrome and bakelite heart servers, unmarked cobalt candleholder/vase, art deco chrome standing champagne bucket, and a bottle of Dom Perignon (because what champagne is more romantic?)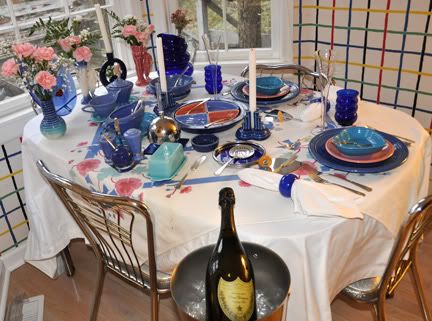 Original lyrics translated into English:
Love is Blue

Sweet, sweet, love is sweet
Sweet is my life, my life in your arms
Sweet, sweet, love is sweet
Sweet is my life, my life close to you

Blue, blue, love is blue
Cradle my heart, my loving heart
Blue, blue, love is blue
Blue like the sky which play in your eyes

Like the water, like the running water
Me, my heart runs after your love

Grey, grey, love is grey
My heart weeps since you went away
Grey, grey, the sky is grey
The rain falls when you're not there anymore

The wind, the wind moans
The wind weeps since you went away
The wind, the cursed wind
My heart weeps when you're not there anymore

Like the water, like the running water
Me, my heart runs after your love

Blue, blue, love is blue
The sky is blue when you return
Blue, blue, love is blue
Love is blue when you take my hand

Mad, mad, love is mad
Mad like you and mad like me
Blue, blue, love is blue
Love is blue when I am yours

Love is blue when I am yours
And if you are fluent in French:
L'amour est Bleu
Doux, doux, l'amour est doux
Douce est ma vie, ma vie dans tes bras
Doux, doux, l'amour est doux
Douce est ma vie, ma vie près de toi

Bleu, bleu, l'amour est bleu
Berce mon cœur, mon cœur amoureux
Bleu, bleu, l'amour est bleu
Bleu comme le ciel qui joue dans tes yeux

Comme l'eau, comme l'eau qui court
Moi, mon cœur court après ton amour

Gris, gris, l'amour est gris
Pleure mon cœur lorsque tu t'en vas
Gris, gris, le ciel est gris
Tombe la pluie quand tu n'es plus là

Le vent, le vent gémit
Pleure le vent lorsque tu t'en vas
Le vent, le vent maudit
Pleure mon cœur quand tu n'es plus là

Comme l'eau, comme l'eau qui court
water Moi, mon cœur court après ton amour

Bleu, bleu, l'amour est bleu
Le ciel est bleu lorsque tu reviens
Bleu, bleu, l'amour est bleu
L'amour est bleu quand tu prends ma main

Fou, fou, l'amour est fou
Fou comme toi et fou comme moi
Bleu, bleu, l'amour est bleu
L'amour est bleu quand je suis à toi

L'amour est bleu quand je suis à toi
.
Be My Valentine and enjoy your own Colours of Love!
Je vous adore, mes amis!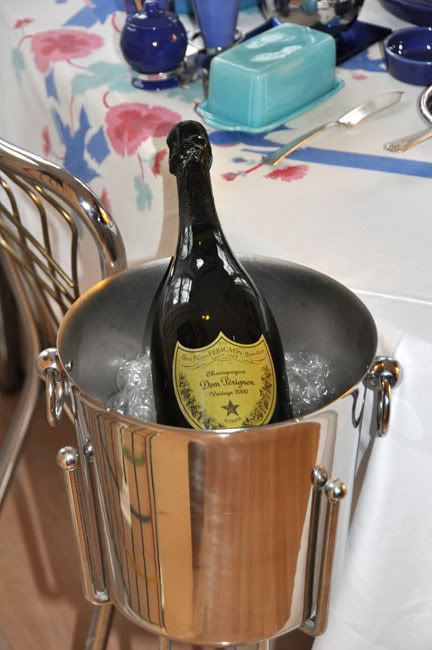 namasté,