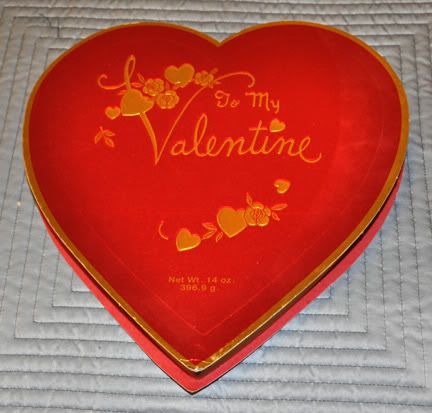 Valentine's Day is when we all take the time to show our loves how much they are appreciated. Some of the tokens given today will be Valentine cards, boxes of candy, flowers, jewellery, etc. Last week I mentioned how
my Papa always gave my Mama a heart-shaped Valentine box of candy
. The heart-shaped candy boxes reached their heyday in the 1950s and 60s. While they are still given today, these pretty boxes share the stage with other gifts.
My Mom always saved the boxes and hung them up in her closet above the built-in drawers. I just loved to play with them when I was a little girl and thought they were beautiful. In 1969 we moved from one side of Louisiana to the other, and I never remember seeing my Mom's boxes after that. Don't know if they got lost in the move, packed away, or what.
Last fall my MIL crossed over at age 84. The Guy and I (and his siblings and their spouses) have been going through her house and getting it ready to sell. When we got to her closet, we found that she had also saved some of the heart-shaped candy boxes my FIL had given her. Some of the boxes are simply red with an impression of hearts, flowers, etc.,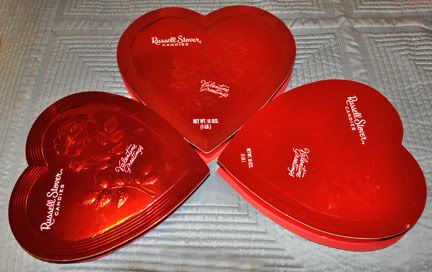 but others are more elaborate with lace, silk flowers, etc.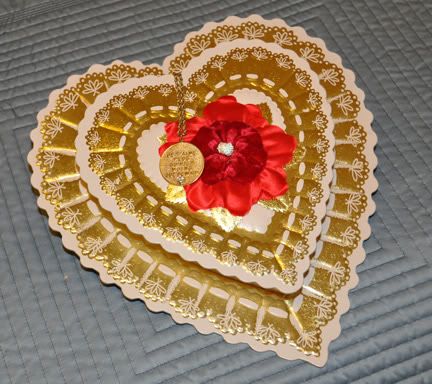 The boxes were made by numerous candy companies all over the country. The ones I mainly remember are Whitman's, Russell Stover's , and Pangburn's. The candy companies would have varied by region, as there were few national brands that specialized in Valentine chocolates. But Russell Stover is the company that originated heart-shaped boxes in the first place.
As time has passed, Russell Stover has purchased both Whitman's and Pangburn's brands. (As an aside, Pangburn's originated in Texas and is the candy company that invented
Millionaires
way back in 1914. Millionaires are now the only candy from Pangburn's that Russell Stover still sells and one of the few chocolate candies that I never turn down.) In honour of the day, I'd like to share some photos of beautiful vintage Valentine heart candy boxes with you.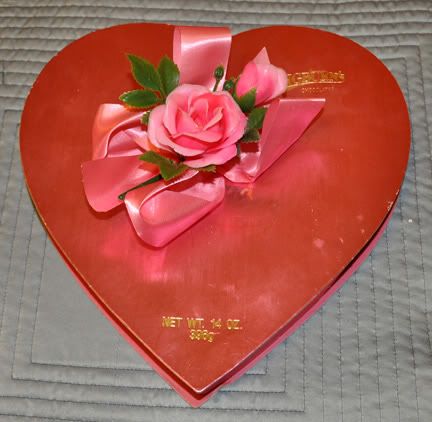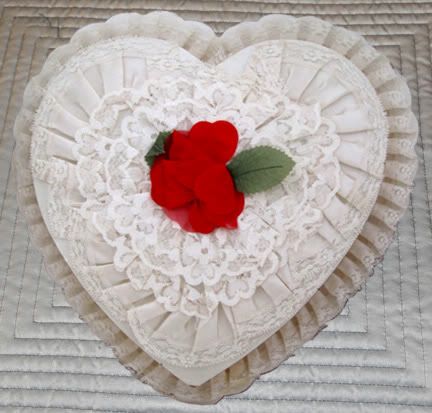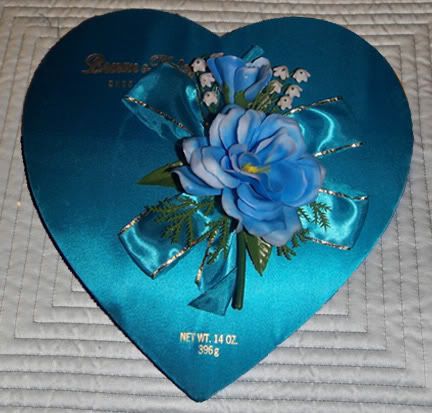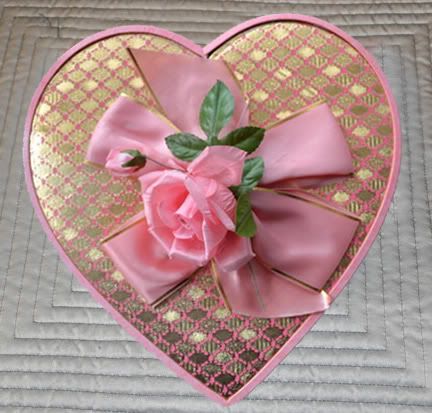 At our house we had been talking about the Valentine candy boxes and the Guy knew I had brought his mother's boxes home with us. I was thinking I could use them somehow for doing some Valentine decorating.
The Guy always gives me flowers for Valentines - beautiful potted flowers that I can plant after the holiday and enjoy forever. I used to be a florist and totally subscribe to "hyacinths for the soul" you know. The flowers he has given me at Valentines have always been pink or red - either tulips or miniature roses, mostly tulips. I just love these flowers and continue to enjoy them each year when they bloom. We were out at the farm yesterday and I noticed quite a few of the tulips beginning to come up.

Well, this past Thursday the Guy came home with a surprise. He had been to the drug store to pick up some of my prescriptions and it occurred to him that I had never had a Valentine heart-shaped box of candy of my own. So what did he do? He bought the biggest, prettiest heart-shaped box of Russell Stover candy they had. Not really for the candy as I am not a huge fan of chocolate, but so that I would have
a heart box of my very own
. This is one of the reasons I love The Guy. He truly understands that I would love to have a box and not worry about the candy. This is it!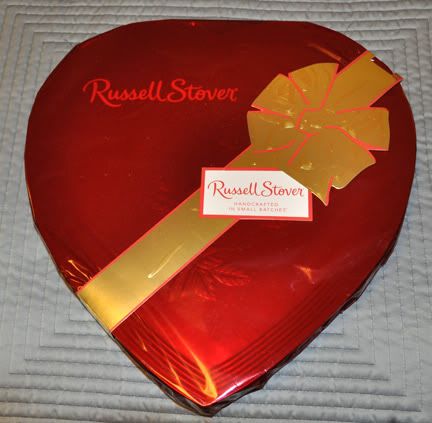 Hearts are always associated with love. I am very lucky to have had grandparents, parents and in-laws who loved each other during long and happy marriages. My Papa crossed when my parents had only been married for 30 years, but my in-laws were together 62 years before my FIL crossed. Once, when she was in her 70s, my MIL sat down to talk with me and explained that love just kept getting better and better the older you got.

I'm leaving you with one last photo because it is part of the love story. This necklace is the gift that my father-in-law gave my mother-in-law to celebrate their 20th Wedding Anniversary back in 1966 (45 years ago now).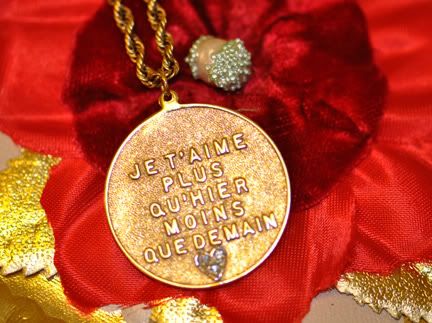 It's not very large - only about an inch in diameter. The Guy was in high school and taking French I at the time. He was there when the gift was opened. As his mother didn't speak or read French, he translated it for her. Because of the sentiment, this was one of her most treasured possessions. She wore it to church nearly every Sunday and on other special occasions.
"I love you more than yesterday less than tomorrow."
That is how the Guy and I feel about one another. Happy Valentine's Day, my friends. I hope you all enjoy your celebration of love today. And while you are out and about, check out
Smiling Sally
for
Blue Monday
and
The Little Round Table
for
The Colours of Love: Coast to Coast & Shore to Shore
.
namasté,