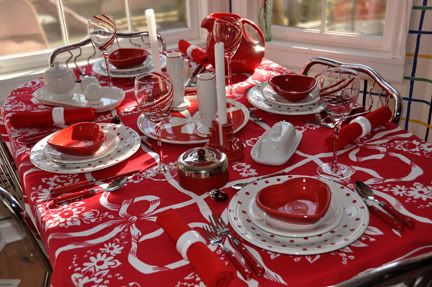 And boy, do I

RED
!!! I will be joining MaryT/TheTeach over at
Work of the Poet
for
Ruby Tuesday
, Marty at
A Stroll Through Life
for
TableTop Tuesday
and Jenny @
off on my tanget
for
Alphabe-Thursday
where Today's Letter is "R" - R is for "
RED
". Check out these wonderful blogs to see who else is playing along.
I elected to go with the traditional red and white for a Valentine's Day table for three reasons. First, from my youth I remember my Papa always bringing my Mama a beautiful Valentine's box of candy each year and the heart shaped box was almost always red. Mama saved the empty boxes and hung them up above the built-in drawers in her closet. As a child I used to

those boxes and occasionally Mama would take one down for me to hold and look at more closely (read, play with VERY carefully). Red hearts and Valentine's Day are inseparable in my mind.
Second, a friend of mine from the VTLC (
Vintage Tablecloth Lover's Club
) sold me a wonderful red and white tablecloth with a bow and floral pattern and I haven't had a chance to use it before now.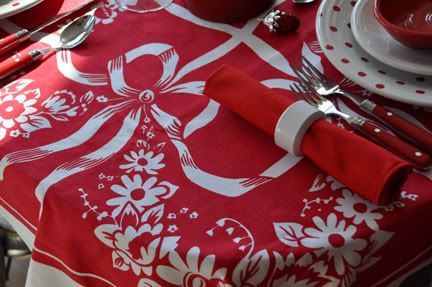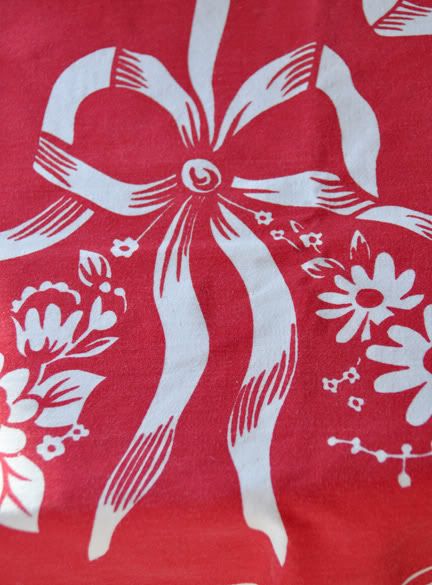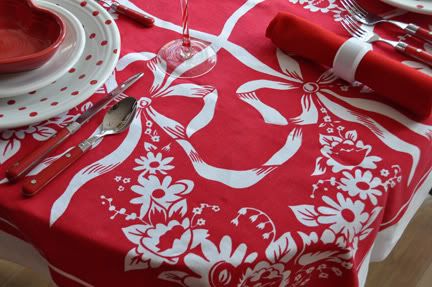 The bow tablecloth was just crying out to be used with a round Fiesta platter I have that also has a red and white bow.
The platter/tray was sold by JC Penney for the Christmas 2007 season, but it works equally well with this February holiday. The rest of the table was designed around the bow tablecloth and platter.
The final reason I chose to use red is that it gives me an excuse to use one of my most treasured pair of candleholders.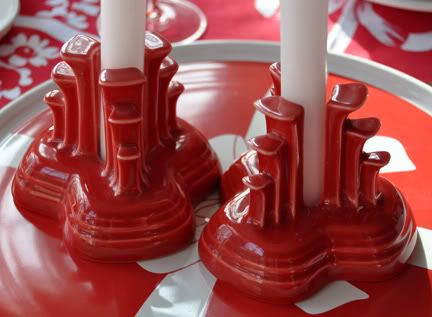 The Tripod Candleholders have always been my very favourite Fiesta shape. I remember my grandmother having a vintage pair before their house burned down in 1963. They sat on the dresser in the room where I always stayed. When Fiesta was reintroduced in 1986 the tripods were renamed Pyramid Candleholders. While not understanding the name change, I loved that I would be able to get this fabulous Art Deco shape in more colours!
Because the pyramid shape is difficult to produce, Homer Laughlin had discontinued my favourite candleholders shortly after the introduction of the shamrock glaze in 2002. Many of us had been dreaming of a true red glaze for Fiesta and when Scarlet was introduced in 2004 we were ecstatic! But scarlet had come along too late for pyramid candleholders.

Each year the East Liverpool High School Alumni Association sponsors a charity auction in June to benefit education and students in East Liverpool, OH. Highlights of the auction are the pieces donated by the local potteries. Lo and behold, a dream come true! Homer Laughlin's contribution to the ELHSAA auction in 2005 were
Scarlet Pyramid Candleholders
. The auction takes absentee bidders and I was thrilled to find out I was one of the lucky winners. They have graced my Valentine table each year since they arrived at my house. I

red.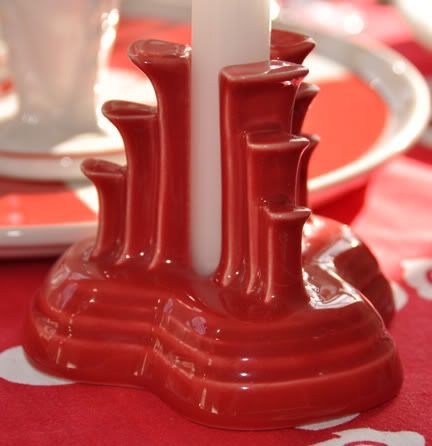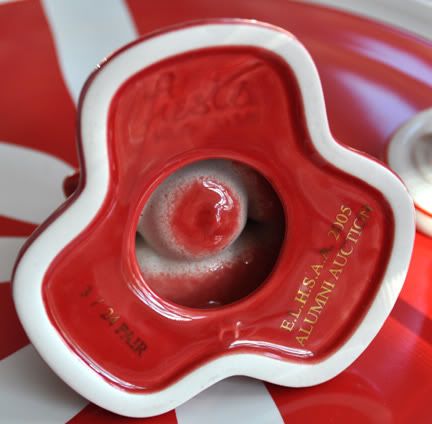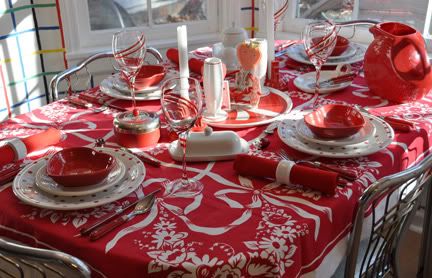 While I don't collect the vintage figural Avon bottles, I have never gotten rid of the ones I bought back in the day. Other than some of the Christmas bottles, today's table is the first time I have found a use for any of the others. This is a tiny bottle and it looks especially lovely when the sun shines through the ruby glass.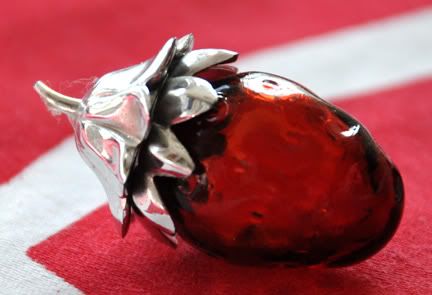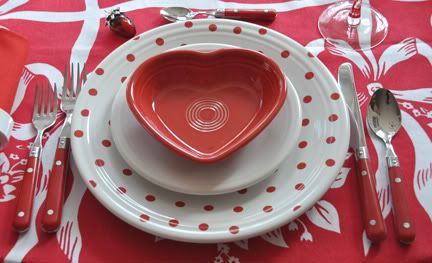 The original holly pattern that Homer Laughlin put on Fiesta was only used for one year. Several of the accessory pieces (e.g. shakers, bud vases) do not have the holly decal, only a red line. This gives them versatility to be used at other times of the year, too.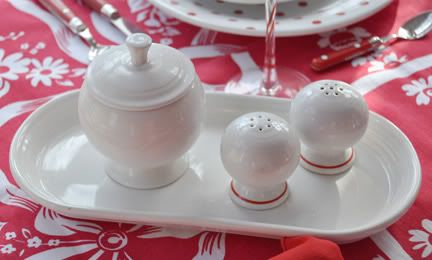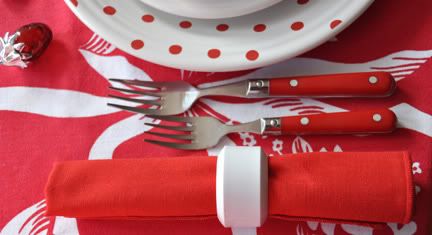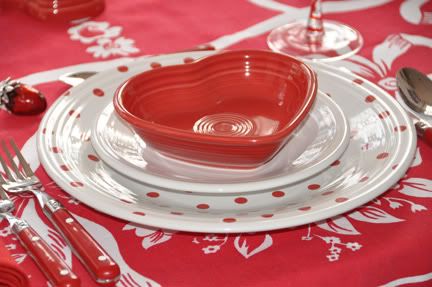 Hardanger work is so beautiful and, like blackwork, is one of the needle arts that is not practiced so much today. One of my very dearest friends made this about 20 years ago and sent it to me as a gift.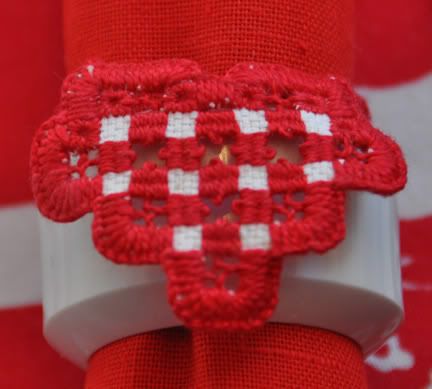 The Franciscan relish dish is a useful piece on many tables.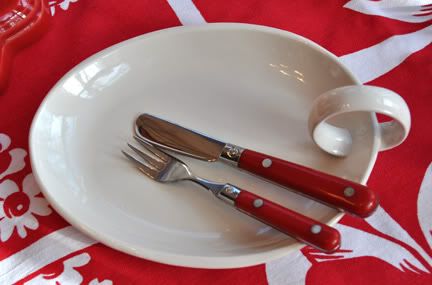 This art deco era Chase piece was originally sold as a powder box, but when it is found with it's glass liner it works quite well to hold condiments at the table. The box comes in a number of different enamel colour combinations, as well as in both chrome and brass.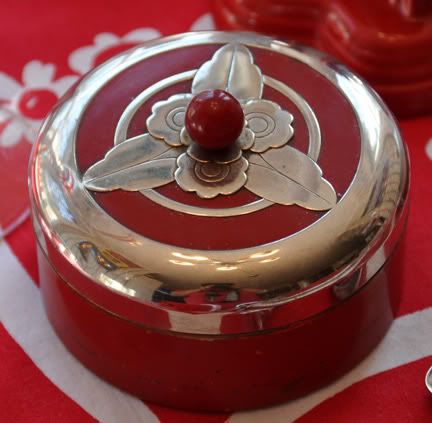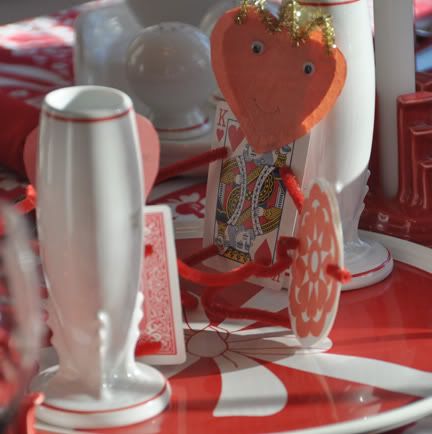 Back in the 1990s, Target sold a line of dishes called Cantinaware. Homer Laughlin filed suit for copyright infringement on their Fiesta dishes. HLC won and Target discontinued their line. This is a Cantinaware butter dish.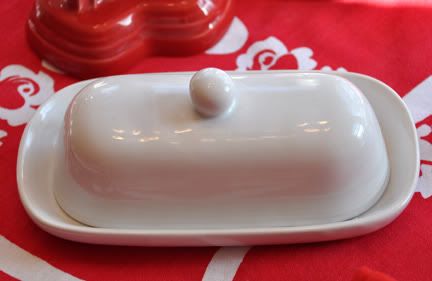 Valentine's Day is a huge holiday at our house. I have always joked that my Mom might forget to send us birthday cards or Christmas cards, but she never, ever forgets to send us a Valentine. And it's true.

I continued the importance of Valentine's Day once I had children. Every year the girls would make beautiful hand-crafted Valentines to take to their friends at school. Occasionally they would need some help, but we always had a wonderful time sitting around the kitchen table making Valentines. And of course, their Papa and I would get one, too. These anthropomorphic heart suit Valentines are some of my favourites.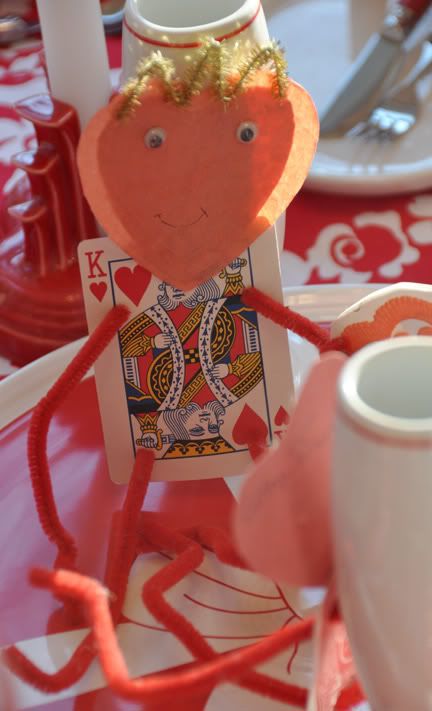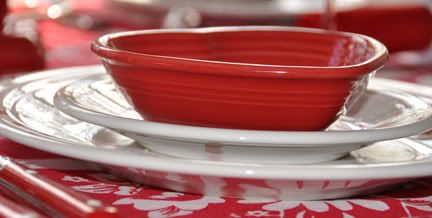 We made the heart suit Valentines twice - once for each daughter at around 2nd or 3rd grade. The Guy got the King and I got the Jack both times. The Queen went to their respective teachers.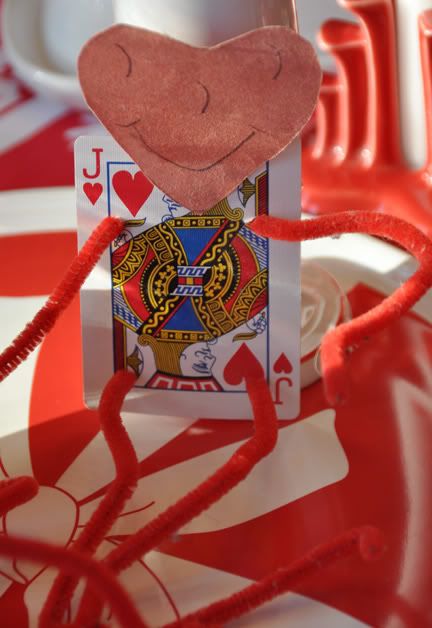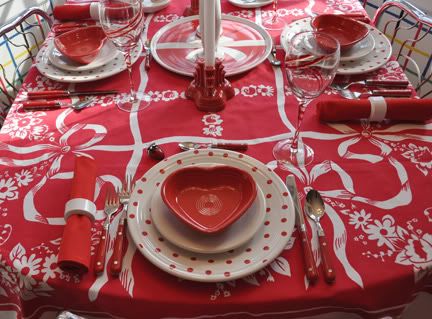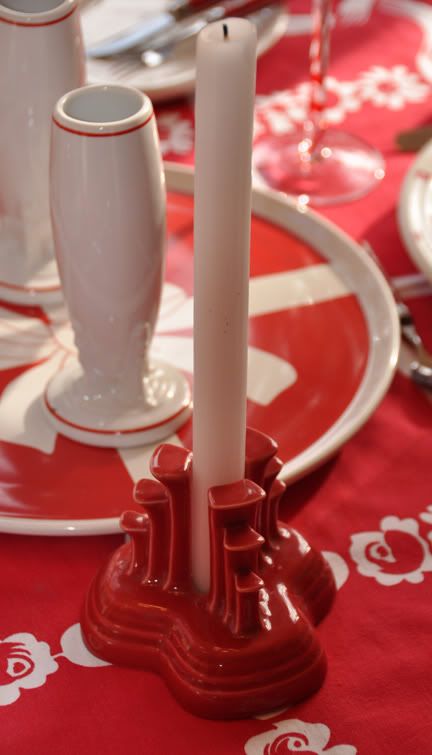 1. Fiesta on the table: scarlet & white polka dots (an
HLCCA exclusive
), scarlet heart bowls, white salad plates, scarlet & white bow design tray, scarlet pyramid candleholders, white with red stripe bud vases and shakers, scarlet disc pitcher, and a white bread tray and sugar bowl.
2. Other dishes: a white Franciscan tidbit tray, white Cantinaware butter dish.
3. Heart suit Valentines made by my daughters when they were in lower elementary school.
4. Completing the table toppings: red flatware I got some years ago in Italy, tiny glass vintage strawberry perfume bottles, contemporary red napkins, white napkin rings that I've had since graduate school, hardanger hearts, goblets from Pier One, and a chrome and enamelled Chase dish.
5. All of this is set on the lovely red and white vintage tablecloth with the bow design.
Be My Valentine!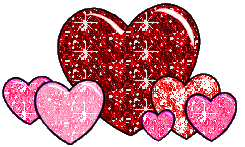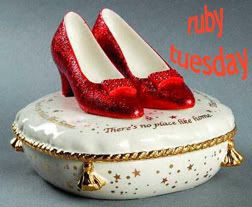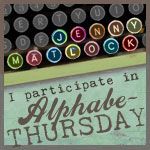 namasté,