I'm going to be joining Marty at
A Stroll Through Life
for
TableTop Tuesday
and Jenny @
off on my tanget
for
Alphabe-Thursday
where Today's Letter is "S" - S is for "Stuff". Check out these wonderful blogs to see who else is playing along.
This past weekend the Guy and I made a final trip over to Louisiana to meet with the realtor and arrange for the sale of his mother's house. My MIL loved dishes and collected them all her married life. She also liked accessories to go along with the dishes. Today my tabletop is just an assortment of things I brought home from her house that will make their way into future tablescapes here at RMoaDL.
This is just an overview picture.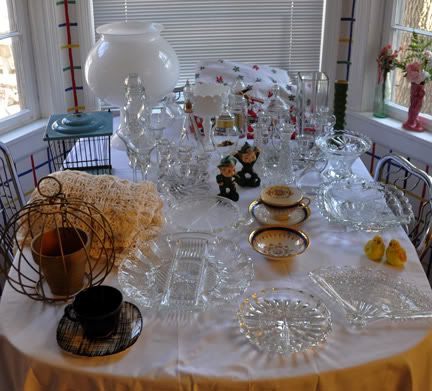 In the back are a pair of matching Christmas tablecloths. I brought those home so that each of my girls will have one. There is also a Victorian fishbowl vase. That thing is going to hold a LOT of flowers!
The black and white dishes are Ebonette, by Knowles. These are the dishes that the Guy ate off of while growing up. They are very mid-century modern. We have a service for 12 of these. The birdcage planter is older - from the 1940s. My MIL had that before she ever got married. The lace tablecloth belonged to the Guy's grandmother.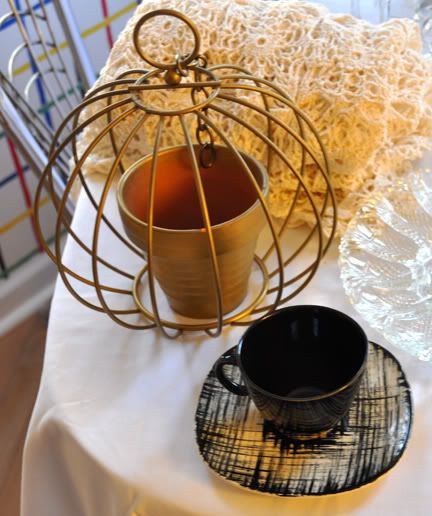 While my MIL had a little bit of depression glass, she mostly had American pressed glass. I just brought home a few pieces.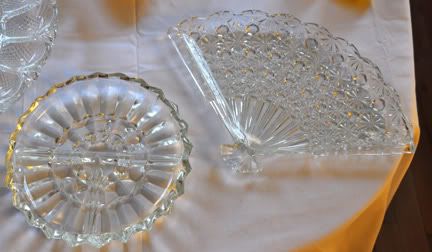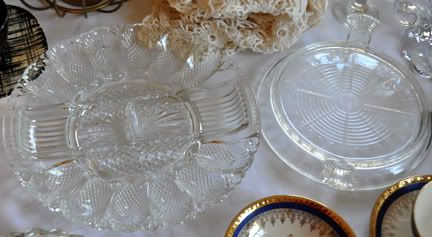 She also liked apothecary jars. These are from the 1960s and most of them came with decorative soap, bath salts, etc. in them.
There are some other vases, candleholders, cruets, and a milk glass comport in this photo, also.
Little pixies/elves were very popular in the 1940s and 50s. This pair sat on the curved shelves on either side of my MIL's sink since they built their house in 1950. (I'm thinking they will go nicely on a St. Patrick's Day table.)
That one on the left looks to be full of mischief!
The Guy's family often had canaries and parakeets when he was little. This was their first canary cage from the 1950s.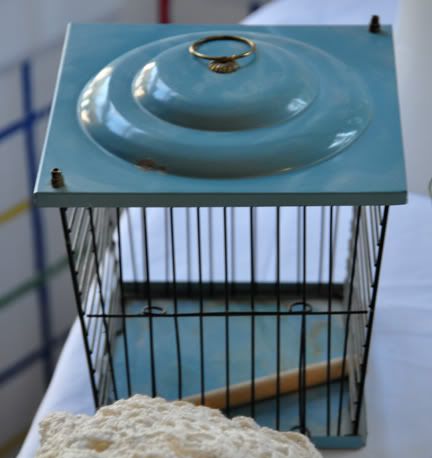 And to go along with the cage, here are a pair of canary salt and pepper shakers.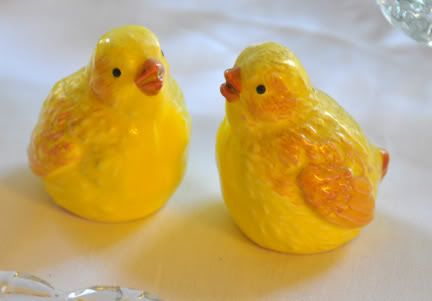 These dishes are Homer Laughlin Eggshell Georgian made in 1948. We only found 8 cups, saucers and berry bowls. No one seems to know where my MIL got these, though they do think they were inherited.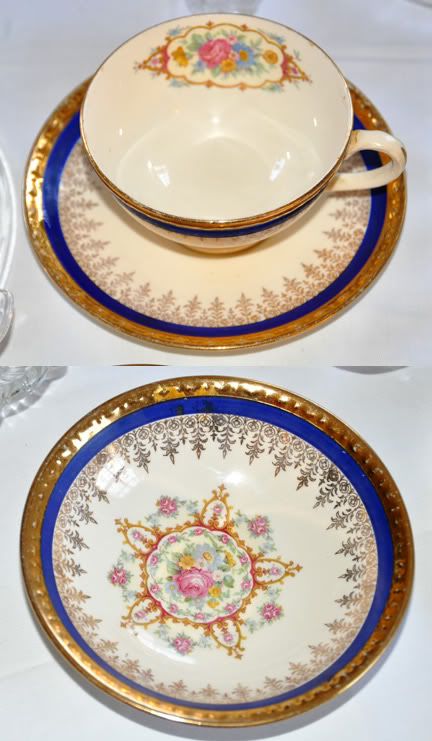 Now I am not sure exactly when or how these different things will be used, but they all called out to me to bring them home. How do you collect your "stuff" for tablescaping?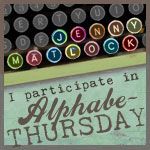 namasté,