I like radishes! There, I said it. When I was growing up, my grandfather always grew radishes in his garden. While he grew little round red ones, his favourites were the long white icicles that he grew in both hot and mild varieties. Radishes were normally served raw either in salad or with a salt cellar to dip them. Or sometimes radish roses were used for garnish. And in the spring radishes are a major component of one of our favourite meals:
Wilted Lettuce Salad
.
I too grow radishes in my garden and I like to experiment with different varieties every year. But as I'm not able to garden right now, I am relying on my CSA for wonderful radishes. And they have been wonderful. Purple plum, icicle, Easter egg and other varieties have been gracing us this winter. This week I got purple plum, icicle and red.
For awhile now I have been looking for recipes that use radishes. A few weeks ago I saw Laura Calder do a side dish of English peas and radishes that is on my list to try. Going through my files, I came across this dip recipe that I had found on Chowhound a few years ago. Since this is Super Bowl Weekend and everyone is making dips of one kind or another, I decided to give this one a try - even though we won't be watching the game here.
Ingredients are simple - radishes, garlic, cream cheese and salt:
Put it all in the food processor, pulse, and voilà! We have dip to serve with assorted veggies and or crackers for dipping. Because Valentines is next week, I'm serving the dip in white heart shaped Fiesta bowls on lilac plates. And I garnished the dip with baby red-veined sorrel leaves from my container garden.
I am so glad I decided to give this dip a try. It is really good and a bit different from many of the dips out there now. And it is the most gorgeous pink colour! My photos don't do it justice. The original recipe called for two cloves of garlic, but I used one small one and I feel that one is plenty. Raw garlic can be overpowering sometimes. Another nice benefit is that with all the radishes and using low-fat cream cheese, this dip is a somewhat more healthy choice.
Creamy Radish Dip

2 cups coarsely chopped radishes
1 to 2 cloves garlic
8 oz cream cheese (I use low-fat), softened
Salt to taste
herb leaves, for garnish
Assorted veggies and/or crackers for dipping or crostini for spreading

Pulse radishes and garlic in food processor until until radishes are finely chopped. Add cream cheese and salt. Pulse until dip is desired texture. You don't want it completely pureed. Taste and adjust seasonings. This is when you would add a second clove of garlic, if desired. If adding more garlic, pulse again to get it finely chopped and distributed through the dip. Serve with desired dippers or spread on crostini.



Notes:


1. This dip may weep if it sits in the fridge a day or two - just pour off the liquid and restir.
I'm linking this recipe to Kim's
Saturday Swap
@
Quit Eating Out
and Beverly's
Pink Saturday
@
How Sweet the Sound
. Click on the logos to check them out and join in the fun.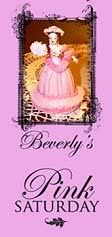 namasté,