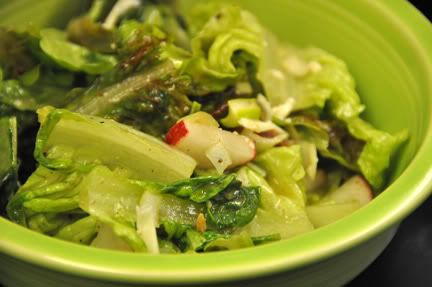 This is one of those foods that reminds me very much of the springs of my childhood. And I really associate it with my Mom because she has always loved it so much. This is a salad she grew up having in the spring when leaf lettuce was fresh from the garden. My grandmother would always make it for us when we went to visit. When I was growing up about the only kind of lettuce available in the grocery stores was iceberg. We were so fortunate that my grandfather loved to garden. He grew all kinds of wonderful vegetables, including lovely spring lettuces. In Louisiana lettuce would bolt when the weather got too hot, so this dish was a treat for a short time each year.
Our CSA veggie box has been having several wonderful kinds of lettuce. Several days when Abbey has not been too busy with school and such, she has come over to eat lunch with me and we've been making Wilted Lettuce Salad. Free range eggs and green Vidalia onions also come from the veggie box. Add some bacon and radishes and we are set for a fabulous lunch.
Hard cooked eggs - I like them just barely hard cooked. The yolks will melt into the dressing and add richness to the salad.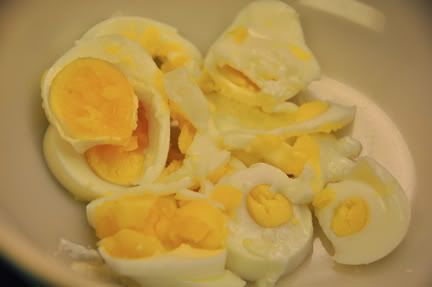 Lettuce in the salad spinner.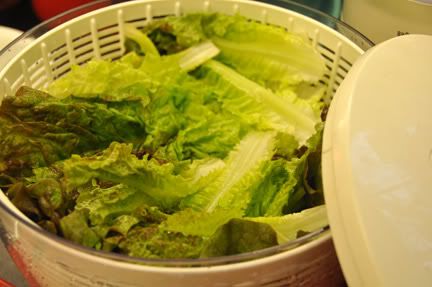 Bacon fried and ready for crumbling.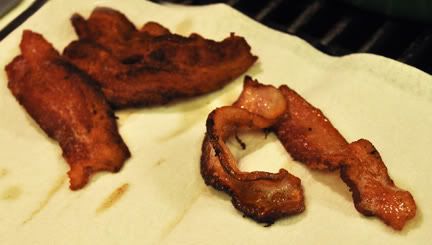 Chopped eggs, green Vidalia onions and sliced radishes.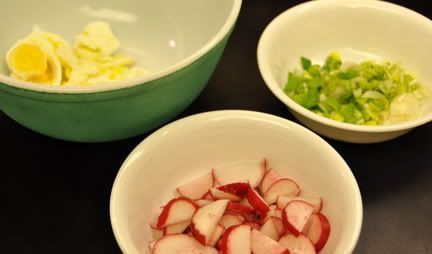 Salad being tossed with the hot dressing.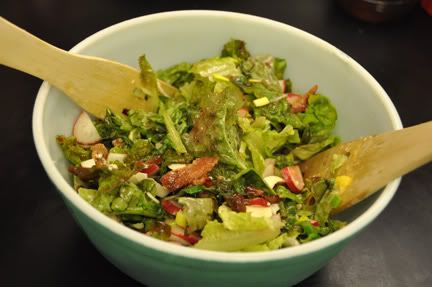 Served in sunflower and chartreuse Fiesta bowls.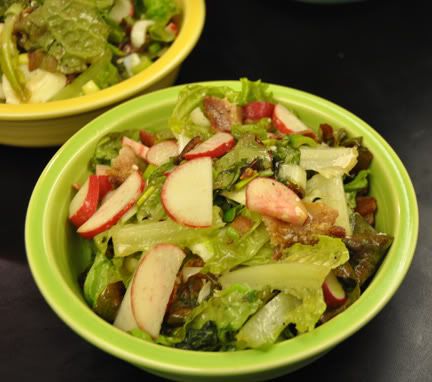 Wilted Lettuce Salad
½ pound bacon, diced
¼ cup vinegar
2 tsp sugar
2 Tbsp water
1 tsp Worcestershire sauce
¼ tsp lemon pepper
salt and pepper
2 hard cooked eggs, sliced
8 cups leaf lettuce, torn into bite sized pieces
½ cup sliced radishes
½ cup sliced green onions and tops

Fry bacon in skillet. Remove from grease and drain. To skillet add vinegar, sugar, water, Worcestershire, lemon pepper, salt and pepper. Bring to boil.

Place eggs in bottom of large bowl and add lettuce. Pour boiling dressing over. Add bacon, radishes and onions and toss. Serve immediately.



Notes:

I rarely have lemon pepper on hand, so we have been zesting some fresh lemon with the microplane and using freshly ground pepper. The fresh lemon zest really adds a lot and I prefer it to the lemon pepper.
namasté,