So what is it about these two recipes that pair them together? They are both Pillsbury Bake-Off recipes that are no longer published by Pillsbury in their original forms. This is likely true of other Bake-Off recipes, but I will leave those for another day.
I'm going to start with the Grand Prize Recipe from the year I was born - 1954 -
Open Sesame Pie
. Originally the recipe called for making the crust from scratch and using uncooked egg whites in the filling. Pillsbury has changed that to use their refrigerated pie crusts. They have also substituted more heavy cream for the egg whites because of current food safety guidelines.
Vintage ad featuring the Grand Prize winning pie and ingredients
Original Open Sesame Pie


Crust:


2-4 Tbsp sesame seeds
1 cup sifted Pillsbury's enriched flour
1/2 tsp salt
1/3 cup shortening
3-4 Tbsp cold water

Filling:
1 envelope unflavored gelatin
1/4 cup cold water
1 1/4 cups milk
2 egg yolks
1/4 cup, plus 2 Tbsp sugar, divided
1/8 tsp salt
1 cup pitted dates, chopped very fine
¾ cup heavy cream, whipped very thick
1 tsp vanilla
2 egg whites
1/8 tsp ground nutmeg

Preheat oven to 325°F. Toast sesame seeds in 9" pie plate for 8-10 minutes or until light brown. Remove seeds from oven and increase heat to 450°F.

Sift together the flour and salt. Add toasted sesame seeds. Cut in shortening until mixture is the size of small peas. Sprinkle water over mixture a little at a time while tossing lightly with a fork. Dough should be moist enough to just hold together.

Form into a ball. Flatten to about 1/2" thick disc, smoothing the edges. Roll out into a circle 1 1/2" larger than the pie plate. Fit loosely into the pan and pat out air pockets. Fold edges to form a standing rim and flute. Prick generously with fork. Bake for 10-12 minutes or until golden brown.

In a small bowl, sprinkle gelatin over cold water and set aside to soften.

Beat together milk, yolks, 1/4 cup sugar and salt in top of double boiler until well blended. Cook over hot water until mixture coats a spoon. Add the softened gelatin. Stir till dissolved. Chill until almost set, stirring occasionally. Fold in the dates, cream and vanilla.

Beat egg whites till slight mounds form when beater is raised. Add 2 Tbsp sugar gradually, beating well all the while. Continue until meringue stands in stiff, glossy peaks. Fold into date mixture. Spoon filling into cooled baked pie shell and chill until firm. Sprinkle lightly with nutmeg just before serving.
The 1954 winner, Dorothy Koteen of Washington, DC. She was described by a newspaper article at the time as being a plump 37yo housewife with doctorate in archaeology.
It is said we eat first with our eyes. Presentation counts a lot. The recipe merely calls for lightly sprinkling the pie with nutmeg. In the photo of Mrs. Koteen and in the vintage ad, the nutmeg is applied in two decorative circles. I don't see those in the photo Pillsbury now uses. To me, the original presentation looks nicer. And I really have to say, the vintage pie crust looks an awful lot nicer than the one they show today.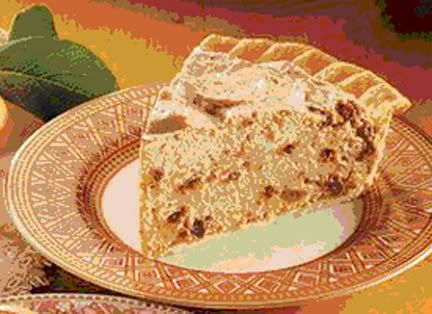 New version of pie - courtesy of Pillsbury
New Open Sesame Pie


Crust


1 box Pillsbury® refrigerated pie crusts, softened as directed on box
2 tablespoons sesame seed, toasted*



Filling


1 package unflavored gelatin
1/4 cup cold water
1 package (8 oz) chopped dates (1 3/4 cups)
1/4 cup sugar
1/4 teaspoon salt
1 cup milk
2 egg yolks
1 teaspoon vanilla
1 1/2 cups whipping cream
2 tablespoons sugar
1/8 to 1/4 teaspoon nutmeg

1. Heat oven to 450°F. Make pie crust as directed on box for One-Crust Baked Shell using 9-inch glass pie pan. Press toasted seeds into bottom of crust-lined pan. Bake 9 to 11 minutes or until light golden brown. Cool completely, about 30 minutes.
2. Meanwhile, in small bowl, sprinkle gelatin over 1/4 cup cold water; set aside to soften. In 2-quart saucepan, mix dates, 1/4 cup sugar, the salt, milk and egg yolks. Cook over medium heat 10 to 12 minutes, stirring constantly, until mixture is slightly thickened. Remove from heat. Stir in softened gelatin and vanilla until gelatin is dissolved. Refrigerate, stirring occasionally, until date mixture is thickened and partially set.
3. In small bowl with electric mixer, beat whipping cream and 2 tablespoons sugar on high speed until stiff peaks form. Fold whipped cream into date mixture. Spoon filling into cooled baked shell; sprinkle with nutmeg. Refrigerate at least 2 hours before serving. Store in refrigerator.

*To toast sesame seed, spread on cookie sheet; bake at 375°F 3 to 5 minutes, stirring occasionally, until light golden brown. Or spread in 7-inch skillet; cook over medium heat about 5 minutes, stirring frequently, until light golden brown.
Let's move on to the Bake-Off's most famous recipe. And it wasn't even a Grand Prize winner! In 1966 the
Tunnel of Fudge Cake
won second place in the Bake-Off. However, the cake was featured on the cover of that year's recipe book. It became an instant hit all across America. So popular that Bundt pans became the best-selling pans and Pillsbury offered the Tunnel of Fudge as a cake mix. There were several flavours in addition to chocolate. I baked quite a number of Tunnel of Fudge cakes during my growing up years. It is said that this cake was the mother of today's lava cakes.
Vintage recipe pamphlet with Tunnel of Fudge recipe
Original Tunnel of Fudge Cake
1 1/2 cups softened Land O Lakes butter
6 eggs
1 1/2 cups sugar
2 cups Pillsbury's Best Flour
1 pkg. Pillsbury Two Layer Size Double Dutch Fudge Buttercream Frosting Mix
2 cups Chopped Diamond Walnuts

Cream butter in large mixer bowl at high speed of mixer. Add eggs, one at a time, beating well after each. Gradually add sugar, continue creaming at high speed until light and fluffy. By h*dand, stir in flour, frosting mix and walnuts until well blended. Pour batter into greased Bundt pan or 10-inch tube pan. Bake at 350°F for 60 to 65 minutes. Cool 2 hours; remove from pan. Cool completely before serving.

NOTE: Nuts and Double Dutch Fudge Frosting Mix are essential to success of this unusual recipe. Since cake has a soft fudgy interior, test for doneness after 60 minutes by observing dry, shiny brownie type crust.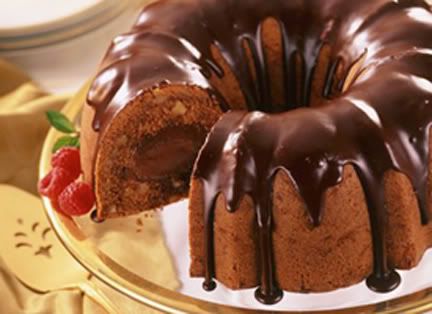 New version of cake - courtesy of Pillsbury
New Tunnel of Fudge Cake


This is the recipe Pillsbury offers for the prize-winning cake that started the bundt pan revolution. It is not exactly the same as Ella Helfrich's because Pillsbury stopped making the Double Dutch Fudge Buttercream Frosting Mix she used in the original. Now you have to make the whole cake from scratch. Nuts are essential to the cake's success. When the cake is cut into, a "tunnel of fudge" will have mysteriously appeared inside.





Cake


1 3/4 cups sugar
1 3/4 cups butter or margarine, softened
6 eggs
2 cups powdered sugar
2 1/4 cups all purpose or unbleached flour
3/4 cup unsweetened cocoa
2 cups chopped walnuts

Glaze
3/4 cup powdered sugar
1/4 cup unsweetened cocoa
4-6 tsp milk

Heat oven to 350°F. Grease and flour a 12-cup Bundt pan (or a 10-inch tube pan).

In a large bowl, combine sugar and butter or margarine; beat until light and fluffy. Add eggs 1 at a time, beating well after each addition. Gradually add 2 cups powdered sugar; blend well. By hand, stir in flour and remaining cake ingredients until well blended. Spoon batter into greased and floured pan and spread evenly.

Bake for 45 to 50 minutes or until top is set and edges are beginning to pull away from sides of pan. Cool upright in pan on wire rack 1& 1/2 hours. Invert onto serving plate and cool at least 2 hours.

In small bowl, combine glaze ingredients, adding enough milk for desired drizzling consistency. Spoon over top of cake, allowing some to run down sides. Store tightly covered.
namasté,