This year my kitchen garden has a new persona. Normally I garden at the farm in 4'×8' raised beds. This year I am technically not able to garden. Because of the transplant and my compromised immune system I cannot have my hands in the dirt. This is really hard for someone who loves to grow things, but I was able to devise a compromise. I am having a kitchen garden here in town in containers. My sister and nephew did all the planting. All I will need to do is water, harvest, and use the bounty in my kitchen.
I have a wonderful selection of plants: Lettuce Leaf basil, Genovese basil, Thai basil, Lime basil, Purple Ruffles basil, Red Rubin basil, Globe basil, lovage, French tarragon, savoury, rosemary, Mother of Thyme, variegated lemon thyme, orange thyme, lemon grass, lemon verbena, marjoram, oregano, chocolate mint, spearmint, Kentucky Colonel spearmint, red veined sorrel, pineapple sage, golden leaved pineapple sage, tricolour sage, purple sage, sage, cilantro, dill, flat leaf parsley, rosemary, chives, garlic chives, rose geranium, borage, several varieties of nasturtiums, Society garlic, Gypsy pepper, sweet banana pepper, jalapeño pepper, yellow pear tomato, and Sweet 100 tomato. I also have my trees that are permanent residents, moving inside during the winter and outside during the summer: bay, kumquat, calamondin, limequat or Meyer lemon (this tree lost its tag and I will find out which it is when it fruits this year), and cinnamon.
The herbs, peppers, and tomatoes came from our Botanical Gardens Spring Plant Sale. I always get most of my plants there each year as I like to support the Gardens and the growers always bring wonderfully healthy specimens.
Here are a few pics of my kitchen garden right after the containers were planted.
So ugly he's cute with marjoram for hair: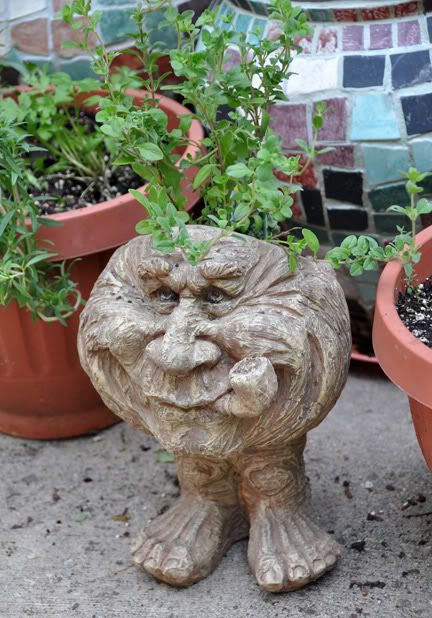 Herbs and trees: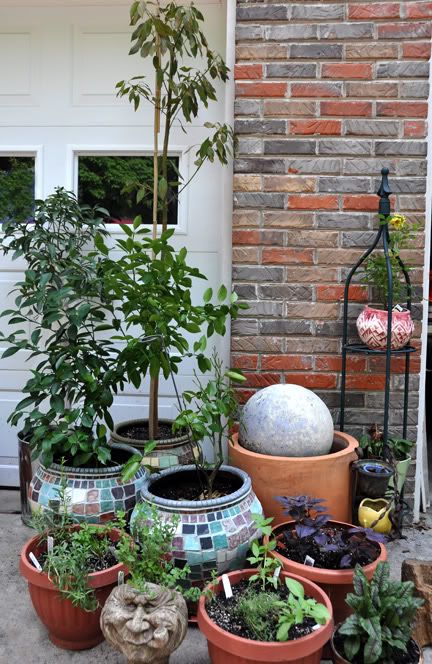 More herbs and trees: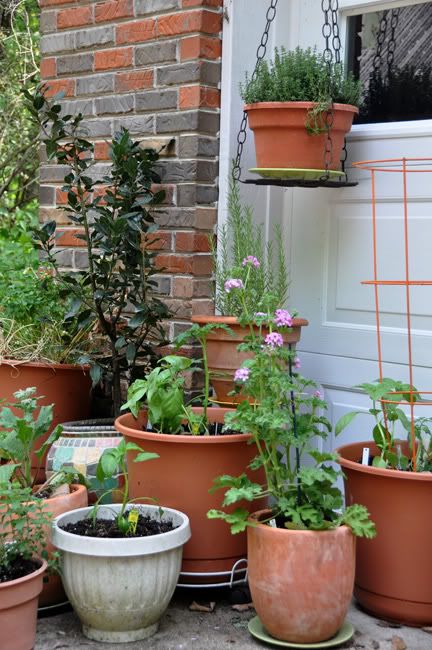 Herbs, flowers, tomatoes and peppers: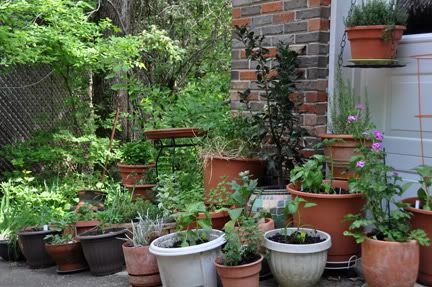 New to me this year - red veined sorrel:
namasté,