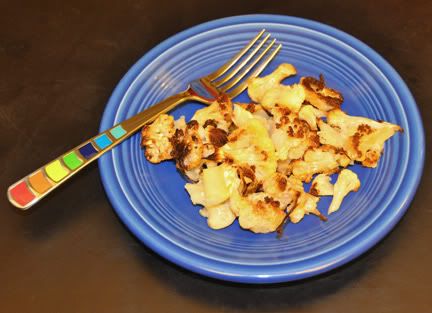 There is not a much simpler way to cook vegetables than to roast them. And it's my favourite preparation for nearly all veggies. Brussels sprouts and cauliflower in particular benefit from roasting, imo. Although I have eaten cauliflower all my life it was never one of my favourites. Once I had it roasted though, that was a different story.
This week there were four beautiful organic cauliflowers in my CSA veggie box!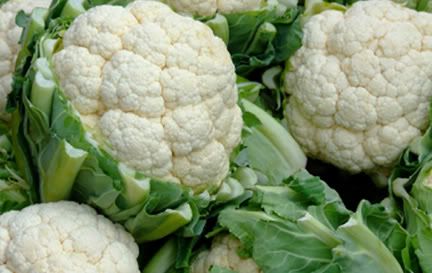 I gave one to my Mom when she came over on Friday, and then I roasted the remaining three. I had visions of making either Roasted Cauliflower Tart or Roasted Cauliflower Smoked Gouda Soup, but currently I'm not seeing that happen. LOL. The three people at this house ate roasted cauliflower for a lunch and also snacked on it. If I hide the rest in the back of the fridge, there might be enough for the tart. But only if I hide it!
If you've never roasted vegetables before, give this a try and see how you like it. If you have roasted veggies, then you know what I'm talking about. Enjoy!
This time I roasted the two different batches for different times. Both were delicious. I prefer the crispier cauliflower that has roasted longer, but DD#2 likes it with the shorter roasting time.
Cauliflower after roasting 40 minutes.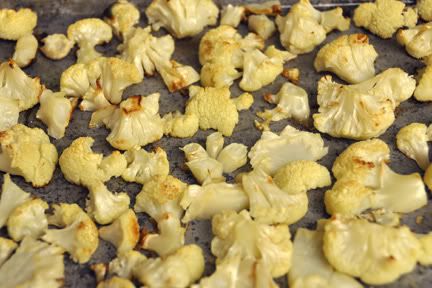 Cauliflower after roasting an hour.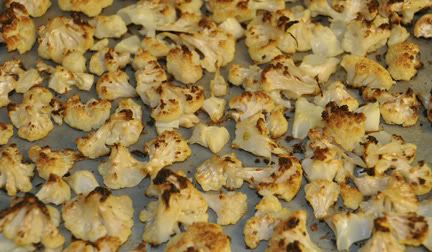 And here it is served on a sapphire Fiesta plate with the go-along Masquerade flatware.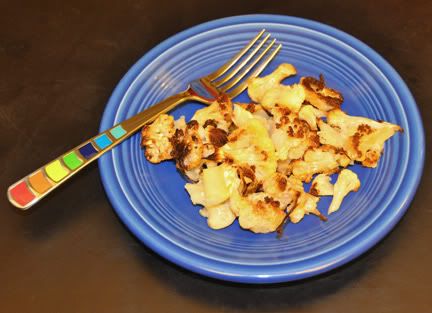 Roasted Cauliflower
1 head cauliflower
good olive oil
kosher salt

Wash and drain cauliflower. Break and cut up into small florets. Spread out on a baking sheet, drizzle with a little olive oil and sprinkle with salt. Don't use too much oil. You don't want to drown the cauliflower. You just need enough to keep it from sticking to the baking sheet and help it develop a bit of crunch on the exterior.

Roast at 425°F from 40 minutes to an hour, depending on how well you like them done. At 40 minutes the florets will just barely be getting a little brown. By an hour it's darker and some of the pieces can be quite crispy.
namasté,