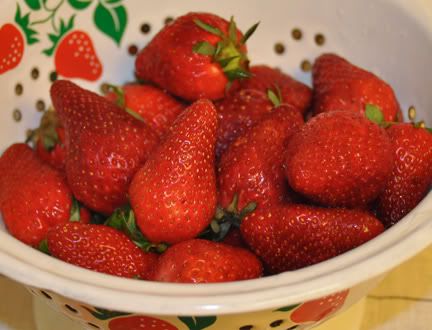 Strawberries are an important part of my heritage. They are one of the fruits we had most often growing up. The others were peaches, pears, plums, blackberries and figs. All but the blackberries were grown by family and friends. The blackberries were foraged, although we didn't call it that back then. My great-grandmother would give all us kids a bucket and take us out blackberry picking. But back to the strawberries.
Strawberry box labels
As long as I can remember my grandfather (Nard) had several long rows in his garden as a permanent strawberry patch. I loved it when he decided I was old enough to help harvest them. Oh strawberry, fresh from the plant! How delicious. We'd take a basket or two of them in to my grandmother and she would make us strawberry shortcakes for dessert. And they were real shortcakes. None of that fake sponge cake junk that grocery stores try to pass off as shortcake these days. Mimi just added some extra sugar to her biscuit recipe and would whip out the shortcakes in no time. She baked biscuits nearly every morning of her married life (some 55 years), so it was no trouble for her. And that wasn't the only way she prepared strawberries. Mimi made some of the best strawberry preserves I have ever eaten. In the winter it was wonderful to open a jar of those preserves to have at breakfast. I still have her recipe and use it to make my own preserves every summer.
Nard's mother also had strawberries. They lived on a farm in DeSoto Parish, Louisiana. When he was growing up (early 1900s), she grew quite a few strawberries. As they got ripe, my grandfather and his brothers would pick the berries, then Nard and his Mom would drive them in the wagon to town to sell the strawberries. He always said people were so glad to see them coming and his Mom was always grateful for the money they earned.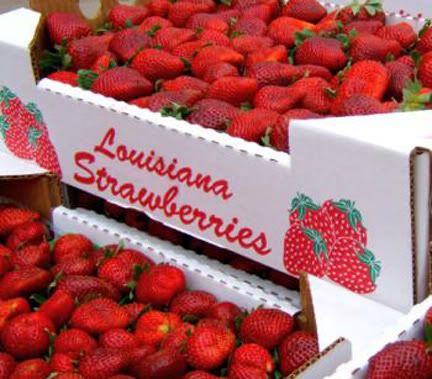 Flats of Louisiana Strawberries, photo courtesy of
225 Dine
So with all this history, I think there are no better luscious red berries to be purchased than Louisiana Strawberries. The cold snap earlier this year slowed down production, but it appears to be back on schedule for the season. I was particularly delighted to sign on to my CSA's website earlier this week and see that Louisiana Strawberries were one of our options. I got a gallon! And oh my goodness, I washed some to make some photos and could barely get the pictures made before I had to start tasting. Besides eating some fresh, I'm going to bake a pound cake this weekend to serve with macerated strawberries. Mmm. Heaven in your mouth.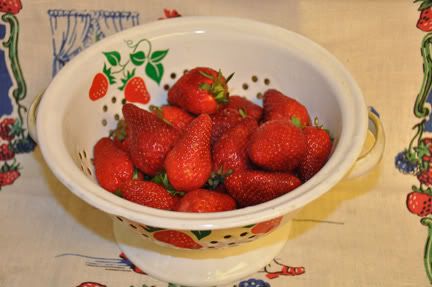 Louisiana strawberries that came in today's veggie box in a strawberry colander that was a Teleflora item back in 1983.
Strawberry fields forever!
namasté,