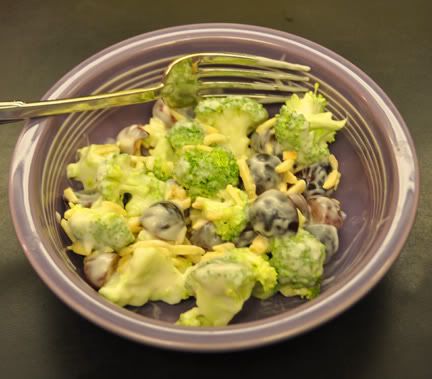 We got some really nice broccoli in this week's veggie box. Rather than cooking it, I opted for this variation of a salad that has been around for years. Abbey and I got some lovely red seedless grapes at Costco Friday in anticipation of making this salad. When I originally got the recipe from a dear friend, it also had red onion and bacon, and used sunflower seeds instead of almonds. I started leaving out the bacon years ago, but just yesterday made these other changes. (Mainly because I didn't think to pick up any red onions and have somehow managed to collect several packages of almonds that need to be used.) DD#2 loves broccoli. Actually she really likes grapes and almonds, too, and she gave the salad a two thumbs up. I use 3 Tbsp vinegar in making the dressing, but if you like a less tart dressing, certainly reduce it down to 2 Tbsp.
Gather up some ingredients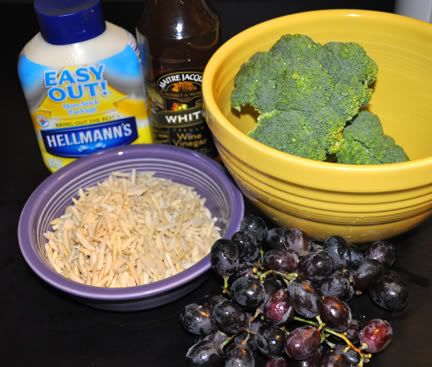 Dressing in a lemongrass Fiesta bowl and the salad in a sunflower Fiesta bowl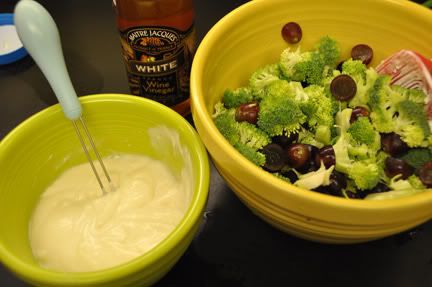 Plated to serve in a lilac Fiesta bowl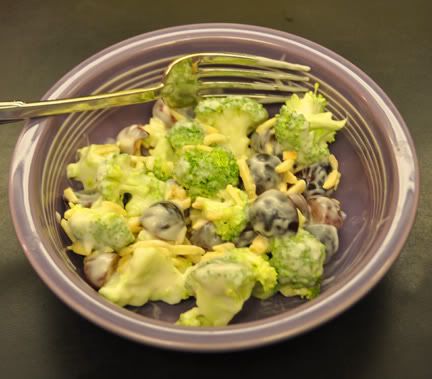 Broccoli Almond Salad


Salad:


1 large head broccoli
2 cups seedless red grapes*
1½ cups slivered almonds



Dressing:


1 cup mayonnaise (I use Hellman's Light.)
½ cup sugar
2 – 3 Tbsp white wine vinegar

Cut broccoli into bite-sized pieces and place in bowl. Cut grapes crosswise and add to broccoli. Add the almonds. Whisk together the dressing ingredients and pour over salad. Toss together to mix well and refrigerate until serving time.

* We like a lot of grapes in our salad, so I normally use more than 2 cups.
namasté,